Palestinian man killed by Israeli gunfire in northern West Bank
  Video PlayerClose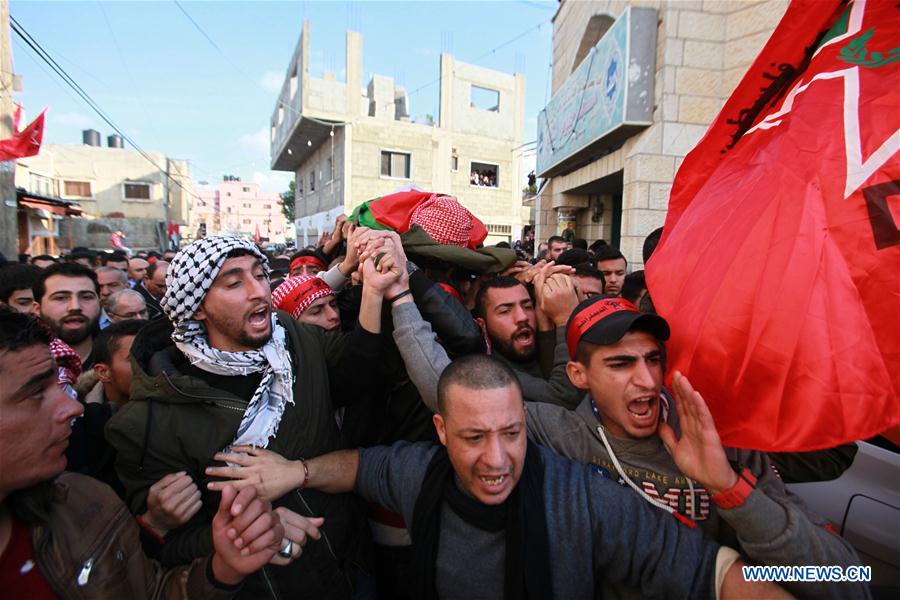 Mourners carry the body of 24-year-old Palestinian Ahmad Saleem during his funeral in the West Bank village of Jayous near Qalqilya, on Jan. 16, 2018. Saleem was shot dead during clashes withIsraeli troops on the previous day. (Xinhua/Nidal Eshtayeh)
  RAMALLAH, Jan. 15 (Xinhua) -- A Palestinian young man was shot dead on Monday evening by Israeli troops' gunfire in the village of Jayoos, close to the northern West Bank city of Qalqilia, medical sources said.
  The Palestinian Health Ministry said in a statement that the 24-year-old Palestinian young man was shot dead during clashes between Palestinian youths and Israeli soldiers in the village.
  The statement said that the young man was shot in the head and he arrived dead at Qalqilia Hospital.
  Eyewitnesses said that clashes broke out on Monday afternoon between Palestinian young men, who threw stones at Israeli soldiers who fired tear gas and live bullets to disperse the young stones throwers.
  There has been no immediate Israeli army response to the reports of the young man's death.
  However, the Palestinians carry on with popular confrontations with the Israeli army in protest to U.S. and Israeli policies towards the Palestinians.
  Since the U.S. declaration of Jerusalem as Israeli capital, 16 Palestinians were killed and more than 5,000 injured during protests in the West Bank and Gaza.