A treasured future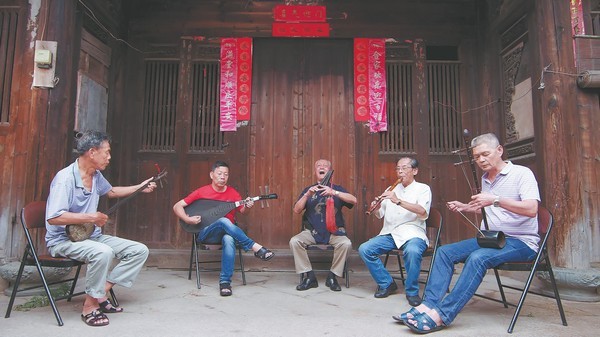 A snapshot of the documentaries presented at the National Library exhibition features Su Tongmou (second from right), who is part of a group performing nanyin, a traditional musical form that originated in Fujian. CHINA DAILY
  Exhibition highlights those who work to keep our heritage alive through a series of documentaries that will shortly be showing at a library near you, Cheng Yuezhu reports.
  Time relentlessly passes, but memories can last forever. With this belief, for the past decade the Chinese Memory team at the National Library of China in Beijing has been working to collect and preserve audiovisual records of culture and history.
  One of the aspects they have been concentrating on is the country's intangible cultural heritage, especially the items inscribed on UNESCO's Lists of Intangible Cultural Heritage and the Register of Good Safeguarding Practices.
  The project to record the stories of inheritors of the nation's intangible cultural heritage in video formats officially began in 2015. And since 2018, special exhibitions have been hosted to present the documentation achievements, along with screenings of the documentaries.
  This June, the fifth edition of the exhibition opened at the National Library of China, in celebration of the 20th anniversary of UNESCO adopting the Convention for the Safeguarding of the Intangible Cultural Heritage.
  Set in the hallway of the library's north area, the exhibition is readily accessible to all visitors. Anyone ascending the second floor immediately faces a poster of the exhibition.
  The designer of the exhibition Yang Lingling has chosen an overall hue of mineral green, a color commonly used in traditional Chinese paintings, for the exhibition in the belief that it both promotes traditional culture and stands out in the library setting.
  "It's different to set the exhibition in an open, public space rather than a conventional exhibition hall," Yang says.
  "Usually when visitors go to an exhibition, they have to plan in advance and choose a specific time to attend. But there's no pressure for anyone coming to this exhibition. Anyone visiting the library can enjoy the exhibition and learn something about China's intangible cultural heritage."
  1234Next >>|
Original Title:A treasured future