Stories of Chinese: Start Your Dream Afresh
  View H5:
  http://u688583.viewer.maka.im/k/8TR1R5H9?from=groupmessage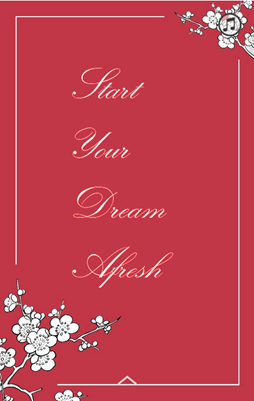 Start Your Dream Afresh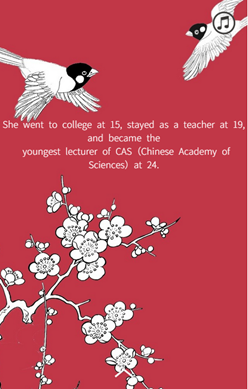 She went to college at 15, stayed as a teacher at 19, and became the youngest lecturer of CAS(Chinese Academy of Sciences)at 24.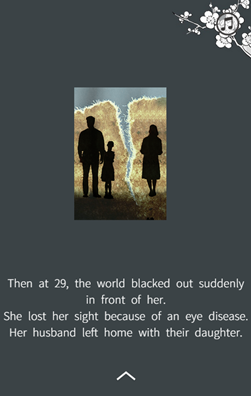 Then at 29, the world blacked out suddenly in front of her.
  She lost her sight because of an eye disease.
  Her husband left home with their daughter.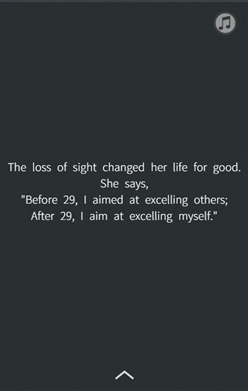 The loss of sight changed her life for good.
  She says, "Before 29, I aimed at excelling others; After 29, I aim at excelling myself."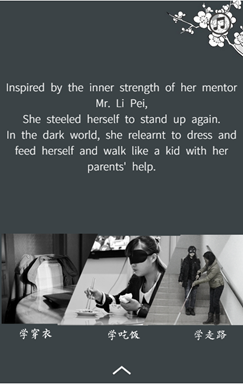 Inspired by the inner strength of her mentor Mr. Li Pei, she steeled herself to stand up again. In the dark world, she relearnt to dress and feed herself and walk like a kid with her parents' help.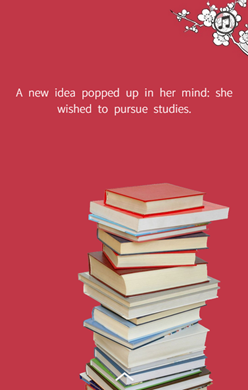 A new idea popped up in her mind: she wished to pursue studies.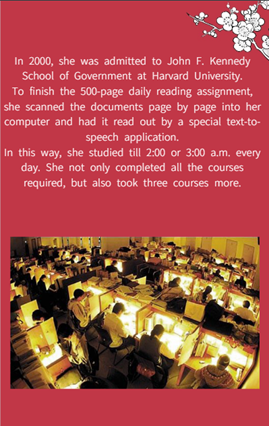 In 2000, she was admitted to John F. Kennedy School of Government at Harvard University.
  To finish the 500-page daily reading assignment, she scanned the documents page by page into her computer and had it read out by a special text-to-speech application.
  In this way, she studied till 2:00 or 3:00 a.m. every day. She not only completed all the courses required, but also took three courses more.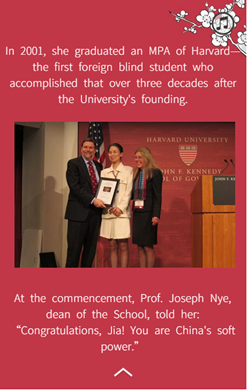 In 2001, she graduated an MPA of Harvard—the first foreign blind student who accomplished that over three decades after the University's founding.
  At the commencement, Prof. Joseph Nye, dean of the School, told her:
  "Congratulations, Jia! You are China's soft power."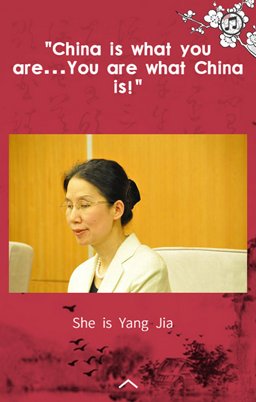 "China is what you are...You are what China is!"
  She is Yang Jia.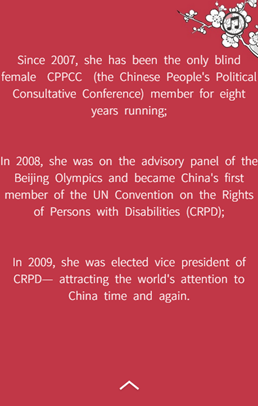 Since 2007, she has been the only blind female CPPCC (the Chinese People's Political Consultative Conference) member for eight years running;
  In 2008, she was on the advisory panel of the Beijing Olympics and became China's first member of the UN Convention on the Rights of Persons with Disabilities (CRPD);
  In 2009, she was elected vice president of CRPD, attracting the world's attention to China time and again.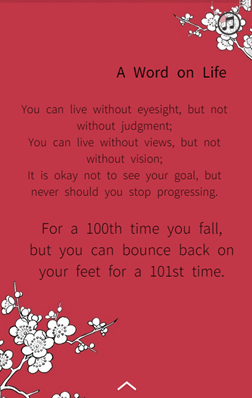 A Word on Life: You can live without eyesight, but not without judgment;
  You can live without views, but not without vision;
  It is okay not to see your goal, but never should you stop progressing.
  For a 100th time you fall, but you can bounce back on your feet for a 101st time.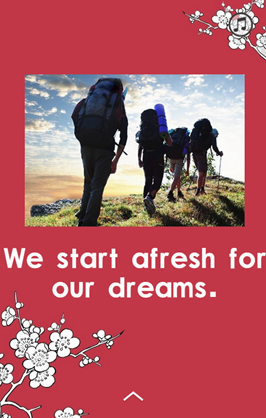 We start afresh for our dreams.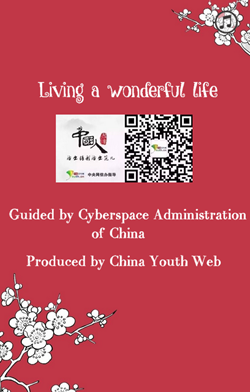 Living a wonderful life
  Guided by Cyberspace Administration of China
  Produced by China Youth Web