Chinese Culture Day embraces ancient Egyptian civilization at national museum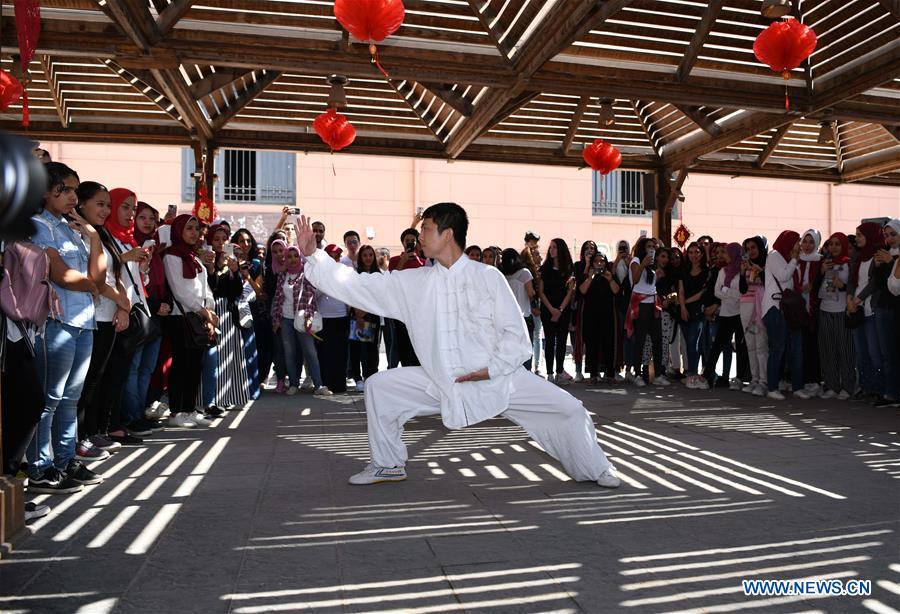 A teacher from Confucius Institute in Cairo University performs martial arts at the Egyptian National Museum in Cairo, Egypt, on Oct. 8, 2018. The Chinese Culture Day of Confucius Institute in Cairo University was held for the first time at the Egyptian National Museum in the capital's Tahrir Square on Monday. (Xinhua/Wu Huiwo)
  by Marwa Yahya
  CAIRO, Oct. 8 (Xinhua) -- The Chinese Culture Day of Confucius Institute in Cairo University was held for the first time at the Egyptian National Museum in the capital's Tahrir Square on Monday.
  Amid cheers and admiration, the audience from different nationalities stood steady and focused on the shows by Chinese and Egyptian students in the garden of the great ancient museum.
  Nada Abdel Salam, a 19-year-old student at the department of Chinese language in Cairo University, said the show this year is very special as it was displayed among the Egyptian monuments.
  "I feel touched to witness the shows of the Chinese culture day surrounded by the ancient Egyptian historical treasures of statutes, tombs and pieces of art," Abdel Salam, who came with tens of her peers, told Xinhua.
  The shows included singing, dancing, Chinese Kungfu, Chinese traditional musical instruments performance, while students and teachers taught paper-cutting and Chinese caligraphy at the side of the show.
  Esraa Mohamed, student in Confucius Institute, dazzled the audience with her operatic voice by singing a popular Chinese song "the Olive Tree."
  Mohamed said she spent two weeks practicing the song, noting the Chinese songs are difficult but very interesting with meaningful ideas.
  She added culture and singing are "the easiest roads to captivate the hearts of the people and bridge the culture relations in general."
  Salsabeel Madgy, another student in her beautiful Chinese costumes, received loud applauds while dancing with another Chinese student.
  "I came from Confucius Institute in the coastal city of Alexandria to take part in the culture day in Cairo, and I feel proud to dance here in the Egyptian museum among my old Egyptian ancestors to show them the integration of people thorough art," Magdy said.
  She pointed out that the event gathered students from across Egypt and it was a great chance to make new friends from Egypt and China at the same time.
  Established in 2007, the Confucius Institute in Cairo University was the first Confucius Institute in Egypt as well as the North African countries.
  Displaying the culture day show, which usually happened in the universities halls, inside one of the greatest museums in the world is a very important opportunity to spread Chinese culture, said Rehab Mahmoud, the Egyptian director of the Confucius Institute in Cairo University.
  "The shows today are watched by tourists from across the world, as well as the ordinary Egyptians, not just limited to the Chinese students," Mahmoud explained.
  Wang Enjie, the Chinese director of the Confucius Institute in Cairo University, expressed his gratitude to the Egyptian National Museum for holding the event.
  "By cooperating with the museum and putting up a show like today's, we hope more people will know about Chinese culture and eventually about China," said Wang.