Greater supervision urged for beauty sector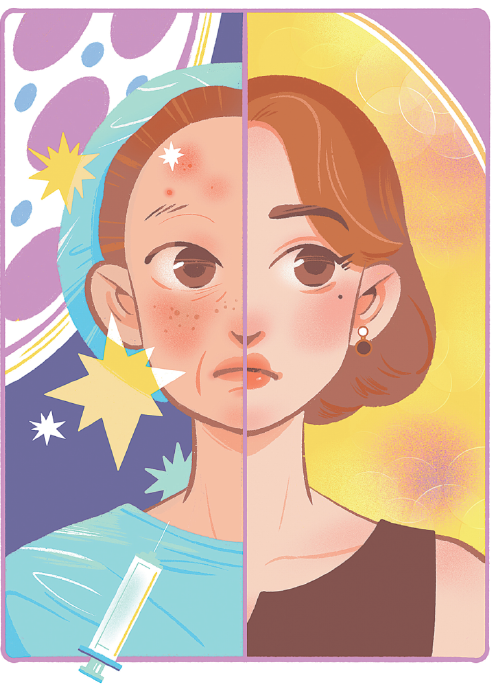 The number of legal disputes is rising as a lack of qualifications rocks the industry. Cao Yin reports.
Two years ago, Xiao Xue (not her real name) had hyaluronic acid injected into her forehead after hearing that it could promote collagen regeneration and provide a youthful appearance.
After the injection, though, she permanently lost the sight in her left eye.
Xiao, who was born in the 1990s and declined to use her real name, shared the experience with China Central Television.
She said the injection cost 6,000 yuan ($942), and was administered in a hotel by the owner of a clothes shop.
"The retailer told me she was good at doing the injection. However, the chemical, which should have been injected into the skin, was actually injected into a blood vessel, causing a blockage in my central artery," she said.
"My life was saved after I was hospitalized, but I am blind in my left eye. Now, I feel that it would be better to die than live like this."
Her story was one of several cosmetic treatment failures featured on a program broadcast on March 15, World Consumer Rights Day.
The show aimed to remind people to be alert in the face of claims of medical competence and to improve awareness of protection of legitimate rights.
It said some clinics providing beauty services and training-including several in Hefei, capital of Anhui province, and Zhengzhou, capital of Henan province-had charged fees for fake cosmetic treatment training.
The day after the program, government agencies in Hefei, such as those charged with overseeing healthcare and public security, inspected several clinics, confiscating surgical equipment and cosmetic products.
Qin Pengbo, a judges' assistant at Beijing Haidian District People's Court, said unlicensed clinics are frequently the subjects of consumer complaints, but effective control is hampered by lax supervision and the huge profits that can be made in the industry.
Data on the China Consumer Association's website show that the number of complaints involving aesthetic medicine services rose from 483 in 2015 to 7,233 in 2020. That triggered a rise in the number of disputes related to beauty treatments, mainly centered on illegal practices and a lack of qualifications, Qin said.
He urged people to carefully check whether clinics hold a business license and if employees are qualified to perform surgery.
"It's urgent and essential for the government to specify what constitutes medical cosmetology (the use of noninvasive procedures, rather than surgery) because that would allow supervision to be better targeted and work more effectively," he said.
Unclear classification
To illustrate his point, Qin shared the story of a relevant case.
In November 2020, a woman surnamed Xu sued a beauty salon at a court in Jilin province. Xu said cosmetic eye treatment she had at the salon had made her face swell up, and she demanded reimbursement of the 69,000 yuan fee.
After an investigation and trial, the court found for Xu and ordered the salon to return her money because it was not licensed to perform such procedures, Qin said.
"The salon was only licensed to cut hair and sell cosmetics. It was not licensed to use drugs, surgery, medical equipment and other traumatic or irreversible medical techniques to repair or reshape people's appearance or bodies," he added.
According to a 2002 regulation, individuals and organizations that have not obtained a license from health authorities to practice are banned from offering or performing cosmetic surgery, he said.
"The focus of many customers is always how to become more beautiful, not on reviewing the salon's qualifications. That's because they think their treatments-such as the removal of fat or bags around the eyes, double eyelid treatment or spot removal via lasers-constitute medical cosmetology and not surgery," he said.
He added that some new beauty treatments, including hair transplants and injections of hyaluronic acid to fill the skin, which are popular among the younger generation, are classed as medical cosmetology.
"But these items still need syringes and materials, which pose a risk to people's health or even personal safety, so they must be checked before use," he said.
False advertising
Data provided by Chaoyang District People's Court in Beijing revealed that 20 percent of all medical cases it has heard in the past five years involved cosmetic surgery, and the number is still rising.
Of the concluded disputes, 186 plaintiffs were women and nine were men, said Guo Lirong, the court's vice-president, adding that more than 76 percent of clients were age 18 to 40 and over 50 percent of the lawsuits were related to facial surgery.
According to Guo, most of the defendants were private clinics or beauty salons that had been sued for false advertising and illegal practices.
In one case in 2020, a woman surnamed Lu, from Hubei province, paid about 130,000 yuan for an eyelid operation at a beauty salon in Beijing.
An ad she read on the salon's WeChat account said it was part of an international chain providing ocular plastic surgery and repair, with more than 20 years experience and over 10,000 successful cases.
The court's investigation showed that the clinic had been fined several times by the city's market regulator for posting fake testaments about aesthetic treatments that used before-and-after selfies or pictures.
Given that the salon misled and cheated consumers, the court increased the compensation in line with the Advertising Law, ordering it to pay Lu 390,000 yuan, three times the cost of her treatment.
It also ordered the salon to pay an extra 50,000 yuan for mental anguish because Lu's right eye was constantly swollen and red, and her vision was impaired.
In the past five years, consumers in 78 disputes asked for compensation for fake ads after the failure of cosmetic surgery, Guo said.
Qin, from the Haidian court, confirmed the frequency of beauty-related disputes resulting from fake ads, but he expressed more concern about the rise in "DIY" medical cosmetology, which has become popular among younger people in recent years.
"We've found individuals and institutes selling hyaluronic acid or other liquid chemicals as well as medical devices, and telling consumers to inject the materials themselves," he said. "Such products pose a greater health risk, because buyers will find it difficult to get treatment if things go wrong."
He added that such retailers and practitioners often operate out of alleys to escape detection and avoid official supervision.
Future suggestions
The judges from the courts in Chaoyang and Haidian said strict supervision is essential to deal with clinics that lack business licenses, but they stressed that the government urgently needs to draw a much clearer distinction between medical cosmetology and regular beauty services, such as the provision of skin care lotions.
In their view, the list of services classified as medical cosmetology should be updated as quickly as possible, given the industry's rapid development. "Specific rules and clearer definitions will make market supervision more targeted and effective," Qin said.
He also suggested that government agencies, such as the State Administration for Market Regulation and the National Health Commission, conduct regular inspections of hospitals, beauty salons and clinics that are allowed to provide cosmetic surgery, with more and stricter health and security checks of their equipment and the medication offered.
"Punishments for problematic institutes must be strengthened because the current fine is not a big threat, compared with the industry's huge profits," he said.
"Furthermore, to improve professional standards, regulations are needed to clarify the type of training received by people employed in the medical cosmetology sector and the way they are trained."
Last year, a report on the development of the plastic surgery industry, issued by soyoung, a medical aesthetics platform in Beijing, showed that about 100,000 physicians met industry standards in 2020, but fewer than 40,000 of them were working in the sector. Moreover, there were not enough professional or high-quality institutes.
Chen Yang, deputy chief judge of the No 1 Civil Division at the Chaoyang court, reminded people to pay close attention to the qualifications of beauty service providers. She also called for stronger self-regulation of the sector and improved quality of service.
She and her colleagues suggested that the National Health Commission should revise the relevant regulations-not only by increasing the upper limit of fines but also by imposing lifetime bans on clinics and salons that violate the rules.
The court said it is essential that the NHC establish a long-term working mechanism to strengthen industry supervision, with tougher management of new technologies used in cosmetic surgery.
Moreover, a real-name medical treatment system and a platform for handling complaints or mediating industry disputes are also needed and should be established as quickly as possible, it added.