Pact over US delisting issue on the horizon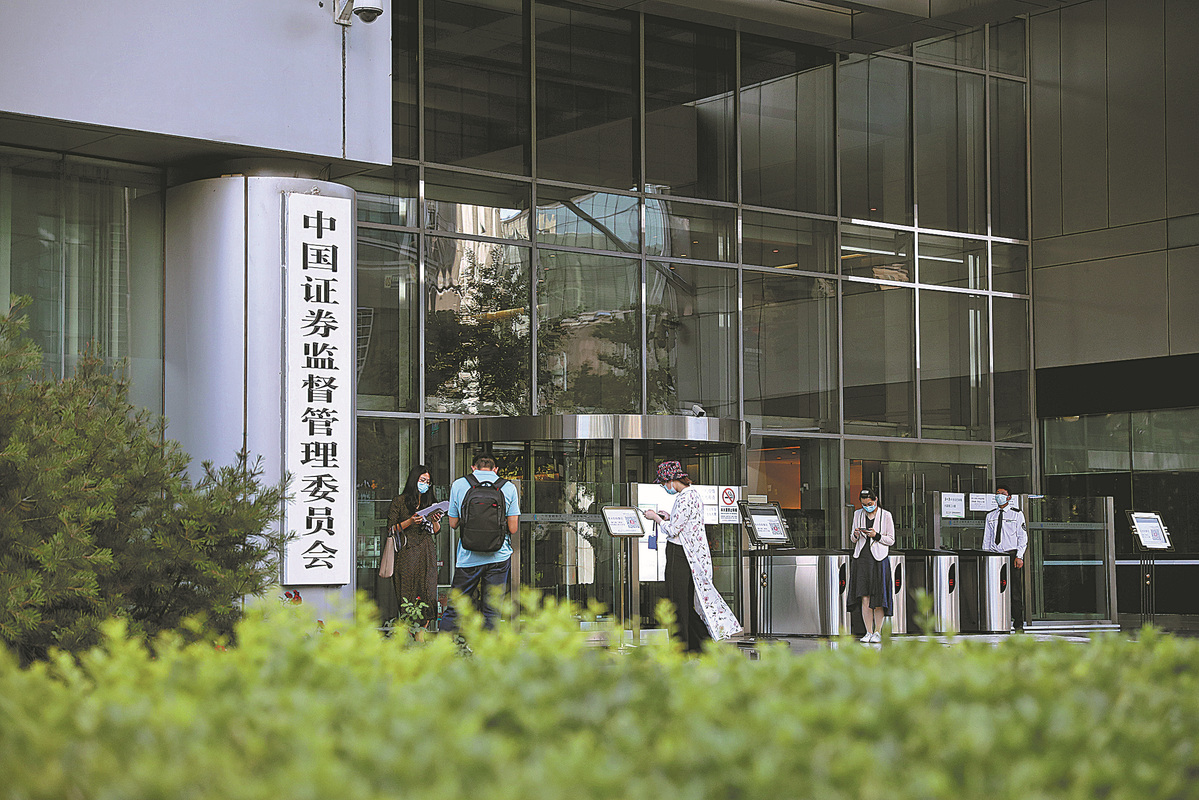 China Securities Regulatory Commission. [Photo provided to China Daily]
17 more Chinese firms face action; CSRC hints at allowing inspections
Negotiations between Chinese and US regulators over audit issues involving US-listed Chinese companies have proceeded smoothly so far and a cooperation agreement appears possible, said Fang Xinghai, vice-chairman of the China Securities Regulatory Commission, on Thursday night.
Fang made the remarks to the Boao Forum for Asia Annual Conference 2022. The Chinese delegation led by the CSRC has participated in video conferences with the US side on a weekly basis to finalize more details.
As part of the anticipated cooperation agreement, the Public Company Accounting Oversight Board, the organization overseeing the audits of US-listed companies, will be able to conduct inspections in China of Chinese accounting firms that audit US-listed Chinese companies. Any such inspections would be reasonable, rational and legal, said Fang.
Uncertainties over the US-listed Chinese companies, which squeezed their share prices over the past few months, may end soon, he said.
Meanwhile, another 17 US-listed Chinese companies were identified by the US Securities and Exchange Commission on Thursday for failing to meet the audit requirements under the Holding Foreign Companies Accountable Act. Companies including housing services provider KE Holdings Inc, electric vehicle maker Li Auto and courier company BEST Inc will have to provide evidence to the contrary before May 12. Otherwise, they will be delisted from the US exchanges in early 2024.
This is the fifth batch of US-listed Chinese companies facing delisting risk since early March. So far, 40 Chinese companies have been identified under the HFCAA. And 11 companies have already entered the "conclusive list" since they could not submit proof before the SEC's deadline. It means that industry giants such as restaurant chain Yum China Holdings Inc and technology giant Baidu Inc will likely have to wave goodbye to the US exchanges in 2024.
The HFCAA was passed in late 2020. Market mavens in China believe the law has been mainly used to prevent Chinese mainland companies from listing on US exchanges if they have not complied with the PCAOB's audit requirements for three consecutive years. Data from the public domain show that there are 323 US-listed Chinese companies at present.
Chinese regulators' stand on US-listed Chinese companies has been firm. During a meeting held on March 16 by the Financial Stability and Development Committee under the State Council, China's Cabinet, Vice-Premier Liu He said that China is dedicated to reaching a cooperation agreement with US regulators and positive progress can be expected. Chinese companies are still supported to go public in overseas markets, he said.
In general, China will continue its high-level opening-up of the capital market, Fang said on Thursday.
Continued efforts will be made to attract more foreign capital into the onshore stock, futures and bond markets. More international financial institutions should be introduced in China to provide better services to investors, he said.
There will be substantial net inflows of foreign capital into the Chinese capital market this year, said Fang. China's economic resilience, development potential and humongous market size will lead to sustained economic growth, which will help attract more foreign capital and financial institutions, he said.
Data from the CSRC showed that the A-share market attracted total net foreign capital inflows of 887.4 billion yuan ($136.8 billion) from 2019 to 2021. Up to 12 overseas securities, fund and futures companies have picked up holding stakes in the Chinese onshore licensed financial joint ventures.