CBA Roundup: Unstoppable Guo Ailun leads Liaoning to beat Shanxi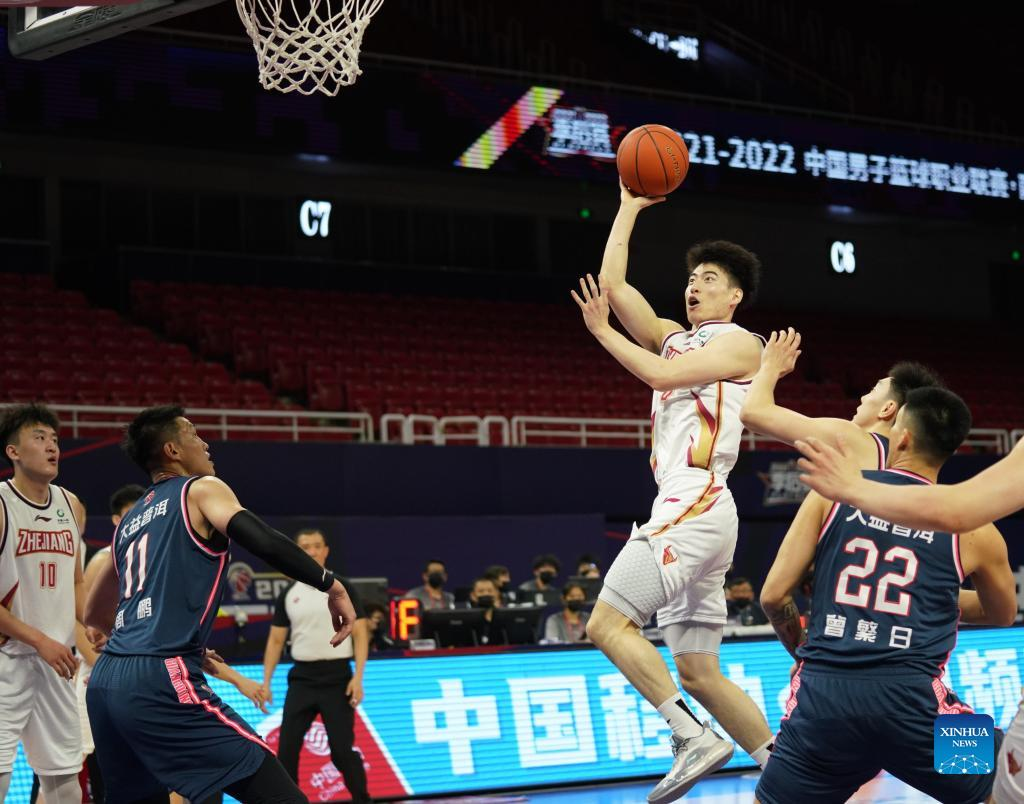 Cheng Shuaipeng (top) of Zhejiang Golden Bulls goes for the basket during the 2nd round playoff match between Zhejiang Golden Bulls and Guangdong Southern Tigers at the 2021-2022 season of the Chinese Basketball Association (CBA) league in Nanchang, east China's Jiangxi Province, April 7, 2022. (Xinhua/Hu Chenhuan)
  NANCHANG, China, April 7 (Xinhua) -- Guo Ailun was unstoppable as he notched 40 points and 10 assists, helping the Liaoning Flying Leopards defeat the Shanxi Loongs 116-104 in the first game of the best-of-three quarterfinals in the Chinese Basketball Association (CBA) playoffs here on Thursday.
  Regular-season title holder Liaoning finished with six players in double figures, led by the 28-year-old star guard who shot 16 of 21 in less than 39 minutes to become the first native player to tally at least 40 points plus 10 assists in a single CBA playoff game.
  Guo fiercely attacked the paint with tough layups to lead Liaoning to prevail 25-20 in the first quarter. Jonathon Simmons of Shanxi who scored 24 points, shooting eight of 12, poured on the pressure on the offensive end to help his team stay in the game.
  Liaoning opened the third quarter with aggressive attacks, trying to turn it into a rout as they led 89-69 into the fourth period. Against fast breaks from Shanxi, Guo overcame the reversing tide and set the tone for the victory with his 10 points in the last minutes.
  Also on Thursday, defending champions the Guangdong Southern Tigers edged the Zhejiang Golden Bulls 99-98 as Wu Qian of Zhejiang drew a foul from the three-point line but missed one free throw with only 0.8 seconds left in the final period, failing to tie the game for an overtime.
  Guangdong prevailed 83-75 to end the third quarter, but only scored 16 points afterwards due to sustained pressure from their opponents. Wu continued to cut the deficit as he scored half of his game-high 24 points in the last period.