Passing on the Paralympic spirit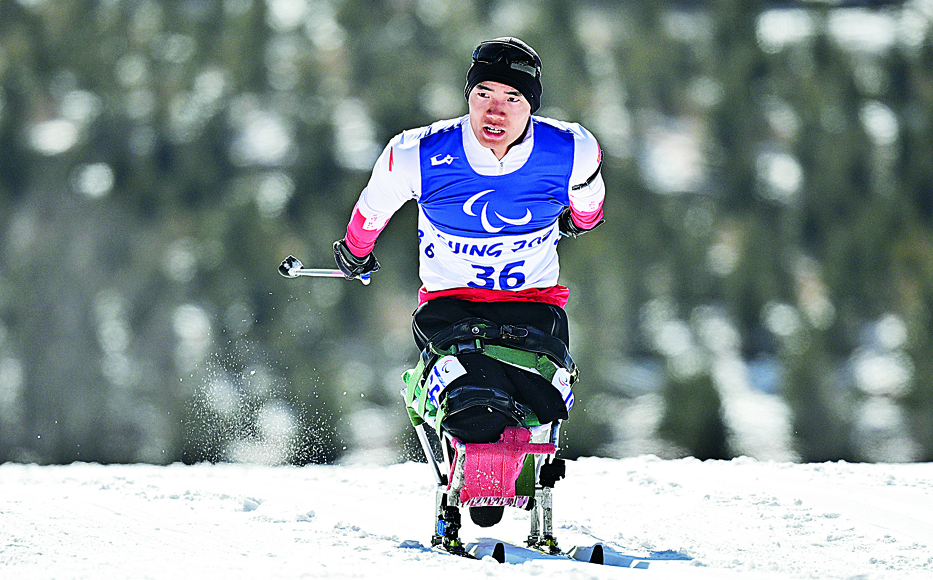 Liu Zixu won Team China's first gold medals of the Beijing Winter Paralympics. Liu triumphed in para biathlon men's sprint sitting. WEI XIAOHAO/CHINA DAILY
  Champions Liu Zixu and Li Hao hope their gold medal-winning feats can inspire others to embrace sports
  Paralympic champions Liu Zixu and Li Hao acknowledge that their lives would be a lot different had they not discovered the joy of sports. Now they hope their stories can encourage more people with disabilities to embrace the sporting life.
  "Sports have brought me many things. Apart from the Paralympic medals, embracing sports gave me a healthier body, strength and courage. And it taught me to never give up easily," said Liu, who won Team China's first gold medal of the Beijing Winter Paralympics with victory in para biathlon men's sprint sitting, during an exclusive online interview with China Daily on Wednesday.
  "For all of us, our lives are full of challenges. But we need to try hard to live life to the fullest and give it our best shot. By not giving up easily, anyone can have a wonderful life."
  Li, who won Team China's first gold medal at the Tokyo Paralympics in the men's saber individual category A last year, took part in the opening ceremony of the Winter Paralympics on March 4. And the wheelchair fencer, who followed many of the Winter Paralympic competitions on TV, was touched by the spirit of his fellow para athletes.
  "The first lesson that I learned when I started to play sports is how to become an independent person, and that gave me confidence. If I had not embraced sports, I would be living a totally different life, maybe as an everyday worker in a factory," Li told China Daily
  "If not for practicing sports, participating in the Paralympics in Tokyo would have been a total fantasy for me. Sports have changed me a lot and made me a much happier man."
  Li believes the Beijing 2022 Winter Paralympics have been a huge force for positivity in society.
  "The moment that touched me the most at the opening ceremony was when I saw a sentence 'Change starts with sports' on the big screen inside the Bird's Nest," said Li.
  "Beyond the Beijing 2022 Winter Paralympics, a new chapter of national fitness is beginning. Sports can bring us so many positive things, and we practice sports together for a shared future."
  Team China made major breakthroughs at the Beijing Winter Paralympics, with the host topping the medal table with 18 gold, 20 silver and 23 bronze.
  The result surprised the world, especially considering China only won its first Winter Paralympic gold at the 2018 Pyeongchang Games, in wheelchair curling.
  "I was so excited the moment that I realized I won the first gold for Team China. I cannot even remember what my coach said to me then, and I wanted to rush to the podium," recalled Liu, who also won bronze in the para biathlon men's individual sitting.
  "When I first joined the squad, the thing that I heard the most was how strong the foreign teams were, and that our performances were not competitive enough. But after the Beijing Winter Paralympics, we have all become more confident."
  The 24-year-old says increased investment in China's Paralympic programs as well as intense internal competition for places has helped push up standards in recent years.
  "Actually, I practice six disciplines across para biathlon and para cross-country skiing. And the competition within our team is really intense. Each year some athletes leave the team and are replaced by stronger candidates," added Liu, who lost a leg in a car accident when he was a teenager.
  "Such competition is a reason why we have grown so quickly over the past few years. Improvements to our training environment and equipment have also helped us produce much better performances."
  Never give up
  Liu and Li's journeys to the top of the podium have been far from easy.
  Liu practiced para archery before switching to winter sports, while Li used to be a para swimmer before taking up wheelchair fencing.
  "I really want to thank my coaches because they have helped me a lot. Honestly speaking, when I first switched from para archery to winter sports, I did not even have a clue what para biathlon was. It took a while for me to understand what I needed to practice," said Liu.
  "Because of my archery background, the shooting in the biathlon was not too difficult for me to pick up. The real challenge was skiing. Initially, I found it very physically demanding."
  Li admits there have been times when he felt like throwing in the towel, but over the years has developed an inner steel that gets him through those difficult moments.
  "I think all professional athletes face these situations. There can be times when an athlete becomes emotional and thinks about quitting. Especially, when you stick to a sport for too long," said Li, who is already eyeing more glory at the 2024 Paris Paralympics.
  "During such times, I would tell myself if others can continue to fight for their dreams, then I can. Just think that there are many para athletes who suffered much more serious injuries than I did, and they kept fighting for their dreams. I'm the kind of person that never easily gives up."
  The Beijing 2022 Winter Paralympics have been widely hailed as a huge success in terms of accessibility thanks to the installation of a comprehensive barrier-free environment.
  Liu said that he was deeply impressed by the quality of the facilities because they allowed him to focus fully on competing.
  Having experienced the barrier-free facilities at the opening ceremony, wheelchair fencer Li echoed those sentiments, saying: "All these facilities at the Beijing Winter Paralympics were unthinkable for previous generations of para athletes. At domestic or international competitions in the past, they relied on help from people to get around. But actually, most of us don't want help-we prefer to do things by ourselves."