Right to Play?——Online Gaming and Child Rights
——IGF 2020 Workshop #53 Successfully Held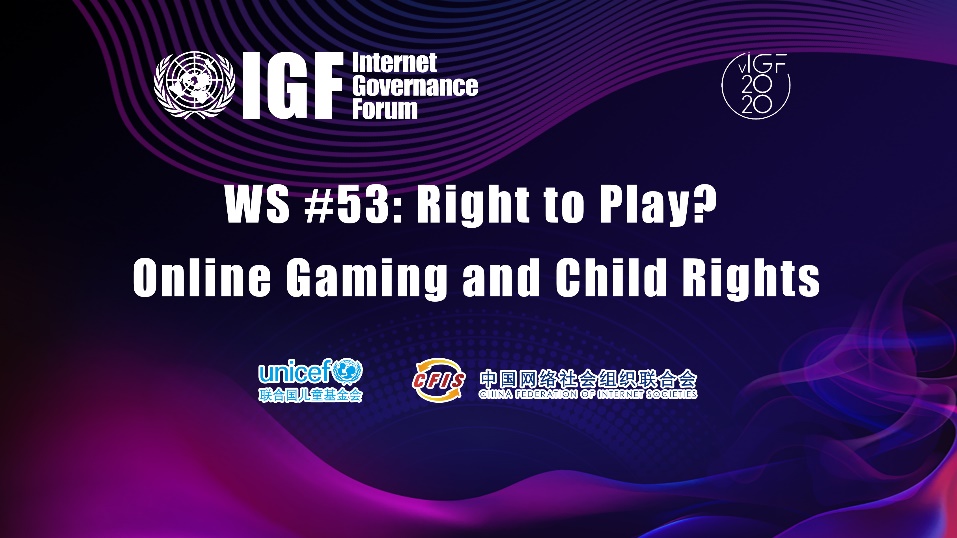 The workshop #53 Right to Play? --- Online Gaming and Child Rights has been held successfully on 9th, November, 2020, during the Fifteenth Annual Meeting of the Internet Governance Forum (IGF).
  Hosted by China Federation of Internet Societies (CFIS) and United Nations Children's Fund(UNICEF), the workshop focuses on children's rights in online gaming. It's among 87 online workshops selected by the Multi-stakeholder Advisory Group of the IGF 2020. The workshop took place in Beijing with international participants joined online.
  The workshop expects to raise public awareness on children's online gaming and calls for joint efforts from China and the international community to improve governance in online games and protect children's rights to play and development from a balanced perspective. Experts with diversified backgrounds and a child representative discussed the psychological and behavioral influence of online games on children and shared their insights on how to regulate and monitor the gaming industry.
  The workshop was moderated by Su Wenying, Child Protection Officer from UNICEF China.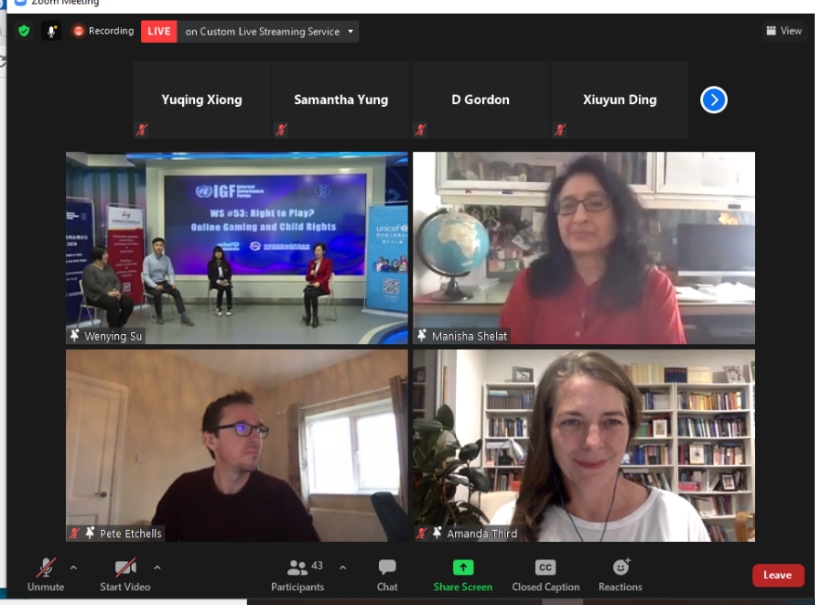 Pete Etchells, Professor of psychology and science communication at Bath Spa University defined gaming as a "hobby designed to be immersive and interactive." He thinks scientific research should establish a set of clear criteria for gaming addiction and gaming industries should take on social responsibility in their game development and marketing strategies.
  Manisha Pathak-Shelat, Professor of Communication & Digital Platforms and Strategies at MICA, Ahmedabad, India and Chairs MICA's Centre for Development Management and Communication, proposed that parents, educators, policymakers and game designers should familiarize themselves with game culture, media culture, and game-related concepts and keep an unbiased view, instead of stigmatizing online gaming.
  Lanky Zheng, the general manager of User Platform Department, Tencent Interactive Entertainment Group,is leading the operations of its Health System and Growth Protection Platform. He shared his thoughts on the relationship between video games and teenagers' development, and practices of Tencent Games. Tencent Games Dreaming Plan, with the purpose to explore more social value in video games, has published more than 20 serious game products. "The Everlasting Regret" and "The Day" series, have built a bridge between traditional culture and teens, and the recently released "Mandarin Town" aims to help underprivileged young people enhance their professional skills.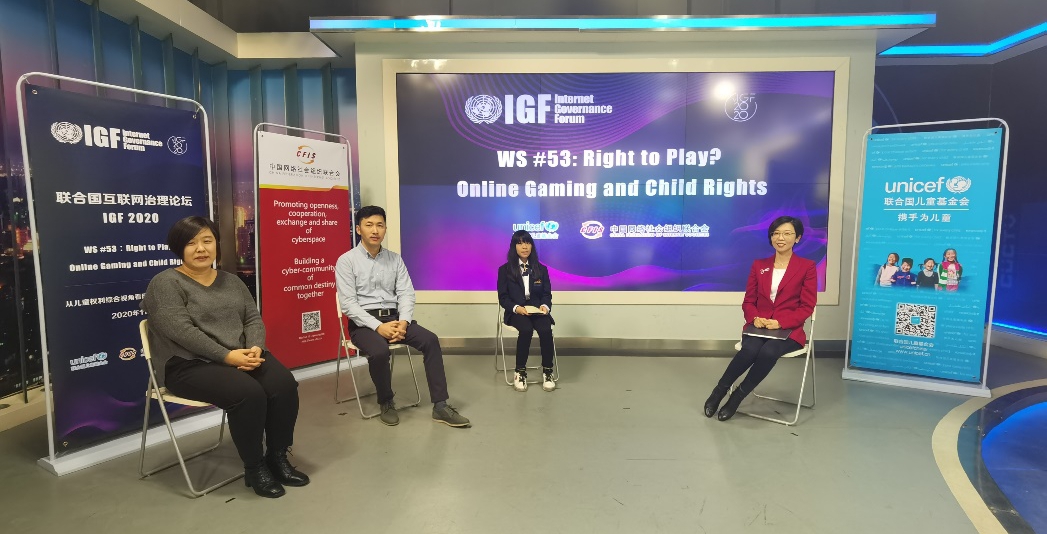 Sun Jing, Director of Game Research Center at Perfect World, pointed out the necessity to improve children's game literacy. Children should take on ownership to protect their rights. She shared that Perfect Word had been working to build an international platform and community which can facilitate the introduction of game researches into China. Hopefully in this way, the public can have a better understanding of games, as well as parents and their children can improve their game literacy.
  The thirteen-year-old speaker, Bai Yufan is a writer, student and a game player. She believed that "gaming is part of my life" and used her real-life experiences to prove how much joy online games could bring and how meaningful it could be. As a child representative, she advised the game developers not to focus solely on profits but to create games where creativity and happiness are valued.
  Amanda Third, Professorial Research Fellow in the Institute for Culture and Society at Western Sydney University; An international expert in child-centred approach and child participation. She argued that quality research should be encouraged to improve governance in online gaming. Additionally, she recommended that "UN's Convention on the Rights of the Child" provided principles and framework for governments, NGOs, private companies and other stakeholders to cope with the challenges in protecting children's rights. The mechanisms of governance in online gaming should be learnt and adapted from the Convention to fully uphold the bests interests of children and maximize the benefits of online games.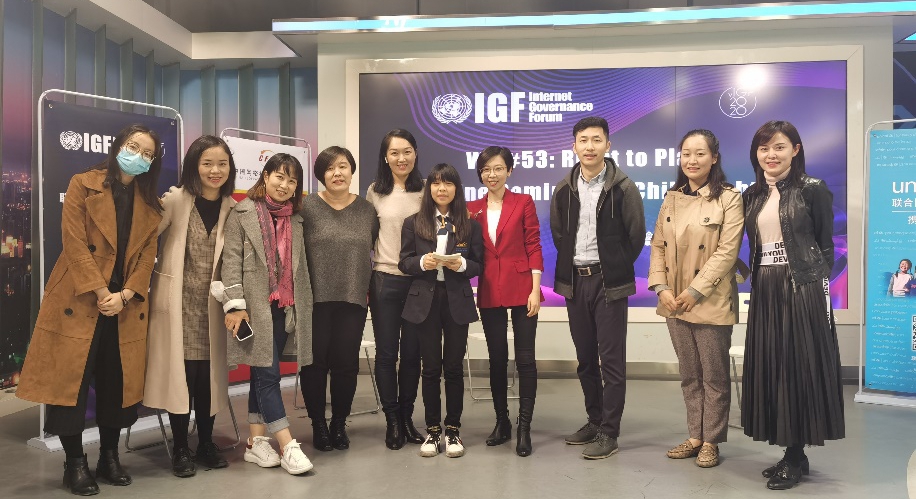 The 90-minite workshop highlighted the necessity and importance of understanding the relationship between online games and children's rights. According to Lanky Zheng, online games, one of the most important achievements of digital technology, have a unique and consistent cultural influence on young people. Industrial practitioners should think about how to equip teenagers with a balanced mindset and high-level game literacy, so that they can better benefit from the 'toys' of this era to contribute to their personal development. Hopefully, the discussion would facilitate a holistic response from all stakeholders and contribute to strike a balance between risks and opportunities presented by online gaming . More educational and functional games are encouraged in the industry.

  The Internet Governance Forum (IGF) is a global multi-stakeholder platform that facilitates discussions on public policy issues pertaining to Internet governance. The establishment of the IGF was formally announced by the United Nations Secretary-General in July 2006. The Fifteenth Annual Meeting of the Internet Governance Forum (IGF) was officially opened online during 9-17 November. Under the overarching theme Internet for human resilience and solidarity, the program develops around the four main thematic tracks: (1) Data; (2) Environment; (3) Inclusion; (4) Trust.