Youth Entrepreneurship Along the Belt and Road: Share Your Story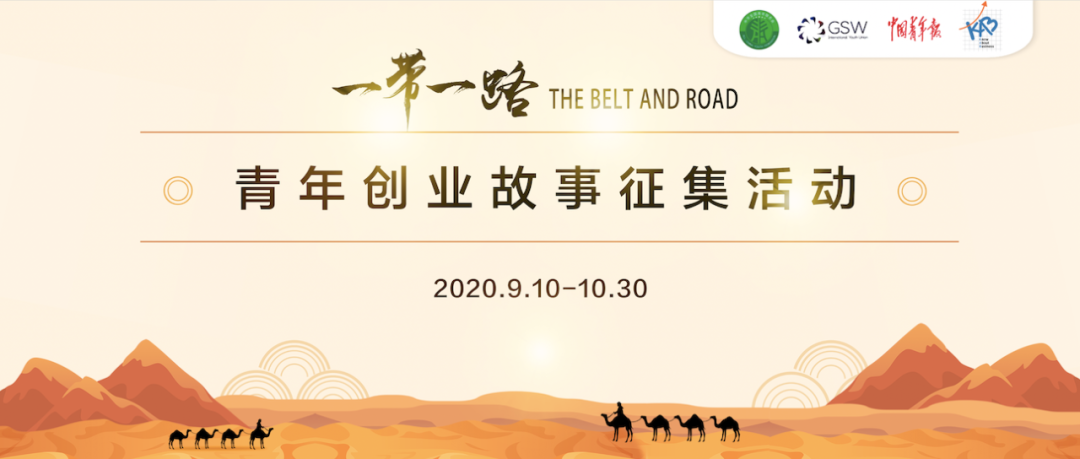 Along an ancient path,the camel bellsring softly.
  In times gone-by,
  the Silk Road witnessed exchanges between China andthe world.
  Today,
  the Belt and Road is progressing steadily, creating new opportunities.
  In 2013,
  President Xi Jinping launched the Belt and Road Initiative.
  In the past seven years,
  numerouscooperation projectshavegot underway:
  spreading seeds and making achievements.
  More and more youngsters around the globe
  have seized the opportunity of openness and cooperation,
  jointlydedicating themselves to innovation and entrepreneurship.
  Havingparticipated in the Belt and Road initiative,
  perhaps you've been moved to tears,
  or perhaps you've grit your teeth and persevered.
  After all, you've been through,
  we'd love you to share your stories with us.
  Review the 2019 Youth Entrepreneurship
  Story Sharing Event
  In order to showcase youth entrepreneurship in countries along the Beltand Road, and promote more exchanges and cooperation between young people in both innovation and entrepreneurship, the All-ChinaYouthFederation and the"Great Silk Way"International YouthUnion have jointly launchedtheBelt and RoadInternational Call for Youth Entrepreneurship Storieseventfrom September to October 2020. The theme is"YouthInnovation andEntrepreneurship Along the Belt and Road." In total,50entrants will beselectedto take part in theYouthEntrepreneurshipStorySharingevent,to be held online in early December.
  Dates for Submission
  September 10, 2020–October 30, 2020
  Co-hosts and Organizers
  Co-hosts:
  All-China Youth Federation
  "Great Silk Way" International Youth Union
  Organizers:
  China Youth Daily
  KAB National Promotion Office
  Theme
  Youth Innovation and Entrepreneurship Along the Belt and Road
  Requirements
  1.Participants
  a. Chinese participants should submit stories showing their work involving international cooperation related to the Belt and Road Initiative.
  b. Overseas participants should submit stories about starting up businesses in countries along the Belt and Road, and their work or service programs involving the Belt and Road Initiative.
  c. Participants should be the recorders or witnesses of the stories in countries along the Belt and Road.
  d. All participants must be 35-years-old and under.
  2.Submissions
  Stories should focus on the experiences and reflections of participants' own start-ups, illustrating their business model, original hopes in starting a business, social issues addressed, project prospects, etc. Stories should be closely related to the theme of "Youth Innovation and Entrepreneurship Along the Belt and Road" to highlight the creativity and entrepreneurial achievements of young people in countries along the Belt and Road.
  a. Articles should be around 2,000 words in length, and accompanied by 3-5 relevant HD photographs showing team cooperation, work scenes, program showcases etc. Written descriptions must be provided for each image.
  b. Stories submitted in the form of short videos are particularly welcome.
  3.Videos
  a. Stories are required to be original works and free from intellectual property disputes. All content must abide by relevant laws and regulations.
  b. Videos can be made in any of the following forms: oral accounts, scene reproductions, animations, etc. They can record the story of a single person or team.
  c. No more than two videos may be submitted by the same person, and videos jointly produced may be submitted only once.
  d. Specifications:
  - Duration: 2-5 mins
  - Resolution: At least 1920×1080 pixels (1080P Full HD)
  - Format: RMVB, MOV, MP4, MPEG
  - Landscape Mode
  e. The organizer retains the right to play and broadcast all submitted works.
  4.Selection standards
  a. Stories can illustrate how certain social problems are being solved to promote social and economic development.
  b. Business models presented in the story should be innovative, and projects should have independent intellectual property rights.
  c. Stories should be typical and inspiring to represent and reflect the positive outlook of today's young entrepreneurs, such as a hardworking and cooperative spirit.
  d. Stories should be written in a logical, vivid, and narrative manner with unique insights and experiences. Images and videos should be of high-resolution and clear. Images should be in JPEG format, while those with artificial composition or multiple-exposures will not be accepted.
  Registration
  Please send story text, photographs, and videos together to kaboffice@qq.com, and write Belt and Road International Call in the email subject line. Registration will be openuntil October 30.
  Participant Incentives
  a. The top 20 stories will be selected by a panel of experts, and presented on new media platforms. Authors of the top 20 stories will receive certificates.
  b. A total of 50 participants will be invited to take part in the Youth Entrepreneurship Story Sharing event to be held online in December.
  c. The top 20 stories will be published on China Youth Daily, one of the most influential media platforms for young people in China. Participants with international communication skills and experience will have the opportunity to attend the international youth conference held by the ACYF in 2021.
  Contact Information
  KAB National Promotion Office
  Contact:
  Meng Peipei(Chinese registration)
  Contact numbers:010-64098024, 18888852060,
  Wang Shuocheng (Other countries' registration)
  Contact number: 13031137646
  Email:kaboffice@qq.com
  Download Belt and Road International Call for Youth Entrepreneurship Stories Application Form