Algerian PM says Chinese firms make new contribution to friendship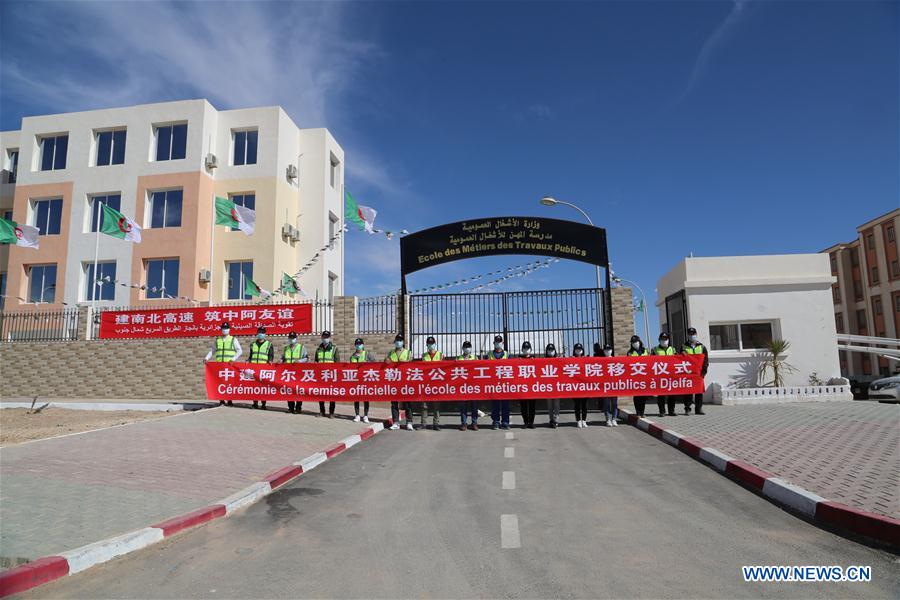 An inauguration and handover ceremony is held for the Public Engineering Technology School which was assisted by China State Construction Engineering Corporation (CSCEC) Algeria in Berbih, province of Djelfa, 300 km south of Algiers, Algeria, Oct. 17, 2020. Algerian Prime Minister Abdelaziz Djerad has praised the Chinese firms in Algeria for making new contribution to Chinese-Algerian friendship. Djerad made the remarks on Saturday while attending the inauguration and handover ceremony. (Xinhua)
  ALGIERS, Oct. 18 (Xinhua) -- Algerian Prime Minister Abdelaziz Djerad has praised the Chinese firms in Algeria for making new contribution to Chinese-Algerian friendship.
  Djerad made the remarks on Saturday while attending the inauguration and handover ceremony of the Public Engineering Technology School which was assisted by China State Construction Engineering Corporation (CSCEC) Algeria in the province of Djelfa, 300 km south of Algiers.
  He said that the institute is not only the education center for Algeria's public engineering personnel, but also the testimony of the traditional friendship between China and Algeria.
  It carries the spirit of mutual assistance and cooperation, he added.
  After visiting the institute, Djerad told local media that the Chinese firms have promoted the development of Algeria's infrastructure and public works in the last decades, and they have also made great contributions to Algeria's education.
  He pointed out that the institute will play a great role in the training of technical personnel and is a model project for the development of national vocational education.
  The institute was designed and built by CSCEC Algeria, which also donated relevant facilities.
  The institute covers an area of five hectares, including teaching building, laboratory building, dormitory building, football field and operation practice base.