Secrets behind "moving China"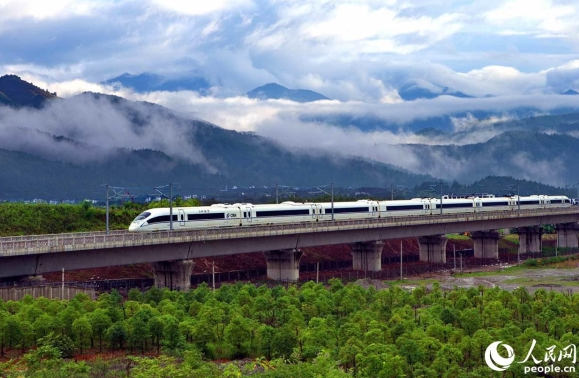 (Photo/People's Daily Online)
  "China, as a country of people on the move, is energetically pursuing prosperity. We are all running very hard. We are all dream chasers." The remarks of Chinese President Xi Jinping in his 2019 New Year's speech pointed out a major feature of the country: mobility.
  For such a vast country with a massive size and enormous population, how was China able to become "a country of people on the move"?
  Reform and opening-up: Shatter barriers that hinder mobility
  The comprehensive implementation of the reform and opening-up policy in China since 1978 has ushered in the rapid development of Chinese economy and greatly stimulated the mobility of the country.
  In the 1980s and 1990s, south China's Guangdong Province, which was at the forefront of the country's efforts of reform and opening-up, became the Chinese province with the largest migrant population.
  Thanks to reform and opening-up policies, Hu Xiaoyan, a woman born in southwest China's Sichuan Province, changed her fate.
  Hu left Sichuan Province to make some money so that she could return to her hometown and get herself out of debt. Fortunately, riding on the high tide of reform and opening-up, Hu transformed herself from a worker at the grass-roots level to a member of a management team.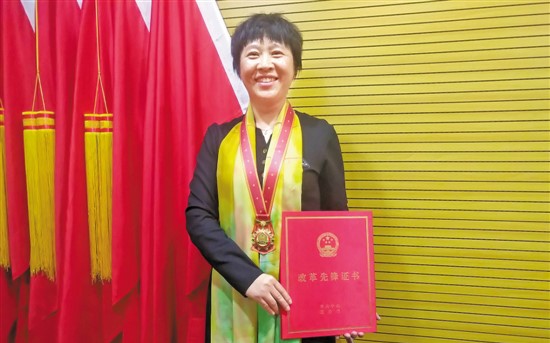 Hu Xiaoyan (Yangcheng Evening News/Zhang Taoyuan)
  In 2008, Hu was elected deputy of the National People's Congress (NPC) with an overwhelming majority of votes. In 2012, she joined the federation of trade unions of Sanshui District, Foshan City of Guangdong Province, continuing to contribute to migrant workers.
  After graduating from college in 2014, Cheng Mengxing decided to start her own business in her hometown, Sanjiecun Village, Yingcheng City of central China's Hubei Province.
  During the first year running her own business, Cheng received a 20,000 yuan (about $2,828.65) subsidy from the government, as her company was eligible for assistance according to relevant policies.
  By the end of 2018, Chinese people who returned to their hometowns or went to rural areas to start their own businesses amounted to 7.8 million accumulatively, while the number of people making innovations or starting their own businesses in their hometowns reached more than 31 million.
  Besides labor force, other economic elements such as goods and capital have also moved around the country.
  According to statistics from China's National Bureau of Statistics (NBS), in 2018, China's annual online retail sales volume exceeded 9 trillion yuan, up 23.9 percent year-on-year, while the country's private investment during the year rose by 8.7 percent from the previous year to over 39.4 trillion yuan.
  China's total volume of foreign trade in 2018 saw year-on-year growth of 9.7 percent and surpassed 30.5 trillion yuan, a record high, as shown by statistics from the NBS.
  Infrastructure construction enables mobility
  The infrastructure construction of China, which has witnessed continuous growth and helped the world build bridges, roads, vehicles, ports, and networks, has become a super driving force for the mobility of China.
  "My home is in Beijing, and I live in Hangzhou. I take the flight from Hangzhou to Beijing every Friday at 10 p.m. Half the passengers on my flight are engineers," said one engineer in Hangzhou, capital of east China's Zhejiang Province.
  According to official data, about 5.54 billion single passenger trips were made in the country in 2018, up 10.8 percent from the previous year. During the same year, China received 141.2 million inbound single passenger trips and sent out 149.72 million outbound trips, up 1.2 percent and 14.7 percent compared with 2017.
  The progress in China's infrastructure construction is shown clearly by its change in railway mileage. In 1949, the country's total railway traffic mileage was about 18,000 kilometers. The mileage exceeded 130,000 kilometers by 2018, with railway mileage of high-speed trains accounting for two-thirds of the world's total.
  Last year, China's railway passenger traffic reached 3.37 billion single trips, close to half of the world's entire population. This year, the total mileage of Chinese high-speed railways is expected to surpass 30,000 kilometers.
  Institutional innovation further facilitate mobility
  To promote high-level development of mobility, China has endeavored to continually push forward with innovation, replacement, expansion, and improvement in the efficiency of institutions and mechanisms.
  With the advancing reform of household registration systems, Mr. Yang, a 37-year-old man from northeast China's Jilin Province, received Beijing household registration status, together with other 6,018 non-native applicants, through the point-based household registration method this year.
  By the end of 2018, the urbanization rate of permanent population in China was 59.58 percent, and the urbanization rate of people with household registration was 43.37 percent.
  The modern city culture of China featuring equality, openness, and inclusiveness creates the country's relaxed and harmonious living environment as well as a market where people can start their own businesses and compete on a level playing field.
  Such an excellent business environment brought about many immigrant cities in China, with Shenzhen City of Guangdong Province as a good example.
  As the country continuously boosts reform and opening-up, the "moving" China will see an ever-faster pace of modernization.
  Mobility: Important secret to the prosperity of modern China
  Carrying vitality and dynamism, mobility has been helping promote China's economic and social development in multiple dimensions.
  As indicated by a credible estimate, during the period of rapid development of the Chinese economy from 2003 to 2008, the transient population in China contributed to over 40 percent of the country's economic growth.
  The high-quality mobility in China determined the time and space of the sustainable development of the Chinese economy. And now, as a beneficiary of mobility, the "moving" China is making additional efforts to deepen reform and opening-up further and boost free international trade.