Senior legislators hold study session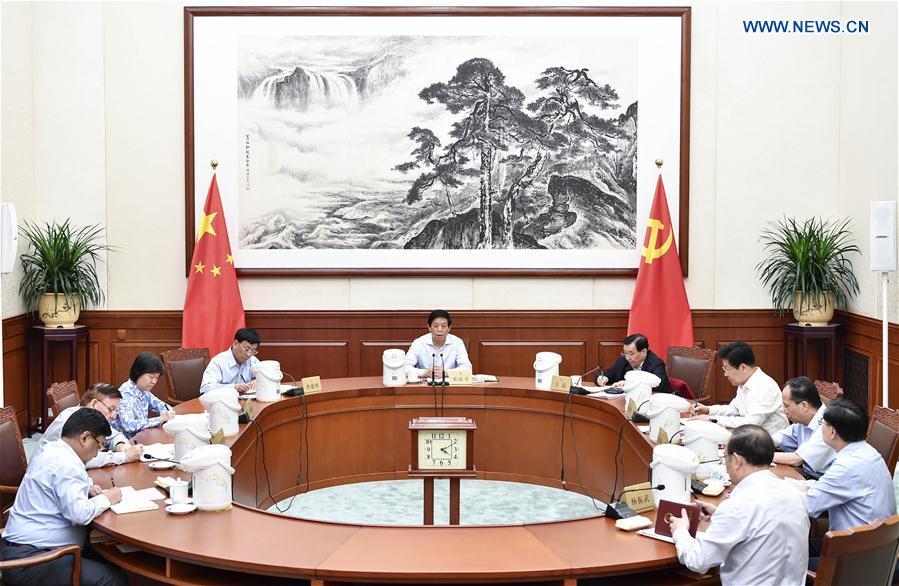 The Leading Party Members' Group of the National People's Congress (NPC) Standing Committee holds a study session on the historic mission of the Communist Party of China in Beijing, capital of China, July 16, 2018. Li Zhanshu (5th L), chairman of the NPC Standing Committee and secretary of its leading Party members' group, chaired and addressed the meeting. (Xinhua/Yin Bogu)
  BEIJING, July 17 (Xinhua) -- The Leading Party Members' Group of the National People's Congress (NPC) Standing Committee on Monday held a study session on the historic mission of the Communist Party of China.
  Li Zhanshu, chairman of the NPC Standing Committee and secretary of its leading Party members' group, chaired and addressed the meeting.
  The meeting noted that it is the historic mission of this generation of Chinese Communists to achieve the three-phase goals of building a moderately prosperous society in all respects, basically realizing modernization and making China a great modern socialist country in every dimension.
  According to the meeting, the NPC and its standing committee will focus their work on implementing the major decisions, policies, and plans of the Party central authorities, addressing the people's key concerns, and pressing ahead with rule of law and law-based governance in every dimension.
  The meeting stressed the need of upholding the Party leadership, playing due roles to serve, support and ensure the reform and opening-up, contributing to modernize China's system and capacity for governance with an aim to build a system of distinctively Chinese socialist rule of law, and building a good team.
  The legislators pledged to strengthen political work, strictly observe political discipline and rules, ensure the authority of the CPC Central Committee having the absolute final say, carry out intraparty political activities in earnest, enforce the eight-point decision on improving Party and government conduct and build a team of loyal, clean and responsible cadres.