A decade at Pakistan: a Chinese builder racing with war and plague!
  As the main force in the implementation of the Belt and Road Initiative, builders from central enterprises have been upholding the concept of "achieving shared growth through discussion and collaboration", jointly writing myriads of touching stories with the people of all countries along the belt by real emotion, sweat and blood. Since February 8th, 2018, SASAC website of the State Council, Guozi Xiaoxin (the official Weibo account of SASAC) and other mediums have jointly started a column to report the wonderful stories of "BR" constructors from Chinese central enterprises during their contributing trip at nations alongside the Belt and Road.
  Pakistan, a developing country with fast-growing economy, is a beneficiary of the Belt and Road Initiative. The magnificent Islamabad Sagittarius Hotel, the flashy Lahore Software Technology Park, the elegant Islamabad Benazir Bhutto International Airport…numerous projects constructed by Chinese constructors have sprung up in the past decade. If a building represents a city's clothes, then the Chinese builders have tailored many clothes for the city, silently devoting their youth and love to this hot land.
  If the time can flow backwards, Wu Sheng said he would rather dedicate the best decade of his life to Pakistan again. It won't be long before he returns to China, yet his thoughts are still captured by this land of exotic charm. Construction drawings, stones, paints and even those "multi-national exchanges" by both talks and gestures on the construction sites still often appear in his dream. During the last ten years, more than three thousand days and nights, he seldom recalled what had happened out of busy, but the fragments of the past had been engraved upon his heart and he would keep that forever.
  Wu Sheng, 38, is the first batch of foreman to go to Pakistan for the project of China Building Decoration under China State Construction Engineering Corporation.
  A newly arrival in Pakistan
  In 2007, China Construction Dongfang Decoration Co., Ltd, a subsidiary of China Building Decoration under China State Construction Engineering Corporation, has just set foot in overseas business. As an excellent staff and advanced individual, as well as one of the top ten outstanding youth in China Building Decoration, Wu Sheng responded positively to the call and embarked on his journey to Pakistan with the thought of expanding horizon and the title of "The first-batch project manager attending Pakistan".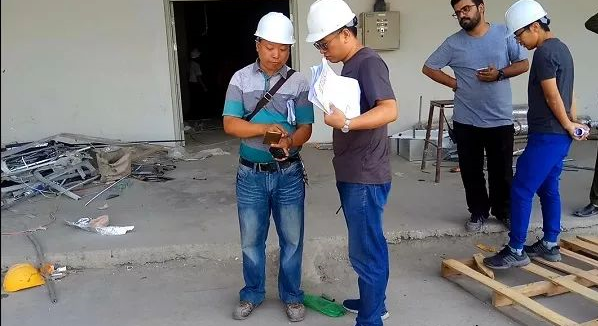 Wu Sheng was discussing with colleagues at the construction site of Islamabad Benazir Bhutto International Airport on technical issues
  Wu Sheng was 28 years old in 2007 when he had just completed the boarding bridge decoration project at the T2 terminal of Shanghai Pudong Airport and went abroad for the first time.
  As a newly arrival, Pakistan means a mixture of freshness and challenge for him.
  Pilaf with coffee, multilingual construction site, high temperature of 40 degrees, hot air, fierce sunlight and always-wet clothes…as well as Pakistan, all these seemed strange to him, yet he just stepped into this country! Since then, he has begun guiding construction on the scene during the day and investigating design specifications, CAD deepening drawings and English during the night.
  The difficulty in communication was the first challenge they encountered. In China, they had few chance of speaking English, yet now they had to communicate with the owners all in English, thus insufficient express was inevitable. Fortunately, years of front-line construction experience gave Wu Sheng enough confidence, modesty and endurance, he determined to chew this piece of "hard bones" by studying English in his spare time.
  "Effective communication depends on communicators' full grasp of particular subject…" Wu Sheng contemplated the connotation of this sentence again and again remarked by Andy Grove, a former CEO of Intel.
  Good things come to those who wait. For leaning of spoken language, environment is the best teacher. Soon, Wu Sheng was able to communicate with Pakistani owners in fluent English.
  In his first two years at Pakistan, as a foreman, Wu Sheng participated in the construction management of the Kamala and Islamabad hotel projects.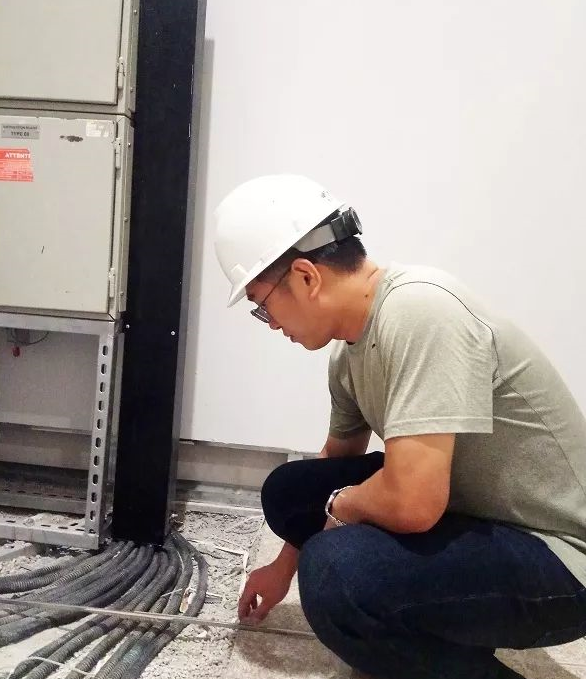 Wu Sheng was measuring the ground paving distance at the construction site of Islamabad Benazir Bhutto International Airport
  In 2009, Wu was appointed as the executive manager of the decorative project at Lahore Software Technology Park for his excellent performance.
  Lahore, a famous ancient city with more than 2,000 years of history and the former capital of the Mughal Empire, is Pakistan's second largest city and cultural and arts center. Nevertheless, the massiveness and mystery of the ancient civilization have not yet disappeared, yet in October 2010, Wu Sheng and his fellow workers suffered a massive dengue fever, with several Chinese workers infected.
  Dengue fever is an acute infectious disease caused by spread of mosquitoes and flies, its typical symptoms include fever and arthralgia, and in severe cases, it could be fatal. At night, scurrying mice and buzzing mosquitoes were so impossible to defend that once a worker drowsily killed a mouse crawling to his face when he was in sleep!
  Leaving aside his own safety, Wu Sheng has made joint efforts with the project manager to convene all the workers and managers, preach the causes and prevention of the disease, and take immediate measures, that is, to intensify the cleaning of dormitory to the degree that no mosquito can be close! In the meantime, they sent infected employees to the best local hospital in no time. They then contacted the Chinese Embassy in Pakistan to seek the support of local government and medical institutions.
  A series of measures were put in full swing and the epidemic of "dengue fever" was effectively controlled.
  Regarding his fellow workers as kinsfolks, Wu Sheng visited and accompanied those workers in treatment whenever possible. Because of timely prevention and control, all the infected employees were finally recovered.
  Hardly has one wave subsided when another rises. Amid the yet-to-end "dengue fever" in the Lahore Software Technology Park, the same virus erupted at the Islamabad Benazir Bhutto International Airport, with even more ferociousness. The prevalence rate reached as high as 70%, while the high degree of infection and the high spread speed made them virtually caught off guard. Workers and managers were sent to the hospital one by one, and the entire project team shrouded in horror. Wu Sheng, who had experienced "Dengue Fever" incident, was once again entrusted to control the construction site.
  For the sake of collective health and safety, Wu reconsidered the project progress and sent uninfected workers back to China ahead of schedule for quarantine. Yet Wu Sheng himself stayed at Pakistan to maintain site construction while addressing the follow-up treatment matters of sick employees.
  After several effective prevention and treatment measures, the number of patients suffering from dengue fever was once again reduced to a minimum.
  At that time, it has been three years since Wu Sheng was appointed as project manager of the decorative project of the terminal building at the Bhutto International Airport in June 2011.
  Turning "impossible" into "possible"
  Located at the Fateh Jang district of Islamabad, the capital of Pakistan, the Bhutto International Airport will deliver 9 million passengers a year after its completion. The building area of airport terminal reaches nearly 165,000 square meters, including 16,000 square meters of main building glass wall area, and 80,000 square meters of interior decoration area, accounting for half of the total area of the project.
  As an important part of the "China-Pakistan Economic Corridor", the Bhutto International Airport not only represents a key project for China Construction Dongfang Decoration Co., Ltd's participation in the BR construction, but also bears the political significance of promoting the interconnection and shared growth of both countries.
  "We aim to enhance the inner beauty of this airport and to finish the project with high quality and efficiency!" Wu Sheng answered the reporter in a decisive manner on the CCTV news channel.
  On May 6, 2017, Pakistan's Prime Minister Nawaz Sherriff came to the airport for an on-site inspection, and highly praised the construction quality and progress.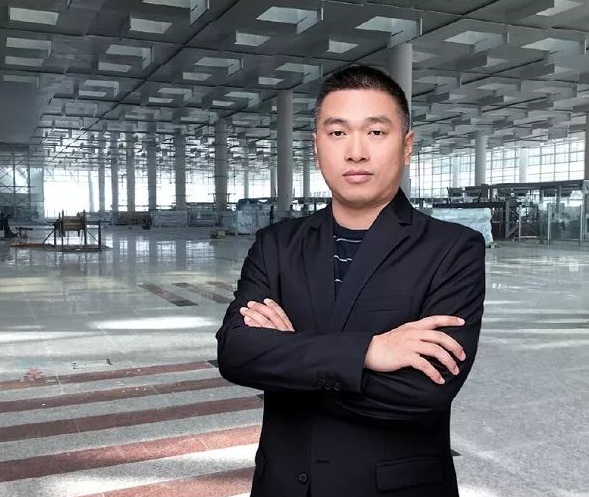 Wu Sheng was at the construction site of Islamabad Benazir Bhutto International Airport, saying that he was particularly proud for being one of a constructor from central enterprises for BR.

  What is behind the high praise of Pakistan's prime minister is the "Thousands of Turns and Twists" experienced by Wu Sheng and his fellow workers!
  In August 2016, Wu Sheng received a new requirement from the owner and general contractor – "construction of the main building and the main part of extension section should be completed before December 25, 2016!" Everyone's first reaction was "It's impossible!".
  Wu Sheng was immersed in meditation again. After reading the construction plan and thinking from different angles, a rearranged, more detailed and effective construction plan was worked out. Subsequently, he and his colleagues rolled up their sleeves and raced against time under great pressure.
  More unexpected things just happened! In mid-October 2016, the India-Pakistan conflict erupted again and Pakistani officials refused to accept any containers from India. In this way, the Indian cement panels that were originally planned to be used in construction cannot enter Pakistan. The project department exerted all kinds of efforts and went through various channels, but all of them ended with failure.
  Under a helpless situation, Wu Sheng came up with an idea that Pakistan had an abundant storage of Thai cement panels. Thus, he met with the professional section chief in charge of curtain wall Liu Yuefa and suggested the chief to change the plan to substitute Indian cement panels with Thai cement panels. To prevent rainwater infiltration, Wu Sheng proposed to use iron sheet…This scheme was approved successfully, which indicated the material difficult was overcome. Like this, one problem came and was solved. And the project was finally completed before December 25. The construction quality was ensured and the expected construction period was realized, which was highly recognized by the owner and supervision department. Wu Sheng and his team changed "impossible" into "possible"! This period of time was actually the days arranged by the company for Wu Sheng to return to China for medical treatment.
  Work quietly and harvest quietly
  At the beginning of 2017, Wu Sheng finally returned to China for treatment. He did not come back to China out of his own will. He was forcibly returned by his colleagues. The irregular diet and routine in ten years of living in Pakistan made him develop gallstones.
  "Sometimes the great pain made sweat fall down, but he still carried on to guarantee that the project was finely completed before deadline until he had to have a gallstone surgery as soon as possible." Colleagues from project department said worriedly.
  His family thought that Wu Sheng would stay at home for a while after this surgery. But soon, there was news from Pakistan that a new project was added in Benazir Bhutto International Airport. After hearing the news, Wu Sheng did not let himself stay anymore because no one knew the whole project better than him! After simple restoration, he appeared at the construction site in Benazir Bhutto International Airport.
  He felt guilty about his family. During his stay in Pakistan, his marriage was postponed three times. And he only came back for a few days to accompany his wife when she was about to give birth. Every time he came back, his daughter did not know him.
  In past ten years, Wu Sheng has accumulated a set of high-practical working experience with professional skills and fluent English. At every design conference or owner supervision conference about Benazir Bhutto International Airport, the wisdom and stability from this Chinese manager can always felt by everyone. And trust is established in such communication.
  Now, Benazir Bhutto International Airport project has been basically completed. It is in the stage of system testing and expected to run in May 2018.
  When the project is finished, Wu Sheng will return to China. From 28 to 38 years old, Wu Sheng's hair has been half white, and his most precious decade has been spent at the construction site in a foreign country. When he returned home, he needs to adapt to the new job as soon as possible. Along with the expansion of overseas business of Dongfang Decoration Co.,Ltd, planning production performance of overseas projects and background service of domestic departments as a whole has become a new subject in front of him. Next, he is about to combine management experience of overseas projects with enterprise management system effectively and make a new life plan on overall management of overseas projects production.
  Life is about diligence and everything should be done quietly. Wu Sheng especially like the line from Until Seas Go Dry and Rocks Crumble (《直至海枯石烂》) written by Yishu: Work quietly, harvest quietly and avoid noise.
  Overseas work life is monotonous but wonderful.
  Overseas construction is tense and busy
  It is many youths like Wu Sheng
  Who give their entire youth to overseas construction
  That magnificent landmarks are built
  And "Made in China" becomes well-known!