Devoted to Public Interest Whole-heartedly——Shi Yigong
  China Youth Web Beijing March 13th (Journalist Yang Yue)Today, let's read a story of Shi Yigong.
  http://a4c74a45f9ec.ih5.cn/idea/-xUNcDJ?vxparm=/vxid_1/senderid_4db3dfd3b23f2538&source=undefined&suid=357D35AE-B605-43F5-BFF4-FE00066D4AA1&sl=0(View Html5)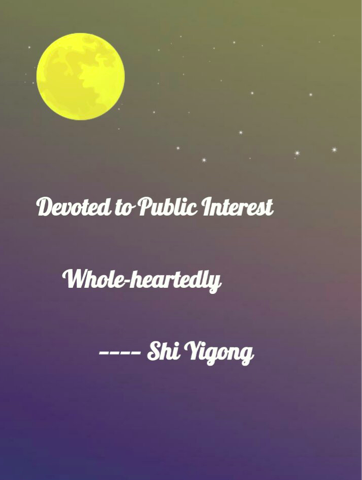 1
  "老婆,我想全职回国。"一个远洋电话吵醒了熟睡中的妻子。
  "为什么?"远在大洋彼岸、睡眼惺忪的妻子诧异地问。
  "I want to work full-time in China, honey."
  An overseas call awakened the wife from sound sleep.
  "Why?" asked the wife with surprise, in a drowsy voice, from the other side of the ocean.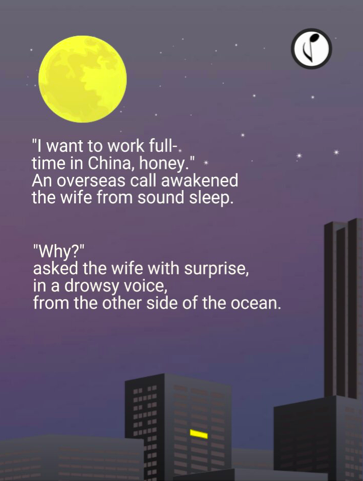 2
  在美国,他前途似锦。
  36岁那年,他成为普林斯顿大学分子生物学系史上最年轻的正教授,科研事业屡获成就。
  40岁时,他被授予普林斯顿终身讲席教授。
  In the United States, he had a great future ahead.
  At the age of 36, he became the youngest professor in the history of the Department of Molecular Biology at Princeton University, for his prolific academic achievements. At 40, he became a tenured chair professor at Princeton.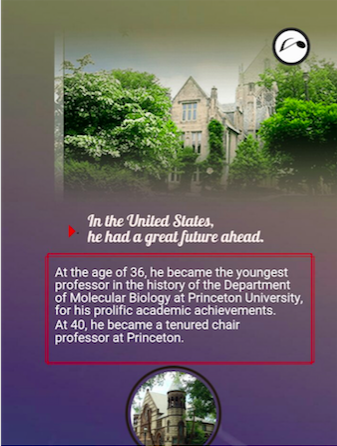 3
  一切堪称完美、煞羡旁人时,他却毅然辞别普林斯顿大学、告别美国优裕的生活,"全职回国"。
  When everything seemed to others perfect and admirable, he resolutely decided to bid farewell to Princeton University, to an affluent life in the United States, and return to China.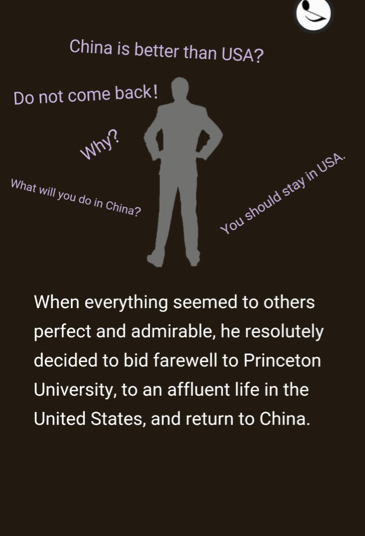 4
  消息迅速爆炸性地传开了。很多人不解,很多人劝他,很多人取笑,很多人等着看笑话。
  The news spread explosively. Many expressed bewilderment, many dissuaded him, many poked fun at him, and still many waited to have a good laugh at him.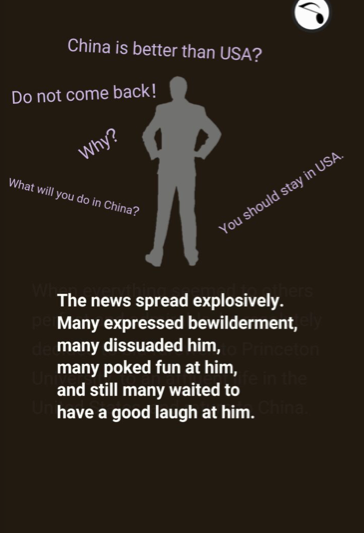 5
  他说,爱国是最朴素的感情,有谁不爱自己的母亲?
  He said patriotism is the plainest feeling of a person. Who doesn't love his motherland, after all?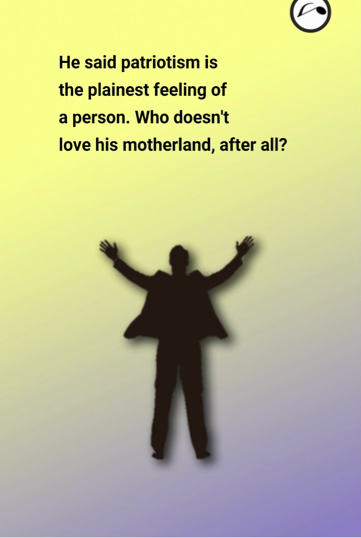 6
  在他的心里,美国梦已然成为过去;中国梦正冉冉升起。
  In his heart, the American dream is already something past; the Chinese dream is rising.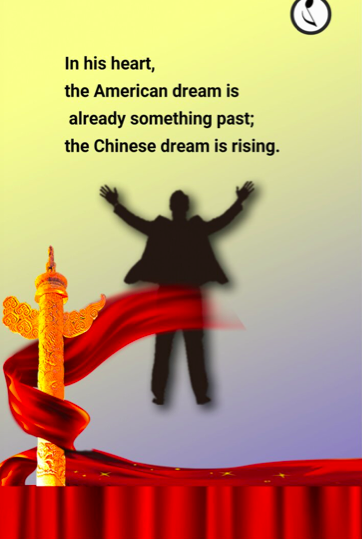 7
  回国后的他,卯足了劲,决意大干一场,工作近乎"疯狂"。
  在清华大学,他组建了生命科学研究团队。每天,他都要工作12到16个小时,实验室→家、家→实验室,"两点一线"。
  After returning to China, he summoned all his energy and worked like crazy, determined to do something big.
  He assembled a life science research team. Every day, he works 12 to 16 hours at his laboratory.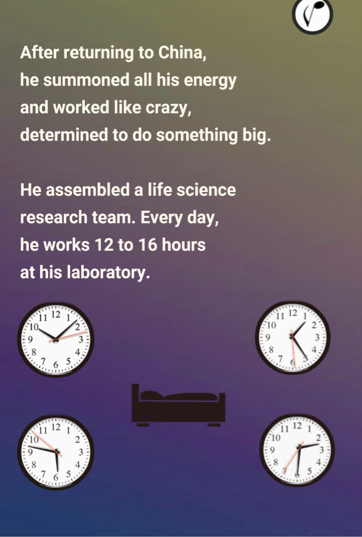 8
  他就是清华学子们称为"大牛"的施一公。
  He is Shi Yigong, dubbed "Da Niu" (someone with extraordinary achievements) by Tsinghua students.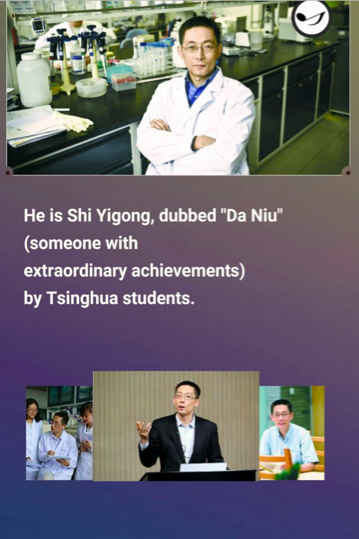 9
  "对我个人来说,获奖真的没有什么特别的意义。"
  面对殊荣,施一公淡淡地说。
  "So far as I'm concerned, awards are of no special meaning," Shi says calmly of accolades and honors coffered on him.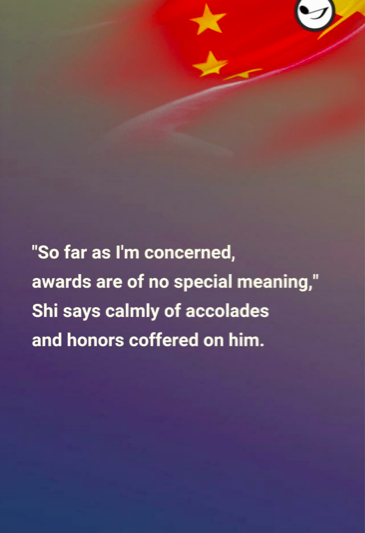 10
  回国后的他有三个理想:
  第一,从事教育,影响一批年轻人。
  第二,在清华大学建立一个世界一流的结构生物学中心,与同仁们一起推进中国的生命科学和基础医学的研究。
  第三,与志同道合的朋友,一起推动中国的科教体制改善。
  After returning to China, he has three goals in mind: to teach and influence a batch of young people; to establish at Tsinghua University a world-class structural biology center to advance Chinese research into life science and basic medicine together with colleagues; and to advance science education reform in China together with like-minded friends.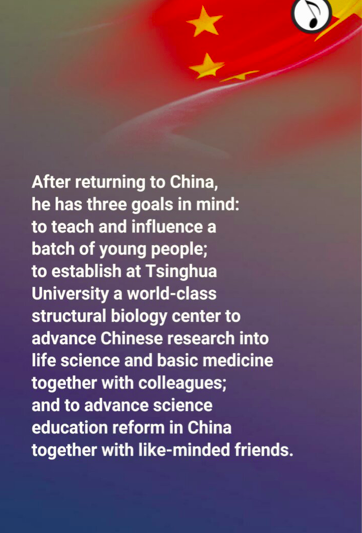 11
  施一公的名字,取意"一心为公"。
  留学美国18年,他始终笃定不忘心中中国梦,
  下一个18年中国大梦会因施一公们的努力绽放更美的风采。
  His given name, Yigong, is derived from an idiom that means "devoted to public interest whole-heartedly".
  In his 18 years of study in the United States, he never forgot his Chinese dream. In next 18 years, the Chinese dream will be more glorified by the endeavor of Shi Yigong and the likes of him.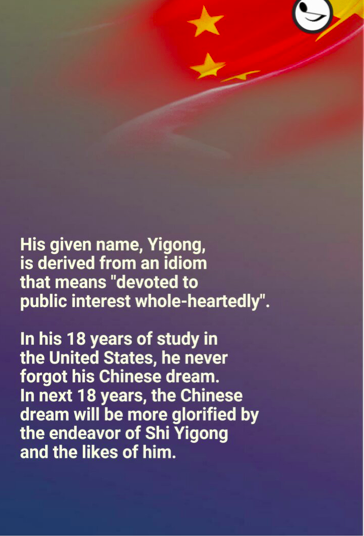 12
  Stories of Chinese : Living a wonderful life
  Guided by Cyberspace Administration of China
  Produced by China Youth Web