Maduro expresses faith in BRI, Huawei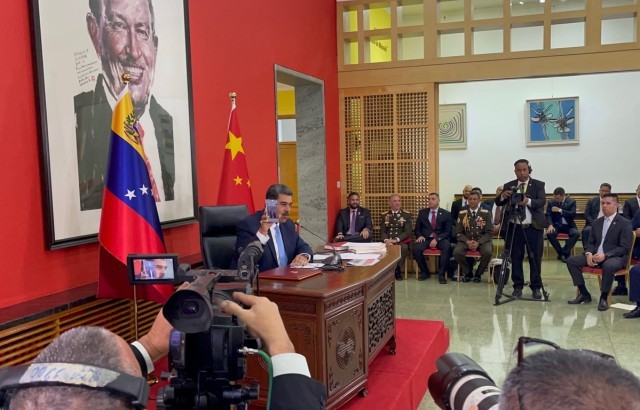 Venezuelan President Nicolas Maduro Moros presents a Huawei phone at a press conference in Beijing on Thursday. PHOTO BY ZHANG YUNBI / CHINA DAILY
Venezuelan President Nicolas Maduro Maros did not hold back his enthusiasm on Thursday when addressing journalists at the conclusion of his state visit to China.
Speaking to media representatives from both nations at the Latin American country's embassy in Beijing, he shared his thoughts on both the achievements of the state visit to China and also struck a personal note when discussing his weeklong stay in the nation.
Maduro held up a state-of-the-art Huawei cellphone at the news conference, with its large screen showing a photo of President Xi Jinping shaking hands with him.
"It's Huawei's latest cellphone that uses the latest technologies, and you can use this phone to directly communicate via satellite," he said amid a flurry of flashlights from the assembled photographers.
"I want all my young friends to buy a good Huawei cellphone," he added. "I believe this is the most secure cellphone I've ever used, and I believe it won't be tapped by other countries."
His faith in the quality of made-in-China electronic devices, which he expressed at the gathering, was equaled by his passion in elaborating on the tangible outcomes of his meeting with President Xi on Wednesday.
When a reporter asked about progress in bilateral energy cooperation, Maduro took out a printout of a joint statement on the establishment of an all-weather strategic partnership between China and Venezuela.
"Questions of interest to everyone can be answered here," he said.
"Our friends in the media can further utilize your outlets to further disseminate the contents of the relevant agreements."
He also expressed support for China-proposed initiatives, including the Belt and Road Initiative and the Global Development Initiative.
This year marks the 10th anniversary of Xi proposing the BRI in 2013.
Maduro said that during his talks with Xi, he discussed the expected status of Latin America in the bigger picture of the Belt and Road.
When asked about the BRI and the BRI cooperation agreements that Latin American countries have signed with China, Maduro blasted "smearing and suppression in the world, especially those made by Western media".
"In the current world, there are always some people using their narrow minds to measure and judge the real gentlemen, they always feel that what other people do is meant to affect their interests."
"But this kind of era, I think, is coming to an end and should come to an end," he added.
Venezuela and Latin America's partnerships with China were "not built against any third party", he said.
"We're not trying to unite against anyone, to encroach on the natural resources or the development interests of other countries. We built these partnerships … to work hand in hand to promote common, inclusive development," he said.
Envisioning the future of the BRI, he voiced hope to "further attract Chinese enterprises to come to the Latin American region and increase investment".
Maduro's visit lasted a week, from Sept 8 to Thursday. He traveled to Shenzhen in Guangdong province, Shanghai and Shandong province before taking a high-speed train on Tuesday to Beijing, the last stop of his visit.
As part of the Venezuelan president's packed schedule, Premier Li Qiang and Zhao Leji, chairman of the Standing Committee of the National People's Congress, met with Maduro on Thursday.
"I have great admiration for the Chinese people, and the Chinese leaders have always been very modest and very conscientious," he said, calling the intensive talks in Beijing "highly constructive".
Next year, China and Venezuela will celebrate the 50th anniversary of their diplomatic relations.
Maduro said, "In the future we can go further to broaden our areas of cooperation and take further strides toward our centennial journey."
At the climax of his response, he knocked the table top before him several times.
"Our friendship is as solid as the table's wood, and as sturdy as Taishan Mountain," he said, referring to the majestic mountain and symbolic tourist attraction in Tai'an, Shandong province.
Original Title:Maduro expresses faith in BRI, Huawei