Venice faces UNESCO Heritage List demotion
Popularity of Italian water city may cause it to be reclassified as 'at risk'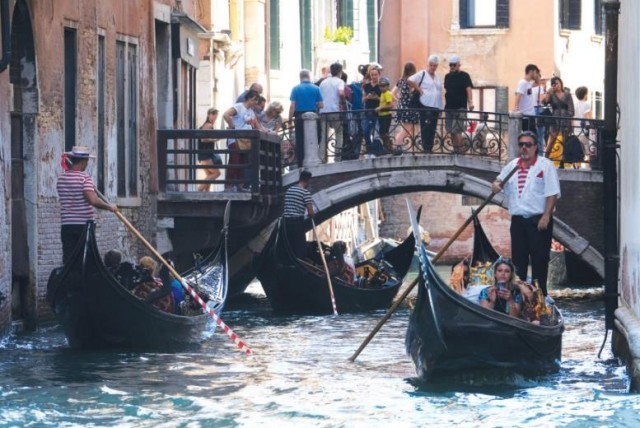 Venice plans to charge day trippers an admission fee of 5 euros ($5.35) next year in order to cut down the number of visitors drawn to its historic canals. MANUEL SILVESTRI/REUTERS
The ancient and beautiful Italian water city of Venice could be downgraded from the United Nations' World Heritage List over concerns about the damage caused by the large number of tourists who visit it.
The fate of the city in the eyes of the UN's Educational, Scientific and Cultural Organization, or UNESCO, will be decided during its annual meeting in Riyadh, Saudi Arabia, that began on Sunday and continues until Sept 25.
Other sites currently on the list, including Kyiv in Ukraine and Australia's Great Barrier Reef, are also facing possible downgrades, while around 50 sites are seeking inclusion for the first time.
The listing of 1,157 sites is frequently used to attract tourists and investment to locations. But sites that deteriorate while on it can be declared "in danger" and could even, eventually, be dropped.
Six sites are facing the prospect of being declared "in danger" at the ongoing Riyadh meeting.
In the case of Venice, UNESCO will consider rising water levels attributed to global warming as well as the large number of tourists who visit the city, Lazare Eloundou Assomo, UNESCO's director of world heritage, told the Agence France-Presse news agency.
"We don't know what will happen," he said.
UNESCO said in July it would consider adding Venice to the "in danger" list because of the "irreversible" damage the city had suffered because of climate change and because of excess tourism, as well as the "lack of significant progress" the nation's government had made in addressing the issues.
The Guardian newspaper said Venice is now so overwhelmed by tourists that visitors' beds outnumber those of locals, with 49,693 tourists' beds contrasting with 49,304 for full-time residents.
The paper said Venice has lost more than 120,000 permanent residents since the early 1950s as tourism has taken over the city.
In addition to the many tourists who sleep in Venice each night, around 40,000 visit from elsewhere each day, which has prompted the local government to plan to introduce an entrance ticket of 5 euros ($5.35) starting next year.
Matteo Secchi, who runs local campaign group Venessia.com, told the paper: "We feel like foreigners in our own home, because, when you walk along the streets, we are in the minority. Every now and then you see a fellow Venetian and you salute them from afar, but other than that you are surrounded by tourists."
At the same meeting where Venice's status will be decided, several aspiring locations are vying for inclusion on the coveted list, including a 900-kilometer stretch of the ancient Silk Road known as the Zarafshan-Karakum Corridor, which the nations of Tajikistan, Turkmenistan, and Uzbekistan have jointly put forward for consideration.
Original Title:Venice faces UNESCO Heritage List demotion