Xi's exchanges with people in US pay off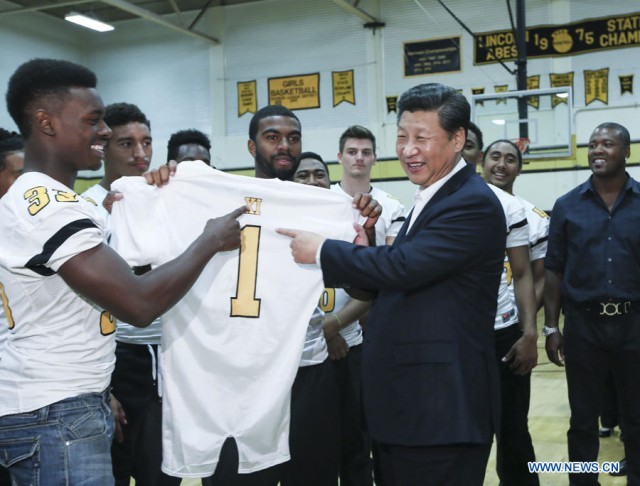 File photo: President Xi Jinping receives a custom No 1 Lincoln Abes' game jersey with his name on it on Sept 23, 2015. [Photo/Xinhua]
Young Americans learn more about China, work to make Games greater
The upcoming 19th Asian Games in Hangzhou, Zhejiang province, have set the stage for more than just athletes, as a group of young people from both China and the United States is seeking to provide new artificial intelligence services and functions to make the sporting event even greater.
Among them is Maurice Chong, a 20-year-old Peking University student who is from the northwestern US state of Washington.
"The young people from both nations are intelligent, and their joint efforts and wisdom combined surely will produce brainchild results far greater than one-sided efforts," he said.
"There are no major stereotypes or prejudices between us, and we yearn for more teamwork and exchanges like this," he added.
Eight years ago, Chong was a member of the Lincoln High School choir in Tacoma, Washington. The choir performed for President Xi Jinping and his wife, Peng Liyuan, on Sept 23, 2015, during Xi's state visit to the US. They sang an American classic, What a Wonderful World, as well as a popular Chinese folk song, On the Field of Hope.
Chong recalled, "I was motivated as President Xi spoke to us and quoted an old Chinese saying: 'Read 10,000 books and travel 10,000 miles'. This points to the great importance of both theory and practice."
"I've always been immensely curious about Chinese culture and hoped to visit and live on the Chinese mainland to gain a deeper understanding of the authentic Chinese way of life and local customs," Chong added.
In July, he was a co-signer of a letter to Xi from the US-China Youth and Student Exchange Association and friendly people from all walks of life in Washington state.
In the letter, the friendly figures mentioned Xi's gift of table tennis equipment to the US youths and Lincoln High School in 2015, which "has sparked a growing popularity of table tennis among our city's youths, further strengthening our shared cultural ties".
Original Title:Xi's exchanges with people in US pay off