Scholz urges equitable ties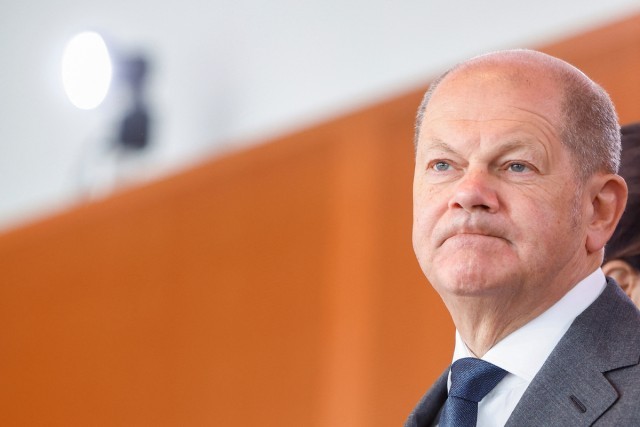 File photo of German Chancellor Olaf Scholz. [Photo/Agencies]
  Germany's leader says some nations believe West has 'double standards'
  Western nations must do better at establishing equal relations with developing countries, Germany's Chancellor Olaf Scholz has said as he acknowledged a perception of double standards in the West's response to the Russia-Ukraine conflict.
  He told delegates at a Global Solutions forum on Monday, which had inclusivity and sustainability as its focus, that developing countries are often left with a sense that the West has double-standards and does not apply its principles evenly.
  While Western nations have been critical of Russia over the Russia-Ukraine conflict, he said countries including India, Vietnam, and South Africa have been more nuanced in their response.
  "When I talk to leaders from those countries, many assure me that they are not questioning the underlying principles of our international order. What they are struggling with is the unequal application of those principles," he said in a speech at the event, which is held annually and that aims to find research-based solutions for problems facing the G20, G7, and other international organizations.
  "What they expect is representation on equal terms, and an end to Western double standards," the German state broadcaster Deutsche Welle, or DW, quoted him as saying.
  Scholz said the West does not always have double standards, but he claimed it needs to be consistent in its responses, and not vary them according to which nations are involved in a situation.
  The Reuters news agency said Scholz contended influential countries have been balking at criticizing Russia's activities in Ukraine largely because they believe international principles are not being applied equally.
  "If countries get the impressions that we only approach them because we are interested in raw materials or because we want their support on a UN resolution, it should not surprise us that their willingness to cooperate is limited at best," DW quoted him as saying.
  Scholz said he would like to see Western nations instead focus on thinking about what they can offer countries in Africa, Asia, and the Americas, and on figuring out where their interests converge.
  Scholz has, however, been a strong critic of Russia over the Russia-Ukraine conflict and a staunch supporter of Kyiv.
  On Sunday, during a visit to his country by Ukraine's President Volodymyr Zelensky, he vowed to support Ukraine "for as long as it is necessary" and promised to send additional armaments.
  The Global Solutions Forum, organized by the World Policy Forum, brought together experts from think tanks, research organizations, governance, business, and civil society for two days of talks in Berlin, Germany on Monday and Tuesday. The annual event is held in the middle of each G20 presidency.
Original Title:Scholz urges equitable ties