China wins 2023 FIBA 3x3 Women's Series in Wuhan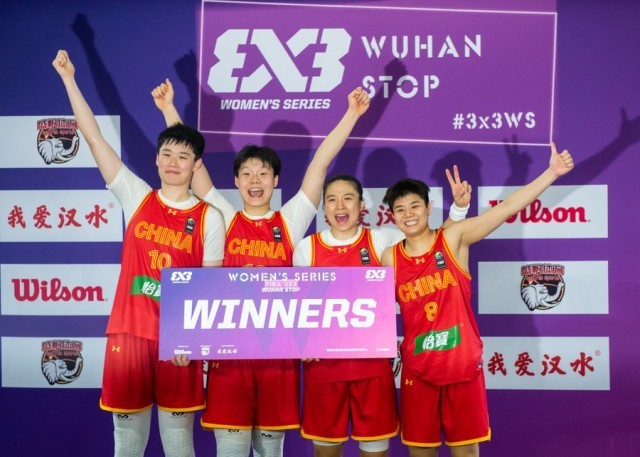 China players pose for photos after winning the FIBA 3x3 Women's Series title in Wuhan, China on May 7, 2023. (Xinhua/Xiao Yijiu)
WUHAN, May 7 (Xinhua) -- China claimed the title at the first stop of the FIBA 3x3 Women's Series after storming past Australia 21-13 here on Sunday.
China and Australia both went undefeated in their run prior to the final. In front of the home crowd, China got into the game quickly and expanded its lead as the match progressed, with Zhang Zhiting's putback securing their win.
"It was an important opportunity for us to test our squad ahead of the World Cup. Our players worked hard throughout this competition," said China head coach Xu Jiamin.
China's team for this series features Tokyo Olympic bronze medalists Wang Lili, Zhang Zhiting and Wan Jiyuan, along with Zhang Yi, who was recruited into the team this year.
Zhang Zhiting scored a game-high nine points. Wang, the tournament's MVP, had three, while Wan and Zhang Yi contributed five and four points respectively.
"It feels quite different playing alongside experienced players as I have peace of mind and can fully showcase myself on the court," commented Zhang Yi.
China will return to Beijing on Monday, and plan to compete in the next stop of the Series in Astara, Azerbaijan after a short period of adjustment.
The FIBA 3x3 World Cup will take place in Vienna, Austria from May 30 to June 4. ■
Original Title:China wins 2023 FIBA 3x3 Women's Series in Wuhan