Short videos go long on value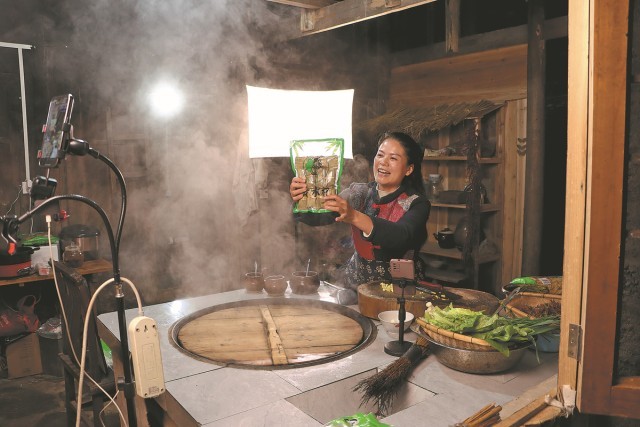 A livestreamer introduces a local specialty to online audiences in Tongren, Guizhou province, in March. [Photo/Xinhua]
Homemade clips, livestreaming, mini-dramas jump in popularity, especially among younger generations
Gao Ruolin, 27, who works for a fashion magazine in Beijing, said she loves to upload original videos that portray her everyday life and peruse funny clips posted by other users on short-video platform Douyin, the Chinese version of TikTok.
Her first episode, about how to make Portuguese egg tarts, garnered more than 1,000 likes and over 150 comments. "I never thought my videos would be liked so much. I also interact with people who leave comments on my clips from time to time," she said.
Gao said she also pays attention to the latest news and information from video-sharing apps. "My free time tends to be fragmented and short, so browsing news on the platform is the perfect fit when I take the metro.
"I also prefer to buy what I need by logging onto the livestreamed sales shows of some key opinion leaders. My online shopping cart is stuffed with snacks, beverages, cosmetics and skincare products when the livestreaming ends."
Gao is among a growing group of tech-savvy young people who spend more time watching online short videos. They have created surging demand for high-quality original video content.
The number of users of internet audio and video in China reached 1.04 billion as of December, an increase of 4.94 percent year-on-year, surpassing that of instant messaging services, according to a report released by the 10th China Internet Audio and Video Convention, held in Chengdu, Sichuan province, in March.
The size of the country's internet audio-and-video industry rose 4.4 percent year-on-year to 727.4 billion yuan ($105.2 billion) in 2022, the report said.
As of December, 1.01 billion people regularly watched short videos in China, accounting for 94.8 percent of Chinese netizens. Users spent an average of 168 minutes each day on short videos in 2022, and those platforms became a primary source for news, information and learning.
The size of the short-video market reached 292.8 billion yuan last year, accounting for 40.3 percent of the internet audio-and-video industry. The number of livestreaming users grew to 751 million, making it the second-largest audio-and-video application category after short videos, the report said.
In addition, 42.7 percent of users purchased products after watching online videos or livestreams over the last half of 2022, up 27 percentage points from the same period in 2020, the report said. Young and middle-aged women living in first and second-tier cities and with advanced educational backgrounds are seen as the target group with the greatest potential for online videos and livestreaming programs.
Chinese video-sharing platform Douyin, which is owned by Chinese tech heavyweight ByteDance, and Tencent Holdings' video streaming site Tencent Video have recently reached an agreement to explore the joint promotion of both short and long videos, according to a statement from Douyin in early April.
Douyin said the company will be authorized to use Tencent Video's long-form video content, and rules about how secondary content is to be generated have also been clarified.
Users from platforms such as Douyin, Xigua Video and Toutiao, which are part of the Douyin Group, will be able to create short videos by using long content on Tencent Video.
Douyin said it has been seeking collaboration with long-form video platforms, adding that the agreement with Tencent will bolster the creation and dissemination of high-quality short-video content and provide a better experience for users.
Short-video companies' strengthening of copyright cooperation with long-video websites, which will bolster the development of the internet audio-and-video industry, is a burgeoning trend and will create mutual benefits for platforms, content creators and users, said Jiang Han, a senior researcher at market consultancy Pangoal.
Original Title:Short videos go long on value