China's wisdom in taming desertification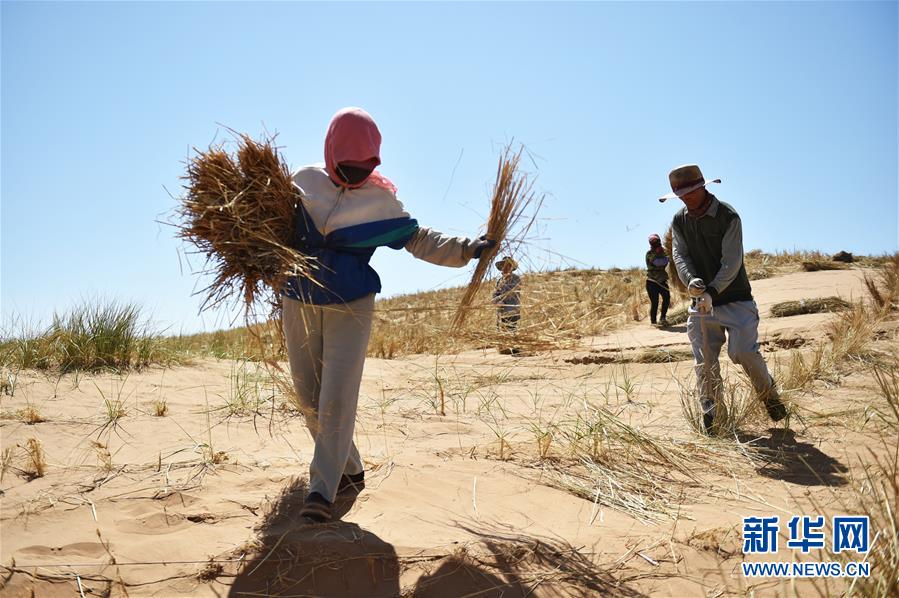 Residents of Heilin Village Lin Zhifu (R) and Zhou Hong make straw checkerboard sand barriers in the Tengger Desert in the Shapotou District of Zhongwei City, northwest China's Ningxia Hui Autonomous Region, June 11, 2018.
  Each day, hectares of moving sand dunes are tightly grasped by straw checkerboard sand barriers in the Tengger Desert in the Shapotou District of Zhongwei City, northwest China's Ningxia Hui Autonomous Region.
  The women who work here lay the barriers equally over the sand while men use shovels to dig holes into the ground and fill them with straw. Each straw pile stands 10 centimeters below ground and 30 centimeters aboveground.
  50-year-old Zheng Zihua and his fellow villagers have been doing this job since the 1950s, keeping this unique technique of fighting desertification alive for decades.
  While working, women wear face masks and hats to shield their faces from the hot sun. The workers' resting place is very simple: a makeshift tent supported by four wooden pillars with a bed sheet and several sand bags.
  More than 200 farmers are involved in making these straw checkerboard sand barriers, which gives them an annual income of 60,000 to 70,000 yuan, according to Fang Wensheng, Party secretary of Heilin Village.
  They have so far created 360,000 mu, or 24,000 hectares, of sand barriers since a program to combat desertification was launched in 2013. The current number is very close to the overall target of 420,000 mu.
  As the grass barriers gradually fade out, new plants grow, bringing life to the area.
  Shapotou, its name deriving from the high sand dunes all around, is located on the southern edge of the Tengger Desert. For half a century, Shapotou has been known as a hub for curbing desertification by making straw checkerboard sand barriers on a large scale.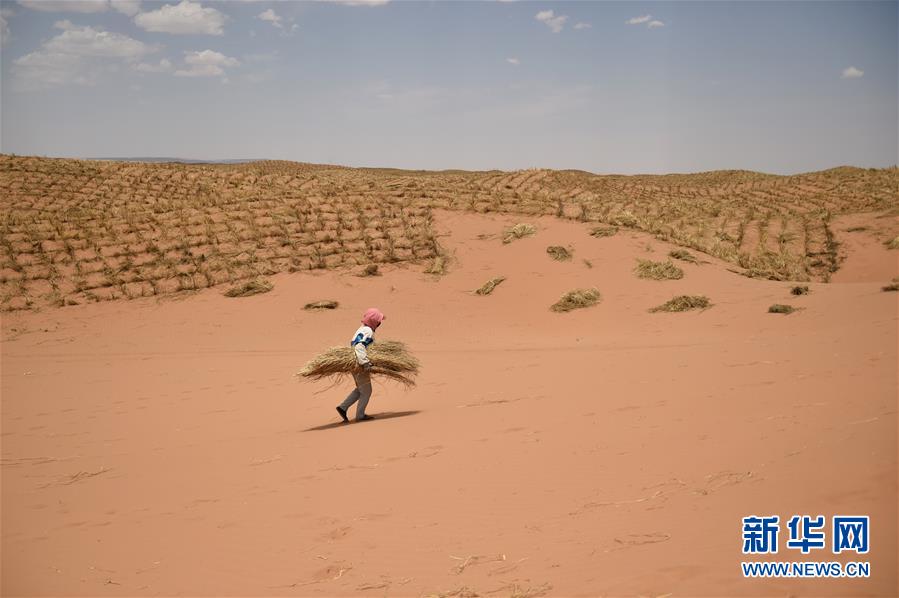 A worker walks in the desert, holding a bunch of straw. Photo from Xinhua
  The straw checkerboard sand barriers were originally created for building the desert section of the Baotou-Lanzhou Railway, and the technique was unprecedented back then.
  In 1955, the Chinese Academy of Sciences established China's first comprehensive observation station in Shapotou; and then the following year, the country's first specialized sand-break forest was launched.
  After numerous failures and explorations, straw checkerboard sand barriers were adopted as the main method to deal with moving sand when the railway opened.
  The method was applauded by experts from both home and abroad at the United Nations Conference on Desertification (UNCOD) in Nairobi in 1977. Since then, foreign experts and personnel came one after another to Shapotou to learn the unique method.
  Zhang Zhishan, deputy chief of the Shapotou research center, said experience has indicated that the straw checkerboard sand barrier method is so far the most convenient, eco-friendly and cost-effective way to fight desertification.
  The research center has also found that it's feasible to recover the ecology in the desert area of northern China through planting manmade vegetation. Now, 155,000 mu of straw checkerboard sand barriers have been created, 145,000 mu of shrubbery has grown and a 60 meter belt for wind prevention and sand fixation has been established in Shapotou.
  But there is still a long road ahead. According to statistics, China has 2.61 million sq km of desert, occupying 27.2 percent of the country's landmass.
  The country looks to effectively tame 50 percent of its deserted land by 2020, according to a guideline on pushing forward ecological civilization construction issued in 2015.
  Scientists are now working on targeted desertification control, such as studying the desert water balance and ecological hydrology in Shapotou, which they think is key to curbing desertification.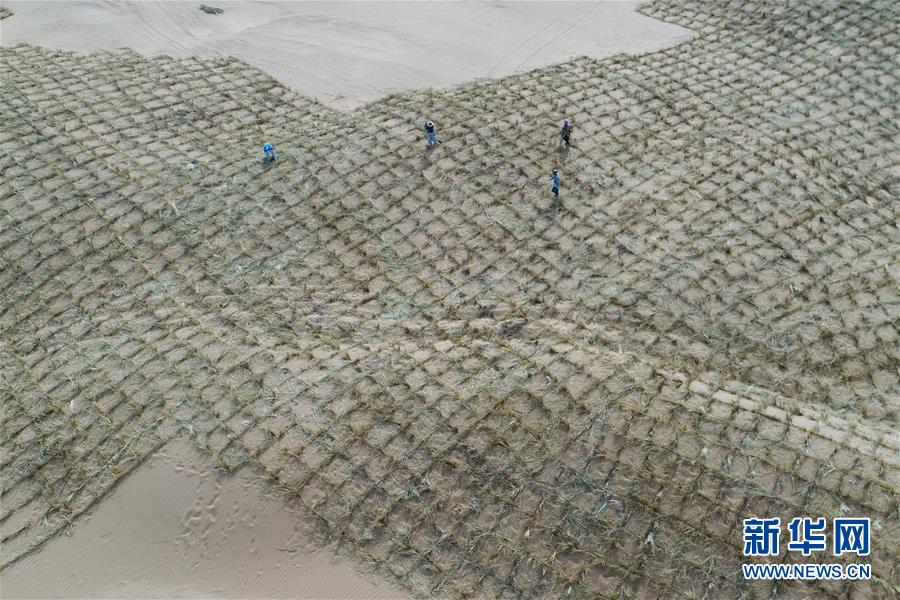 Photo shows workers making straw checkerboard sand barriers in the Tengger Desert, June 11, 2018. Photo from Xinhua