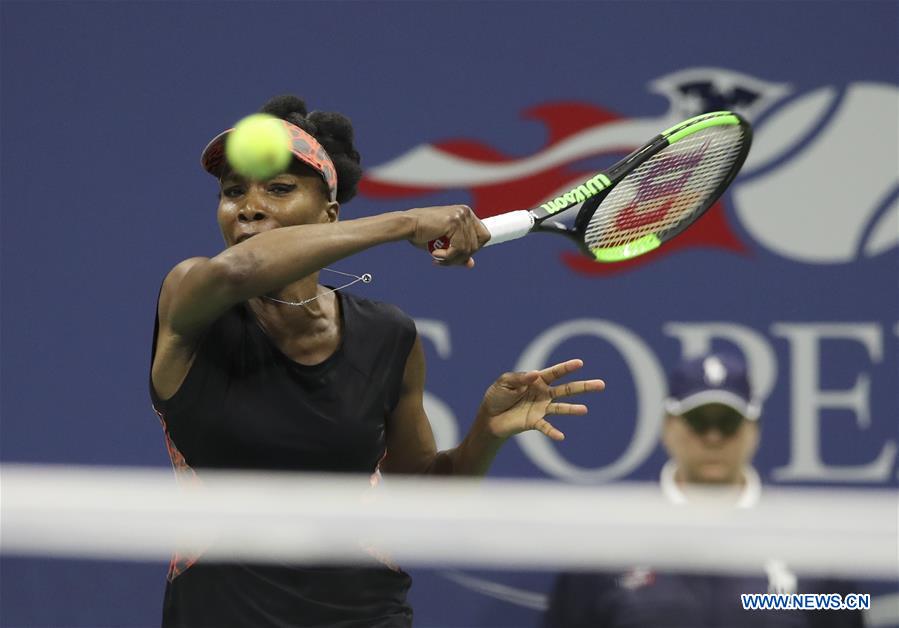 Venus Williams of the United States returns a shot during the semifinal match of the Women's Singles of the 2017 US Open tennis tournament against her compatriot Sloane Stephens in New York, the United States, Sept. 7, 2017. Sloane Stephens won 2-1. (Xinhua/Wang Ying)
  NEW YORK, Sept. 7 (Xinhua) -- Americans Sloane Stephens and Madison Keys both made their first Grand Slam final at the US Open on Thursday, beating compatriots Venus Williams and CoCo Vandeweghe in respective semifinals.
  Stephens, who missed 11 months with a left foot injury before returning in July, edged past the 37-year-old Williams 6-1, 0-6, 7-5, while 15th seed Keys made short work of Vandeweghe 6-1, 6-2 in just 66 minutes.
  "I'm honored to be playing at the same time as her," said Stephens, whose ranking once stood outside the top 900 due to the injury.
  "She is one of the greatest players, forceful and elegant, I have everything nice to say about her."
  "I have no words to describe what I'm feeling, what it took to get here," added Stephens, who also earned back-to-back semifinals in August in Toronto and Cincinnati.
  "I have no idea how my ranking came back so fast. If I had known how well I would do, I could have passed out. I don't know how I got here, just hard work, that's it."
  Seven-time Grand Slam champion and ninth seed Williams made 51 unforced errors which costed her the match.
  "It was definitely well competed. In the end she won more points than I did and that's what it added up to," Williams said.
  "Just made so many errors at the end. I wasn't playing well. Just wasn't playing well."
  Williams will return to the top five next week for the first time since 2011.
  The other semifinal was a different story and a lopsided match.
  Vandeweghe seemed totally rusty compared to her opponent. She just hit nine winners and made 22 unforced errors while Keys' figures were 25 and nine.
  "Madison played an unbelievable match. I didn't really have much to do with anything out there," the 25-year-old Vandeweghe said.