Nation hailed for brokering Saudi-Iranian agreement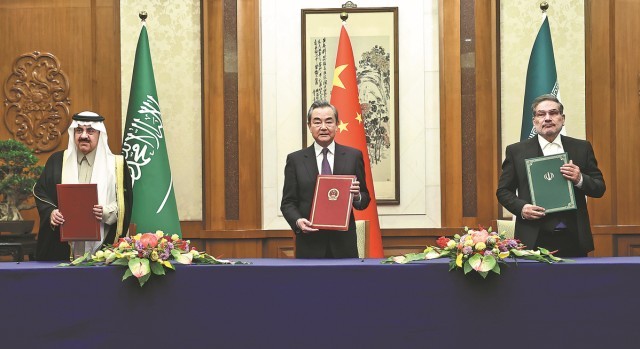 Senior Chinese diplomat Wang Yi (center) attends the closing event of the Beijing dialogue on Friday, flanked by Musaad bin Mohammed Al-Aiban (left), Saudi national security adviser, and Ali Shamkhani, secretary of Iran's Supreme National Security Council. [Photo by Wang Jing/China Daily]
  Beijing plays key role in helping countries resume diplomatic relations
  Experts have explained the credit given to China for helping Saudi Arabia and Iran resume diplomatic relations.
  They said that Beijing continues to play a crucial and constructive leadership role in the quest for world peace, demonstrating China's position as a major power.
  As a trusted and honest broker in ending the impasse between Saudi Arabia and Iran, China has enabled Riyadh and Teheran to realize that despite their differences, they have much in common, the experts said.
  Moreover, these commonalities will benefit those who have long sought leadership to develop the region's potential and accommodate its diversity, they added.
  In an agreement announced by China, Saudi Arabia and Iran on Friday, the two Middle Eastern countries agreed to resume diplomatic relations and reopen embassies and missions within two months.
  The agreement ended a seven-year rift between Riyadh and Teheran, triggered after Saudi Arabia executed prominent Shia Muslim cleric Nimr al-Nimr in January 2016.
Original Title:Nation hailed for brokering Saudi-Iranian agreement