Private sector set to drive economic growth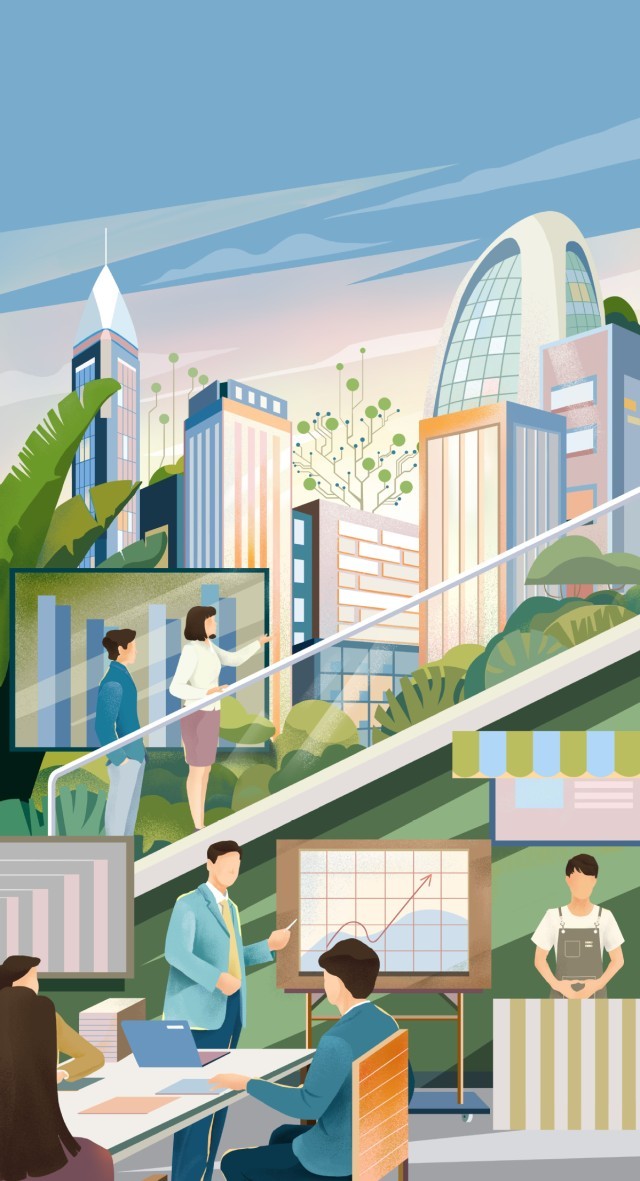 YANG MEINI/WEI XUEMING/FOR CHINA DAILY
  Proposals aimed at regulating business activity and helping firms enter markets. Cheng Yu reports.
  One vision, two colors and three-entity collaborations to help private companies land new business contracts: that's the basis of a recent working mechanism launched by Xiaoshan district, Hangzhou, capital of East China's Zhejiang province.
  For each project, a tailor-made flowchart is produced initially. It bears two colors, which are used to distinguish the tasks the government and the private business should undertake to coordinate official departments, enterprises and intermediaries, and to improve efficiency.
  Citing this example on the sidelines of the two sessions, Xu Guanju, a deputy to the 14th National People's Congress and chairman of Transfar Group, a leading private chemicals manufacturer, said he had noted the "down-to-earth" support offered by the government in "making efficiency an extra profit" for private entrepreneurs.
  The assistance is underpinned by the government's broader efforts to support the development of the private sector, which have been highlighted during the two sessions.
  Lawmakers and political advisers have submitted numerous proposals at the gatherings to promote the development of private enterprise in China.
  Industry experts and company executives are interpreting the efforts as indicative of China's strong determination to develop the private sector, and they believe this will greatly stimulate market vitality and support the stabilization of the nation's economic fundamentals this year, they said.
  Confidence booster
  While taking part in a joint group meeting with national political advisers on Monday, President Xi Jinping reaffirmed the nation's support for the private sector and pledged steps to bolster the confidence of private businesses and entrepreneurs, reduce their burdens and promote their healthy, high-quality growth.
  He stressed the need to guarantee a level playing field for private businesses and State-owned enterprises through laws and institutional arrangements, encourage the growth of the private sector, further raise market expectations and bolster confidence.
  Wang Qinghai, chairman of JCHX Mining Management, a Shanghai-listed mining services provider, said: "President Xi's remarks have set private enterprises at ease, seeing that such support has and will be consistent. They also indicate how traditional private companies can transform to achieve high-quality development."
  To pursue high-quality development, Wang said his company has made great efforts in its transformation from a mining contractor in the domestic market to a provider of one-stop mining solutions with a presence in many countries and regions participating in the Belt and Road Initiative, such as the Democratic Republic of the Congo.
  Specifically, Xi encouraged private businesses to transform their growth models, adjust their industrial structures, focus on their main business portfolios and follow a path of high-quality development.
  Businesses capable of change should improve independent innovation and contribute more to the nation's science and technology self-reliance, as well as the commercial application of research outcomes, Xi said.
  To spur private investment, the government should also attract the participation of more private investors to the construction of major projects and those that are part of key industrial and supply chains, he added.
  Wang said: "Inspired by such efforts, my company will persist with mine construction and contract mining as the basis of our core business development, and meanwhile transform to expand the industrial chain to equipment manufacturing, scientific and technological research and the development and trading of resources.
  "Also, the company will employ new technology as a lead to promote digitalization and intelligent systems in mine construction. We will strive to leverage leading scientific and technological innovation in mine construction, seek greater breakthroughs in core technologies, increase investment in basic research and actively participate in national-level industrial research to ensure more breakthroughs."
  Zeng Yuqun, founder and chairman of Contemporary Amperex Technology, the world's largest supplier of batteries for electric vehicles, said that this approach is especially apt for the new energy sector, where private Chinese enterprises are attempting to stand at the global forefront.
  "We will give full play to our policy and market advantages to accelerate the development of new technologies and the application of new products," said Zeng, a member of the 14th National Committee of the Chinese People's Political Consultative Conference.
  "More efforts will be made to increase the collaborative innovation of upstream and downstream industrial chains, and to take a lead in the global new energy industry."
  The Government Work Report, which was delivered to the two sessions on Sunday, stated that the country will consolidate and develop the public sector and encourage, support and guide the development of the private sector.
  The country will encourage and support the private sector and private enterprise in growing and supporting the development of micro, small and medium-sized businesses and self-employed individuals, and also create an environment in which companies under all forms of ownership can compete and grow on a level playing field.
  Qu Yongyi, a researcher with the Institute of Industrial Economics at the Chinese Academy of Social Sciences, said, "This shows that China's efforts in driving the growth of the private economy are a long-term strategy rather than a stopgap (measure)."
  Jiang Ying, chair of the market consultancy Deloitte China and a member of the 14th National Committee of the CPPCC, said: "With the overall recovery of the economy, the private sector will embrace greater opportunities. It is expected that the country will take detailed practical measures to boost the confidence of private entrepreneurs."
  The Ministry of Industry and Information Technology said that private companies — from small businesses in provinces like Zhejiang and cities like Shenzhen, Guangdong province, to internet enterprises leading global technological advances — are pioneers in spurring economic growth and innovative development both domestically and on the global stage.
  It added that in recent years, they have contributed about 50 percent of the country's tax revenue, 60 percent of GDP, 70 percent of technological innovation and 80 percent of urban employment.
  Data released by the All-China Federation of Industry and Commerce, which serves the private sector, show that private enterprise accounts for more than 80 percent of China's "small giant" companies — smaller outfits that typically specialize in niche sectors, command high market share and boast strong innovative capacity.
  The data also show that the number of private enterprises in China rose from 10.86 million in 2012 to more than 47 million last year, while the number of Chinese businesses among Fortune Global 500 enterprises rose from five in 2012 to 28 last year.
  However, in the face of the COVID-19 pandemic and geopolitical disruptions, many were faced with tough challenges at home and abroad. According to the federation's annual report last year, the top 500 Chinese private enterprises faced slight falls in profitability and operational efficiency, and also faced mounting pressure from sluggish market demand and rising operating costs.
  The report noted that their combined net profit was 1.73 trillion yuan ($249 billion), down 12.28 percent from 2021, while their combined net profit rate for sales, assets and net assets all fell.
  Wang Peng, a researcher at the Beijing Academy of Social Sciences, said: "To help resolve these challenges, the government is expected to first offer a stable and predictable business environment for the private sector to boost confidence and stabilize expectations. With better market expectations, more companies and entrepreneurs will make bold moves for business. This, in turn, will drive economic recovery as well as the steady development of sectors such as real estate and the platform economy."
  He added that this is also why the government has launched supportive and bailout policies to relieve the burden on private enterprises in recent years. The latest data show that last year, tax refunds, as well as tax and fee cuts and deferrals for companies, exceeded 4.15 trillion yuan.
  Policy package
  To help private businesses, especially SMEs, cope with the difficulties, the government has launched a package of policies. Last year, the State Council, China's Cabinet, released a document that detailed a raft of measures so that SMEs are better able to survive the short-term challenges.
  Local governments are also expected to arrange special bailout funds for micro, small and medium-sized enterprises, and provide subsidies for rents, loan interest and other factors to outfits experiencing operating difficulties, the document said.
  Late last year, Xu Xiaolan, a vice-minister at the Ministry of Industry and Information Technology, told a news briefing: "More efforts will be made to help private enterprises lower operating costs, ease their difficulties in accessing funding and debt collection, and assist them in growing demand. Given that some private SMEs are more vulnerable to fluctuations in supply and industrial chains, the ministry is also strengthening its push to include key SMEs on a list to help them restart operations as soon as possible."
  Xu said the ministry is also working to encourage digital service providers to reduce cloud platform costs for SMEs so they can better leverage digital technologies to boost efficiency amid the difficulties.
  Meanwhile, a document released recently by MIIT and 10 other ministries said China will boost the full integration of all aspects of SMEs — including industrial, supply and data chains — to promote advantageous interaction. It proposed guiding large enterprises to share their design and development abilities, and to open up their equipment and laboratories to smaller counterparts.
  Such efforts have driven positive momentum. The business activity of China's SMEs, mostly private businesses, improved marginally in January, with the Small and Medium Enterprises Development Index seeing its largest rise in growth in the past two years.
  According to the China Association of Small and Medium Enterprises, the index, which is based on a survey of 3,000 SMEs, came in at 88.9 last month — 1 point higher than January — the biggest increase since 2021.
  "The business operations of the country's SMEs improved greatly in January, thanks to the coordinated COVID-19 response and a package of supportive policies," said Ma Bin, the association's executive vice-president.
  Notably, the subindexes for eight sectors witnessed recovery last month. Transportation and storage and accommodation and catering saw their highest recent month-on-month growth, with rises of 1.7 points and 1.8 points, respectively.
  In December, Yang Weimin, deputy director of the Economic Affairs Committee of the 14th CPPCC National Committee, told a news briefing that the country's economy is on track for recovery, though many uncertainties lie ahead.
  "To stabilize economic growth, we cannot ignore market entities. More efforts must be made to empower private businesses, which act as the main force for economic development," he said.
  Common development
  During the two sessions, lawmakers and political advisers have submitted numerous proposals to boost the development of private enterprise in the years to come. For example, the All-China Federation of Industry and Commerce proposed the promulgation of a national law to promote the private economy.
  It aims to promote the common development of private businesses and State-owned companies, prohibit market supervision departments from discriminating against private companies and ensure that they develop in line with market rules and dynamics.
  The federation said that the law should also encourage private businesses to compete fairly with State-owned enterprises, and to cooperate with the latter to promote the healthy development of both the public and private sectors.
  Pi Jianlong, a member of the 14th CPPCC National Committee and head of the Beijing Jintai Law Firm, said: "There are certain deficiencies in the protection and support of the private economy in the current laws, especially a lack of legislation for the development and protection of private enterprises. Most of the regulations related to the development and protection of the private economy are still at the policy level.
  "Seen from the market perspective, private enterprises still face invisible obstacles in industry entry and access, especially in sectors such as finance, petroleum and electric power," he said.
  Pi has proposed to the two sessions that the law should provide detailed regulations for private economic entities in key areas, such as the protection of property rights, market access, investment and financing, and fair competition.
  "Such legislation would offer institutional guarantees for the private sector and greatly boost the confidence of private entrepreneurs to boldly go after business in the years to come," he said.
Original Title:Private sector set to drive economic growth