A hobby a day helps you work, rest and play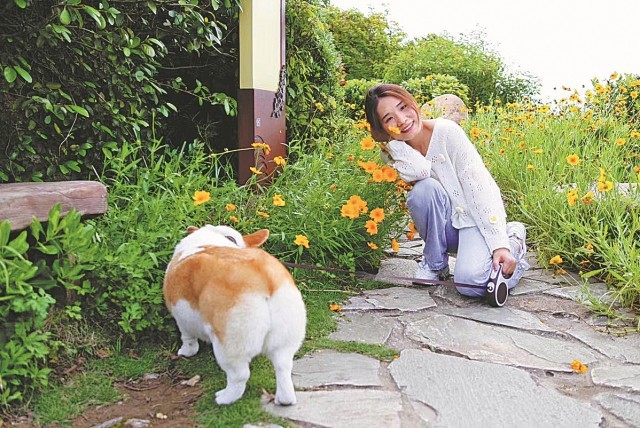 Zhang Haili plays with her dog in a park in Shanghai in August last year. [Photo provided to China Daily]
  An outside interest can ease work pressures and enrich life, enthusiasts claim. Yang Zekun reports.
  As an advertising worker by day and a talk show host by night, An Di has many ways to break out of her workday routine and make life outside the office more wonderful and fulfilling.
  The 28-year-old has always found living in Beijing to be stressful, especially during her first two years in the city, because of traffic jams, crowded streets and subways, seemingly endless work and many other factors.
  Like many people of her generation, she believes that finding a hobby or a passion is like discovering another identity that can effectively distance her from everyday stress and offer her a chance to explore more possibilities in life.
  "I'm also learning jazz dance, illustrative painting and how to mix cocktails. Maybe in a few years, I'll quit my job and become an illustrator or a bartender," she said.
  After graduating as an advertising major at Wuhan University, Hubei province, in 2017, An came to Beijing with dreams of becoming a professional in the field. She soon found a job as part of a freshman training program at an advertising company.
  "I was new to the city and a novice at work. I spent quite a long time getting used to the pace of life and work. Developing hobbies like painting and photography has been a good way to reduce stress. More importantly, these hobbies also give me inspiration and new ideas for creative work," An said.
  She recently started a new job at a company where she is responsible for posters and graphic design for social media advertising, and one of her pieces won the China edition of the 2022 Young Lions competition in April.
  "I'm very busy in my new job. I often work 12 hours straight and get home at around 11 pm. Instead of going to bed immediately, I turn on my laptop, find an online talk show and watch it."
  123Next >>|
Original Title:A hobby a day helps you work, rest and play