Path smoothed for NATO newcomers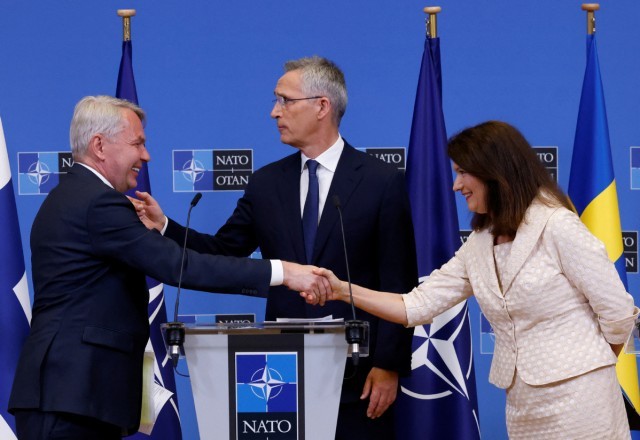 Finland's Foreign Minister Pekka Haavisto (left) and Sweden's Foreign Minister Ann Linde shake hands during a news conference with NATO Secretary-General Jens Stoltenberg, after signing an accession protocol for the Nordic pair at the alliance's headquarters in Brussels on Tuesday. YVES HERMAN/REUTERS
Signing of accession protocol takes Nordic pair closer to membership
Finland and Sweden moved a step closer to joining NATO on Tuesday after the military alliance's 30 member states agreed to an accession protocol for them in Brussels.
The move came after representatives of the member states gave their endorsement at last week's NATO summit in Madrid following an agreement between the two countries and Turkey, which had earlier voiced its strong objections by citing the Nordic countries' support for terrorist groups such as the Kurdish Workers' Party.
With Tuesday's signing of the protocol in the Belgian capital, it will now be up to the parliaments of all NATO member states to ratify the agreement before the two countries become formal members, a process that is expected to take several months or up to a year.
Right after the signing ceremony, Canada became the first NATO member to formally ratify the application.
For now, Finland and Sweden will not be protected by NATO's defense clause, which states that an attack on one member is an attack on all. But the two countries can attend NATO meetings and have greater access to intelligence.
NATO Secretary-General Jens Stoltenberg on Tuesday called the move "truly a historic moment".
"With 32 nations around the table, we will be even stronger. And our people will be even safer, as we face the biggest security crisis in decades," said Stoltenberg, referring to the Russia-Ukraine conflict, at the start of the signing ceremony.
Swedish Foreign Minister Ann Linde said: "As a future member of the alliance, Sweden will contribute to the security of all allies. We are convinced that our membership will strengthen NATO and add to the stability in the Euro-Atlantic area."
Her Finnish counterpart, Pekka Haavisto, said: "Together we are stronger."
Conflict trigger
However, there are experts who believe that the constant NATO expansion is the real trigger of the Russia-Ukraine conflict. For many of these analysts, the real solution is to end what they call the US neocon fantasies of the past 30 years and for Ukraine and Russia to return to the negotiating table.
In Moscow, Kremlin spokesperson Dmitry Peskov warned on Tuesday that Russia has plans in place to ensure its security in light of Finland and Sweden moving toward NATO membership.
"Such options are being worked out not in the Kremlin, but in the Ministry of Defense. We have already said many times that there are relevant plans there, and work is being done to ensure our security," he told a news conference in comments quoted by Newsweek.
Carl Bildt, a former Swedish prime minister and now co-chair of the European Council on Foreign Relations, said in a tweet that "there is still an uncertainty over what Turkey Grand National Assembly eventually will do" on ratification.
Turkish President Recep Tayyip Erdogan warned last week that his country could still block the accession process if Finland and Sweden fail to fully honor their promises. Turkey has demanded the extradition of dozens of people it views as terror suspects, including some accused of involvement in a coup attempt in 2016.
Jonathan Eyal, an associate director at the Royal United Services Institute in London, believes that the many differences among the alliance's member states have not been debated fully. He said that NATO's united front could collapse when it has to deal with Russia.
"NATO's new Strategic Concept adopted at Madrid concludes a total of 71 'we will' categorical commitments, spread across just 11 pages of text. An admirable set of pledges, no doubt. But some won't endure when the guns in Ukraine fall silent," he wrote in The Guardian on Sunday.
In other developments, Ukrainian Prime Minister Denys Shmyhal said that Ukraine's GDP will shrink at least 35 percent this year due to the conflict with Russia, the Interfax-Ukraine news agency reported on Tuesday.
While addressing the Ukraine Recovery Conference in Switzerland, Shmyhal said the economy has started recovering from the "shock coma" resulting from the first weeks of the conflict.
On the battlefield, Russian troops are engaged in heavy fighting as they launch a major offensive on Ukraine's Donetsk region, Ukrainian officials said.
After Russian forces on Sunday took control of Lysychansk, the last bastion of Ukrainian resistance in Lugansk, Ukrainian officials said they now expect Moscow to focus its efforts on the cities of Sloviansk and Kramatorsk in Donetsk.
Xinhua and agencies contributed to this story.
Original Title:Path smoothed for NATO newcomers