Cai still reaching for the sky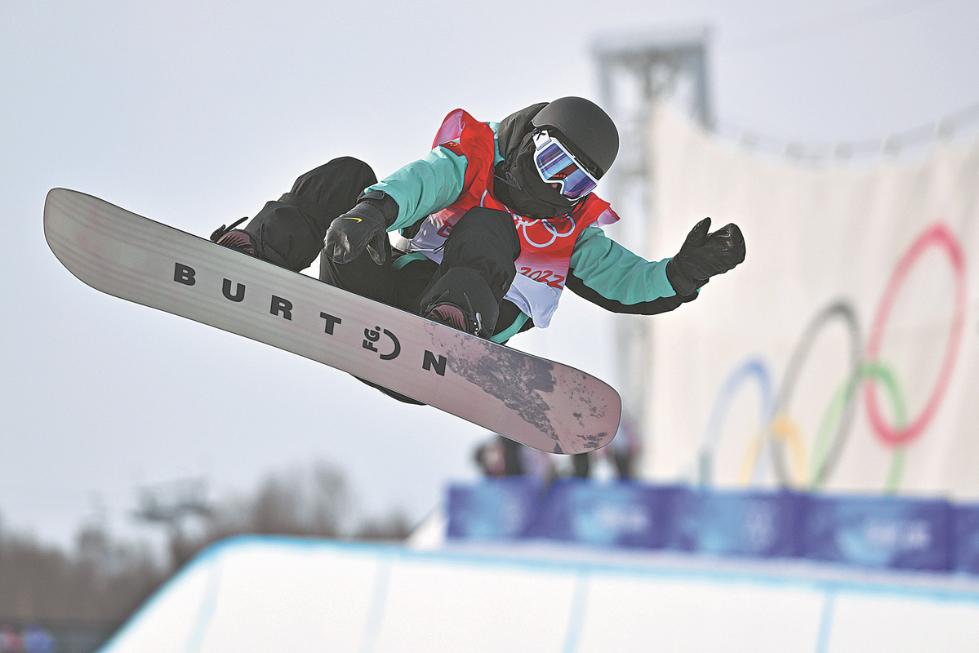 China's Cai Xuetong competes in the snowboard women's halfpipe competition during the Beijing 2022 Winter Olympics at Genting Snow Park in Zhangjiakou, Hebei province, earlier this month. WEI XIAOHAO/CHINA DAILY
  Team China rider's love for snowboarding undiminished after narrowly missing out on Olympic medal
  Chinese snowboarder Cai Xuetong wrapped up her fourth Olympics at Beijing 2022 with a performance that failed to live up to her own lofty standards, but said her passion for the sport still burns bright regardless of the result.
  "I felt disappointed not because I missed out on the podium, but that I didn't do the tricks I wanted to do," Cai said of the halfpipe final at Genting Snow Park in Zhangjiakou on Feb 10.
  She managed a frontside 1080 in the second run, however the landing was flawed. On her third run, she blamed a "lack of patience" in the air for failing to pull off a backside 900 followed by a frontside 1080.
  Frustratingly, Cai finished just off the podium in fourth place, with her top run scoring 81.25 points.
  "So disappointed. But I am happy today. Even though I didn't land the run, I tried my best," said the 28-year-old immediately after the competition. "I was focused on my own run. I wanted to put my absolute best into this, but unfortunately it didn't end up as the best run."
  After having some time to reflect on her Beijing 2022 experience, the seven-time Crystal Globe winner was keeping things in perspective and said she still felt proud of her career to date.
  "I felt like I failed that day, but it cannot taint my achievements as a professional athlete," she said. "It reminded me that nothing in life goes completely to plan, and that we need to stay positive."
  Indeed, Cai has plenty to be positive about this season. In December, she earned her 13th career World Cup win at Copper Mountain in Colorado to move within two halfpipe victories of Tricia Byrnes' all-time leading mark.
  Cai was only 17 years old when she made her Olympic debut at the 2010 Vancouver Winter Games, where she ranked 23rd. Four years later in Sochi, she finished sixth despite being hampered by injuries. She entered the Pyeongchang Games as the title favorite but finished fifth.
  "I was at the right time in terms of age, and technically, physically and mentally. I thought it was the time for me to shine," Cai said of her 2018 campaign.
  "I had high expectations on myself, and I always believed in myself. But the pressure followed as well, and ultimately it affected my performance, and I didn't do well."
  After returning from Pyeongchang, Cai focused on her college studies, and found that the routine of campus life helped her process her disappointment in South Korea. It was then that competing at her home Games became the target.
  While preparing for Beijing 2022, Cai said she blocked out distractions and "useless things" in order to maintain a positive mindset.
  "The purpose of participating in this year's Olympics was to focus on myself. I knew I was snowboarding for myself once I started to prepare," she said.
  Although not quite living up to her own expectations, Cai hopes her performances can inspire more Chinese people to take part in the sport.
  Snowboard halfpipe remains in its infancy in China, although improving results on the world stage by Chinese athletes are accelerating its development. At Beijing 2022, China was represented by a record four athletes in both the women's and men's events.
  Like Cai, Liu Jiayu, the silver medalist at Pyeongchang 2018, was also competing at her fourth Winter Olympics, where she finished eighth. Two new Olympians, Qiu Leng, 25, and Wu Shaotong, 23, finished 12th and 22nd respectively.
  The women's snowboard halfpipe gold medal was won by American Chloe Kim, who Cai credits as being an inspirational figure in the sport.
  "I always want to challenge Kim, who is extremely talented. She keeps stepping up her game in competitions, which has inspired us to do the same," Cai said. "From Pyeongchang to Beijing, my technical difficulty level has greatly improved, because I just want to compete with her."
  Asked whether she will participate at the next Winter Olympics in Italy in 2026, Cai said she is no hurry to make a decision but hasn't lost any of her appetite for stomping difficult tricks.
  "I will continue to challenge myself even if I don't finish on the course," she said. "I also want to snowboard on every mountain in the world if possible."
Original Title:Cai still reaching for the sky