Swiss snowboarders expect Beijing 2022 to be safe and great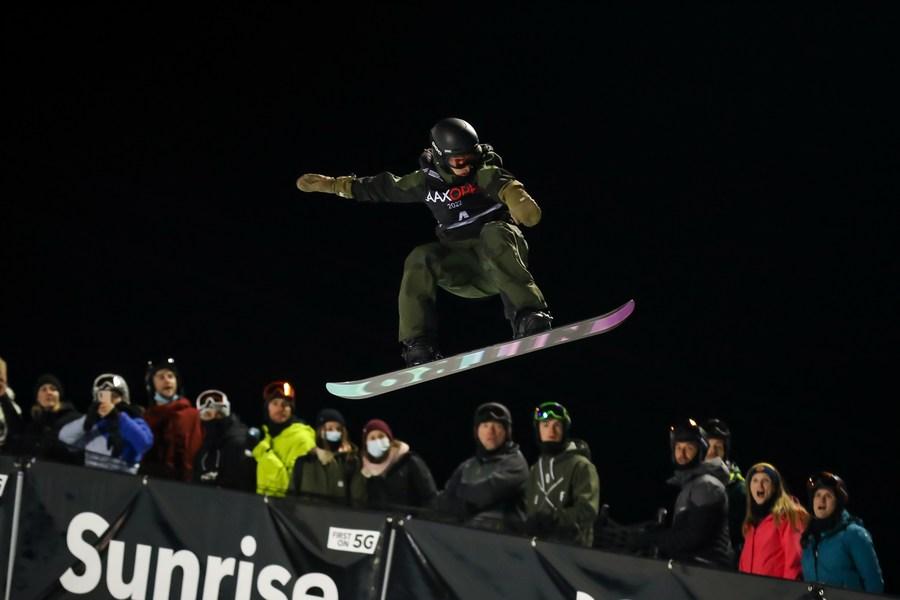 Jan Scherrer of Switzerland competes during the men's snowboard halfpipe final at FIS Snowboard World Cup 2022 in Laax, Switzerland, Jan. 15, 2022. (Xinhua/Zhang Cheng)
  Two Swiss best snowboarders, Jonas Boesiger and Jan Scherrer, expect the Beijing Winter Olympics to be safe and great.
  LAAX, Switzerland, Jan. 16 (Xinhua) -- Two of Switzerland's best snowboarders to compete in the Beijing Winter Olympics said they had high hopes for medals as well as faith in China's organization and COVID-19 safety measures during the Games.
  At the Laax Open which took place from January 11-15, Jonas Boesiger, 26, told Xinhua, "I'm going to expect a nice course and a nice, bigger, good competition and just overall awesome experience and to go to my second Olympics."
  Commenting on the COVID-19 policies in Beijing, Boesiger, who had competed in PyeongChang 2018, said: "For sure it's going to be a little bit inconvenient, but I think it's necessary to keep the Games safe. As an athlete, I feel safe with all the precautions and the measures. It should be a pretty safe event."
  "I'm really looking forward to it, and it's going to be a great event. I can't wait to go there," he added.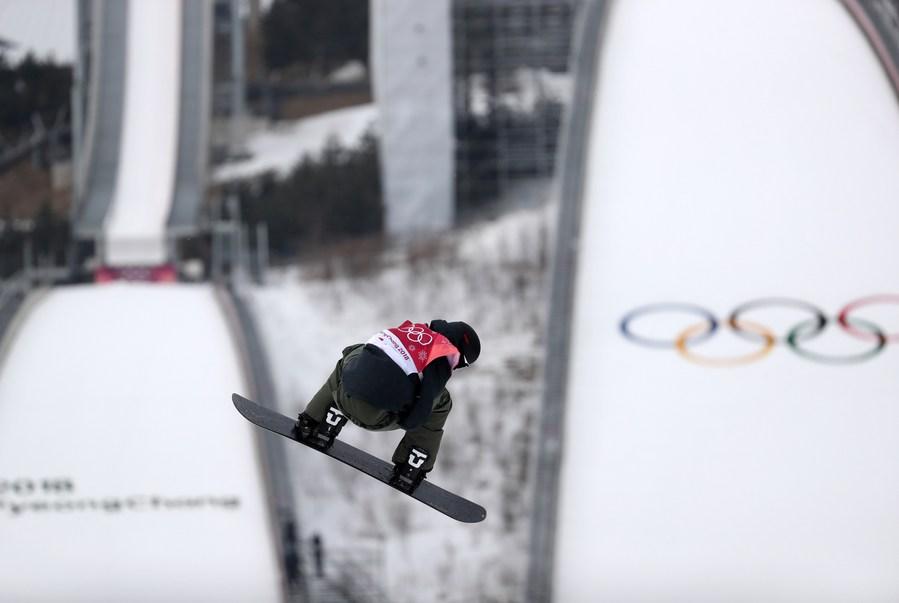 Jonas Boesiger of Switzerland competes during men's snowboard big air final at the 2018 PyeongChang Winter Olympic Games at Alpensia Ski Jumping Centre, PyeongChang, South Korea, Feb. 24, 2018. Boesiger finished 8th with 118.25 points. (Xinhua/Fei Maohua)
  The Games Service Department of the Beijing Organizing Committee for the 2022 Olympic and Paralympic Winter Games (BOCOG) together with the International Olympic Committee (IOC) and the International Paralympic Committee (IPC), recently published the second edition of the Beijing 2022 Playbook that outlines COVID-19 countermeasures for the event.
  For the safety of Olympic-related personnel, a special "closed-loop" system will be implemented. It allows fully vaccinated Olympic-related personnel to enter China without undergoing a compulsory 21-day quarantine.
  Jan Scherrer, who represented Switzerland at Sochi 2014 and PyeongChang 2018, said he refuted calls by some political leaders for a "diplomatic boycott" of the Beijing Winter Olympics.
  "I think as athletes we should not necessarily be associated with these problems. I just want to go there and have a great performance."
  Scherrer said: "I'm sure the Olympics is going to be great. I'm very excited for the half-pipe event. I've been working for this for more than a year now. I can't wait until it finally starts."
  Boesiger agreed: "For me, snowboarding is pure freedom. You are able to express yourself and do what you want. You can choose your own tricks, your own lines, especially in slopes. It's just pure freedom for me, and just so much fun."
  WINTER SPORTS GOAL REACHED
  About three weeks ahead of the Beijing Winter Olympics, China exceeded its goal of involving 300 million people in winter sports, according to a survey released by the National Bureau of Statistics of China on Wednesday.
  It showed that over 346 million Chinese people have participated in winter sports since 2015 when Beijing successfully won the bid to host the 2022 Winter Olympics together with co-host city Zhangjiakou.
  Boesiger said it was "a really cool opportunity" for the Chinese to learn how to snowboard and ski.
  "It's so much fun. It gets them out there in nature, and they're able to enjoy it. Also for the industry, for us, it's a huge market in China. I'm looking forward to having as many people in the snow and enjoy this beautiful thing with us."
  Scherrer said he expected global competitions to heat up as more and more Chinese are hitting the slopes.
  "I'm sure in the future there are going to be more events, there are going to be better athletes as well in snowboarding from China. If you look at all the athletes now in China, there are more and more and they get better and better, it's very interesting to watch."
Original Title:Interview: Swiss snowboarders expect Beijing 2022 to be safe and great