U.S. reels from COVID-19 impacts on travel, education and family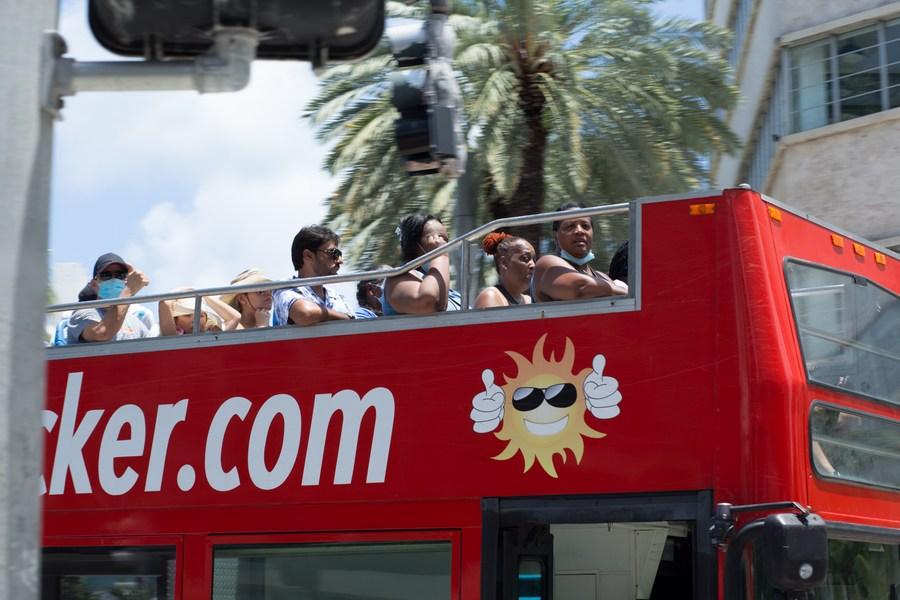 Tourists ride on a double decker bus on Lincoln Road in Miami-Dade County, Florida, the United States, Aug. 6, 2021. (Photo by Monica McGivern/Xinhua)
  The U.S. travel industry, which earlier this year had begun to rebound from the impact of COVID-19, is now under renewed pressure because of the Delta variant.
  With U.S. federal holiday Labor Day approaching, the travel industry is in particular spotlight to bear the brunt of the raging COVID-19 pandemic, as the country's higher education sector sees less transfers and many families with children under 12 years old worry about the absence of a coronavirus vaccine for their young members.
  The United States has been reeling from the buildup of cases and fatalities upon the outbreak of the deadlier and more transmittable Delta variant of COVID-19, as the 7-day average of confirmed cases climbed to 166,080 nationwide on Wednesday, with the 14-day change recording an 18 percent rise, and that of COVID-19 deaths was 1,418, with the 14-day change realizing a 75 percent hike, according to data updated by The New York Times (NYT).
  ABSENCE OF VACCINE
  About 48 million American children are not eligible for a coronavirus shot, and their parents face difficult choices as schools start, reported NYT on Thursday.
  "Because a vaccine is not yet authorized for young children, and may not be for some time, their families are left in a particularly difficult position heading into this school year," said the report.
  Polls showed that a considerable number of parents do not intend to get their children vaccinated even when shots become available. The Kaiser Family Foundation found that 25 percent to 30 percent of parents with younger children would "definitely not" get them vaccinated. A Gallup poll found that 46 percent do not plan to do so.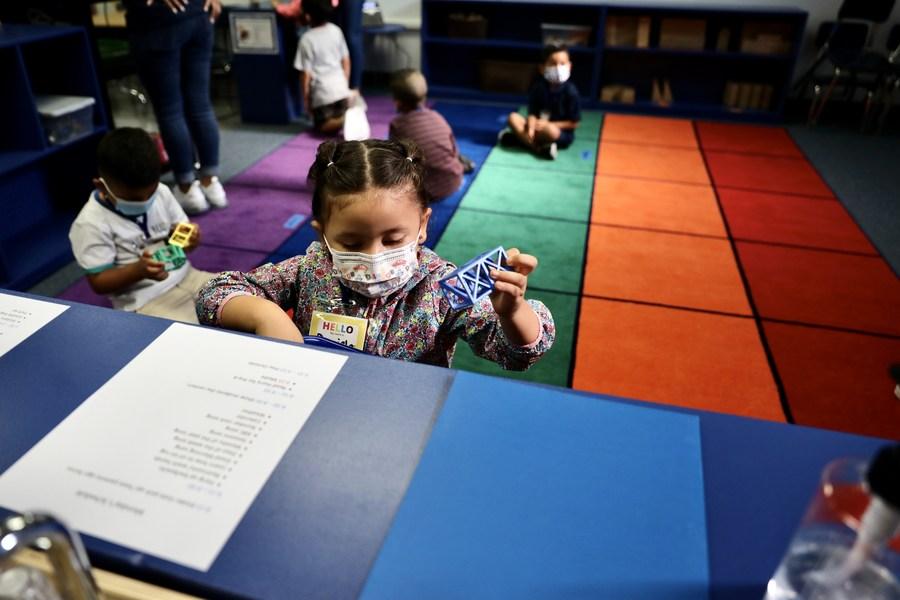 Kindergarten children play toys in a classroom at Montrara Ave. Elementary School in Los Angeles, California, the United States, on Aug. 16, 2021. (Xinhua)
  But millions of other families are in anxious limbo, waiting for a vaccine, as the Delta variant leads to a swell of new cases, including in children, according to the report.
  "The timeline for a vaccine for children under 12, initially expected by this fall, appears to have slowed, as officials consider safety, effectiveness and dosage," said NYT.
  Anthony Fauci, the nation's top infectious disease expert, recently indicated that a vaccine could become available to young children "hopefully by the mid, late fall and early winter." Shots for children aged 5 to 11 are expected first; children as young as six months may have to wait longer, according to the report.
  LESS TRAVEL
  The U.S. travel industry, which earlier this year had begun to rebound from the impact of COVID-19, is now under renewed pressure because of the Delta variant.
  Business travel particularly is taking a hit as companies, many of which have slashed corporate travel budgets, postpone out-of-town meetings in favor of virtual ones, reported CBS on Thursday.
  New restrictions from the European Union on unvaccinated travelers from the United States are also expected to cut into airline, hotel and other hospitality company profits, while Europeans still cannot travel freely to the United States, it added.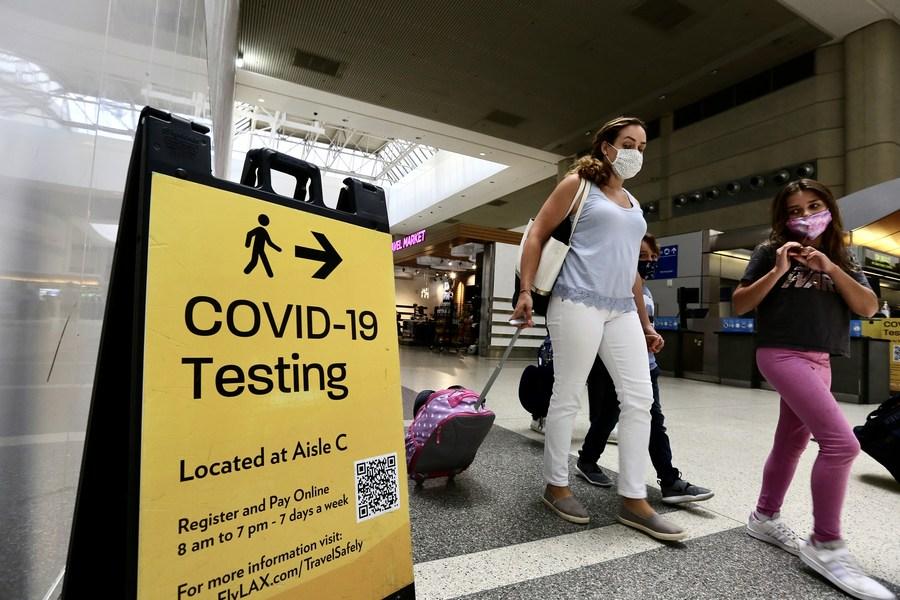 Travelers with face masks are seen at the Los Angeles International Airport in Los Angeles, the United States, July 18, 2021. (Xinhua)
  Underscoring those challenges, the U.S. Centers for Disease Control and Prevention (CDC) has recommended that unvaccinated Americans stay home over the Labor Day weekend, which used to feature spending sprees by travelers.
  The U.S. Travel Association (USTA), a group representing the travel industry, said its members cannot afford another major setback.
  "In 2020 alone, the pandemic resulted in a 500 billion U.S. dollars loss in travel spending that cost the U.S. 1.1 trillion dollars in economic output. Great strides have been made to combat the virus and restore the U.S. economy, and we cannot afford to backslide," said Tori Emerson Barnes, USTA's vice president of public affairs and policy, in a statement on Wednesday.
  LESS COLLEGE TRANSFERS
  Nearly 200,000 fewer students transferred between U.S. colleges and universities last year compared to the year before, an 8.4 percent decline, possibly exacerbating existing higher education inequity, according to new data from the National Student Clearinghouse.
  "In normal times, the transfer plays a very important role," Mikyung Ryu, director of research publications at the National Student Clearinghouse Research Center, was quoted by National Public Radio (NPR) as saying.
  Transfer options provide students with "more accessible educational pathways to bachelor's degree attainment, particularly for students who come from disadvantaged backgrounds or low income communities or racial and ethnic minorities," added Ryu.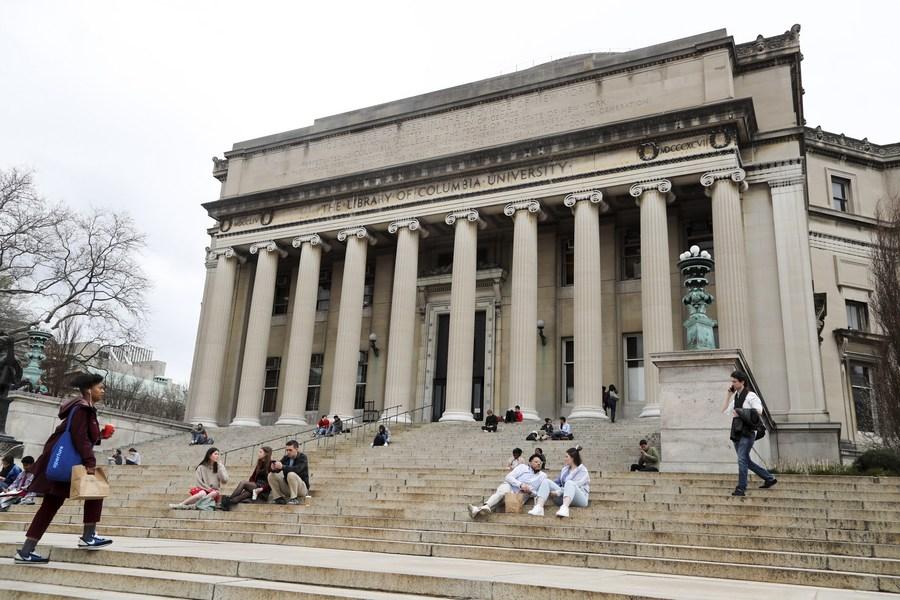 Students enjoy day time outdoors on the campus of Columbia University in New York, the United States, March 10, 2020. (Xinhua/Wang Ying)
  "Lateral transfers," a term describing the switch from similar types of schools, like one 2-year school to another, or from one 4-year school to a different one, declined 11.9 percent. Meanwhile, "reverse transfers," from a 4-year university to a 2-year community college, for example, dropped by 16.2 percent, according to the data.
  Overall, enrollment for Black transfer students dropped the most, though white students, Native American students and Latino students also saw large declines. The decline in transfer enrollment for men was also double that of women.
  What this means, Ryu said, is that students who may have opted to transfer in previous years have instead stayed put at their schools or withdrawn altogether.
Original Title:U.S. reels from COVID-19 impacts on travel, education and family