Gong's golden age only just begun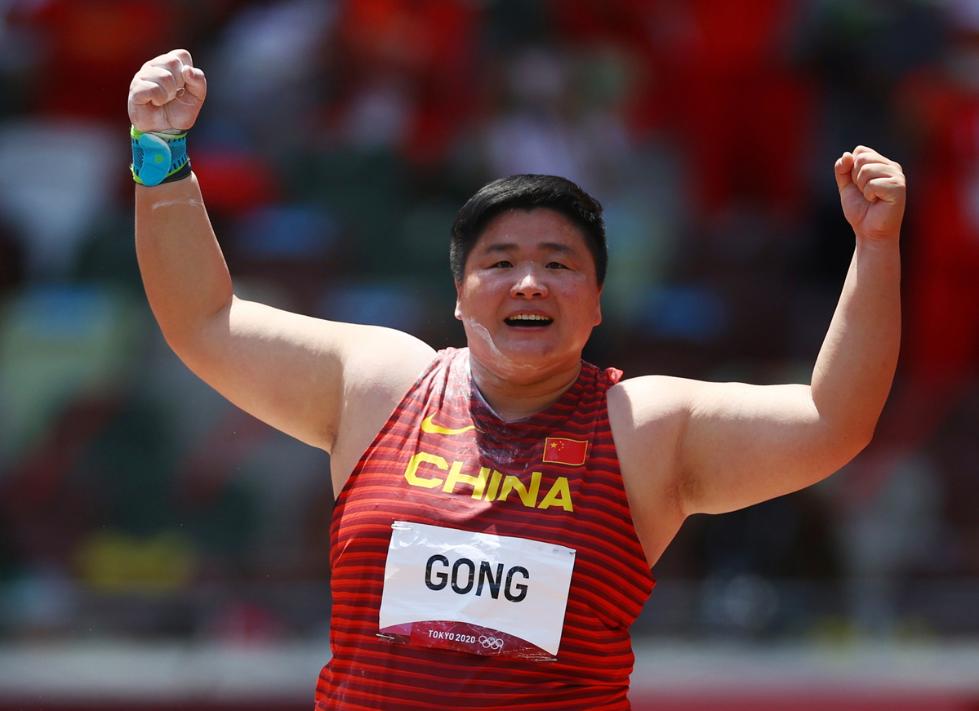 Gong Lijiao celebrates after winning a gold medal of the women's shot put at Tokyo 2020 on Aug 1. The 32-year-old won her first Olympic gold medal at the Games and is already targeting more glory at the Paris Olympics in three years' time. [Photo/Agencies]
  After becoming an Olympic champion at 32, shot put star looking to maintain dominance for many more years to come
  Gong Lijiao finally got her hands on Olympic gold in her fourth Games at Tokyo 2020. However, far from thinking about calling it quits, the 32-year-old is already targeting more glory at Paris 2024.
  "The Paris Olympics is not that far away, three years away instead of the normal four-year gap between the Games. I will for sure keep training and fighting," Gong told China Daily in a Douyin livestream from her quarantine hotel room in Beijing on Thursday.
  "As I said before, as long as my country needs me, I will keep pushing. I will only feel ready to retire when the younger Chinese shot putters grow to shoulder this responsibility. And, after all, who wouldn't want to win more Olympic medals?"
  Buoyed by her Tokyo heroics, Gong is relishing the prospect of taking on competitors almost half her age in Paris.
  "Just think, if I keep trying until the Paris Olympics, I will probably need to compete with teenagers when I become 35 or 36 years old. That's really hard. In the past, I always thought that 28 might be the golden age of a shot putter," she said.
  "But now I can still make breakthroughs as a 32-year-old veteran. So age is not a problem. Just like our 100-meter sprinter Su Bingtian, he is 31 and still managed to refresh his personal best and set an Asian record in Tokyo.
  "I will never say I'm old again. I'm still young, and I have a heart of a young person. So now I'm changing my golden age from 28 to 35. And four years later, I will do this interview again. And then I will tell you my golden age extends to 40!"
  Gong has every reason to believe she can continue to dominate the sport. Each of her five valid throws from six attempts in the Tokyo final was good enough for gold, with a personal-best 20.58m ultimately earning her the title.
  Gong's victory was China's first-ever Olympic gold medal in a field event, propelling her to a whole new level of fame. By last Thursday afternoon, for example, Gong was the subject of 22 trending topics on Weibo, including highlights of her Tokyo 2020 final, TV interviews and funny moments in front of the cameras.
  Gong competed at her first Olympics at the 2008 Beijing Games. She initially finished fifth but was later upgraded to the bronze-medal position after two athletes were disqualified for anti-doping rule violations.
  After pocketing silver at London 2012, she could only manage fourth at Rio 2016, before golds at the 2017 and 2019 world championships established her as the sport's dominant force.
  Gong told China Daily that she was too young when she made her Olympic debut in Beijing, and her mindset has changed a lot over the years.
  "When I competed in 2008, I was too inexperienced and my goal was just to finish in the top eight. I'm a very practical person and it was impossible for me at that time to win an Olympic gold," she said.
  "At each Olympics, I have a different goal to achieve. So I have to say my failure at the 2016 Rio Olympics was really hard for me. I had very high expectations of myself and I put too much pressure on myself.
  "I remember friends were texting me at the time, saying they were confident in me winning the gold. When I finally competed in Rio, I didn't even win a bronze. However, I managed to emerge from that failure and have now reached the peak of my career. I fear nothing now, and I have won all the medals I could win at major championships. So now when I keep trying, I will not compete for my personal goals, I will fight for the honor of our nation."
  No pain, no gain
  Glory, however, has not come easy for Gong. Struggling with knee and waist injuries, she admitted she found her extended preparations for Tokyo extremely wearisome at times.
  "Mentally, I felt very frustrated when I heard the Tokyo Olympics was postponed by a year. I had been in great condition since early 2020, throwing over 20 meters on several occasions. I felt I just need a competition to win gold," said Gong.
  "The postponement of the Olympics was a huge blow to me. And then after I had processed the news psychologically, my injuries returned and troubled me. At the worst time, my knee swelled up like a big steamed bun.
  "At that point, I thought I might miss out on Olympic gold again, and that it might just be my destiny. But then I kept telling myself I have the strength and I cannot give up. The injuries were temporary. The national team's support staff helped me a lot in my recovery at that time."
  Her quest for Olympic gold also meant Gong needed to sacrifice time with her family. And with the 14th National Games of China taking place in Xi'an, Shaanxi province next month, a trip back home will have to wait.
  "When I have no more competitions and no more training to do, what I want to do most is return home to spend more time with my family," she said.
  Until then, Gong will have to count on the company of coaches, teammates and competitors. New Zealander Valerie Adams, who won bronze in Tokyo, is a longtime rival of Gong's, often beating the Chinese star to gold at major championships. However, the two still consider each other good friends, with the Kiwi giving Gong a big hug after stepping off the podium in the Japanese capital.
  "We have competed against each other since 2007. And for more than a decade, I had to witness her stand on the highest podium again and again," said Gong. "As I improved, I just wished one day she could see me win.
  "We chat every time we meet and hug each other. We have spent so much time together. Honestly, I have spent more time with Valerie than with my parents. I knew when I finally won, she was truly happy for me… And if I have chance in the future, I will go to New Zealand to visit her."
Original Title:Gong's golden age only just begun