Intangible cultural heritage artworks in red heighten the atmosphere of the Spring Festival in NW China's Ningxia
  YINCHUAN, Feb. 18, 2021 (Xinhua) -- Chinese people love the color red and they regard red as a symbol of happiness and prosperity. They buy red decorations for the Spring Festival as a way to wish good luck for the next year. In northwest China's Ningxia Hui Autonomous Region, intangible cultural heritage artworks in red have heightened the atmosphere of the Spring Festival.
  With distinctive ethnic features, most paper-cuts of Hui ethnic group are inspired by local life. Artists use only scissors and pieces of red paper to depict various and vivid figures. People now use paper-cuts to decorate houses and believe they can bring good luck and happiness to the family.
  Chinese knot is a traditional threaded craft for blessing. Its shape is regarded as a symbol of reunion, amity, and peace. First as a decorative addition to clothing, Chinese knot is later used to decorate their houses as well. As China's young people now have strong confidence and appreciation of their own culture, more and more young people are willing to learn traditional Chinese culture and carry forward it.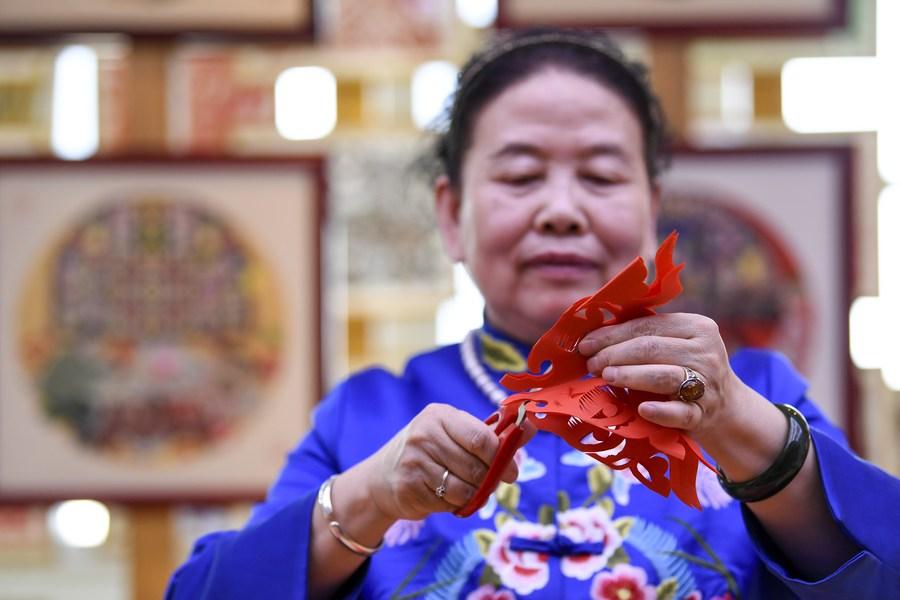 Fu Zhao'e, a national intangible cultural heritage inheritor, makes an ox-themed paper-cutting work for the Chinese Lunar New Year in Yinchuan, northwest China's Ningxia Hui Autonomous Region, Feb. 6, 2021.(Xinhua/Feng Kaihua)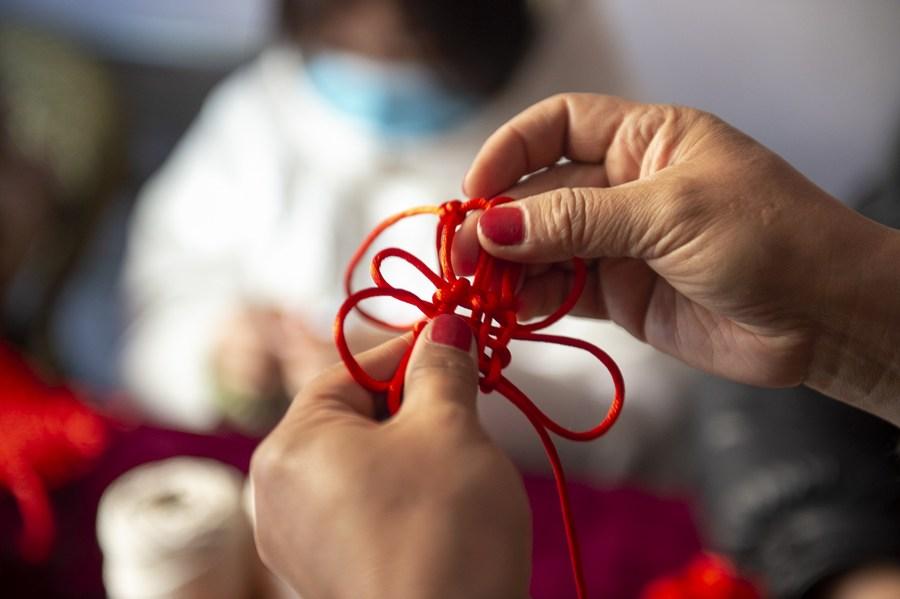 Wei Minghui, an intangible cultural heritage inheritor, makes a Chinese knot in Yinchuan, northwest China's Ningxia Hui Autonomous Region, Jan. 28, 2021.(Xinhua/Tang Rufeng)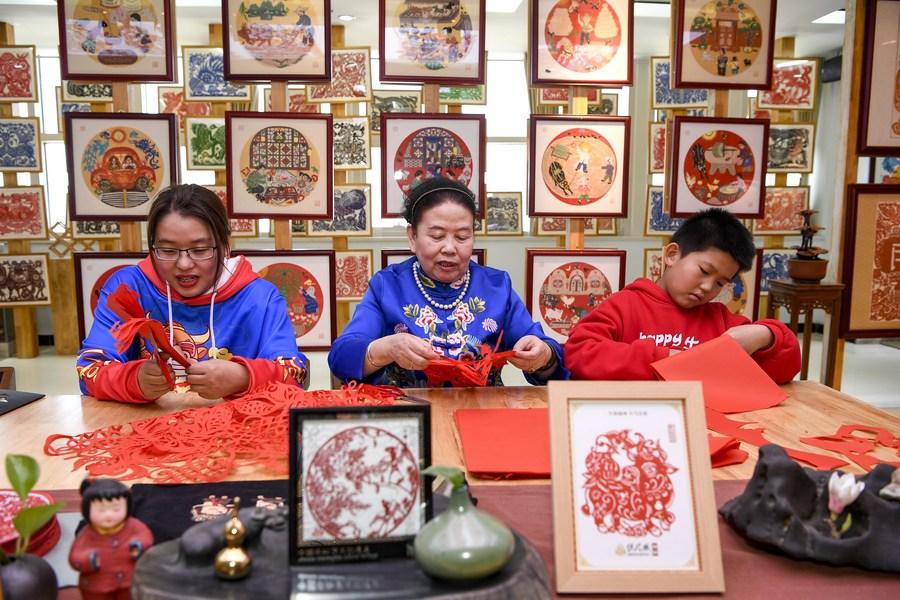 National intangible cultural heritage inheritor Fu Zhao'e (C), her daughter (L), and her grandson make ox-themed paper-cutting works for the Chinese Lunar New Year in Yinchuan, northwest China's Ningxia Hui Autonomous Region, Feb. 6, 2021.(Xinhua/Yang Zhisen)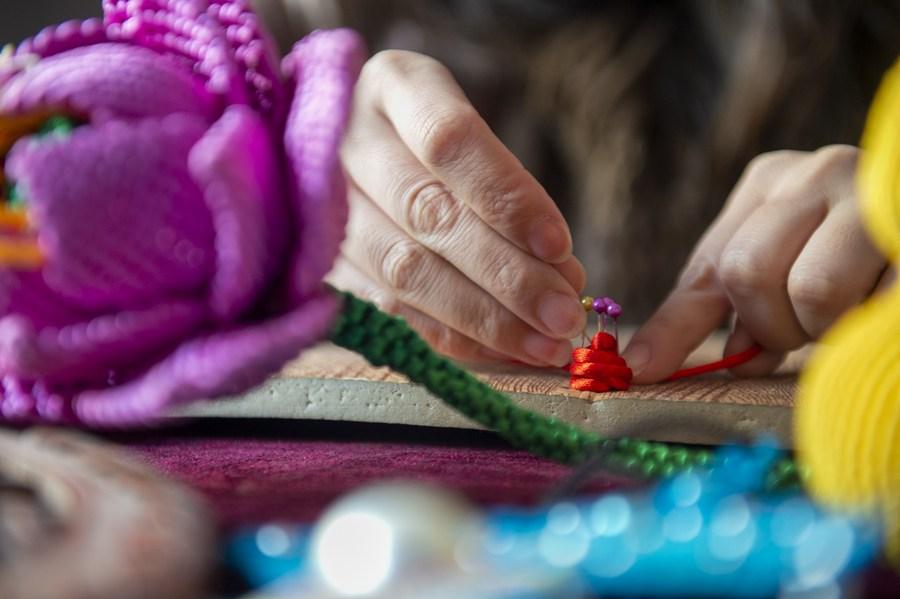 A student of Wei Minghui, an intangible cultural heritage inheritor, makes a Chinese knot in Yinchuan, northwest China's Ningxia Hui Autonomous Region, Jan. 28, 2021.(Xinhua/Tang Rufeng)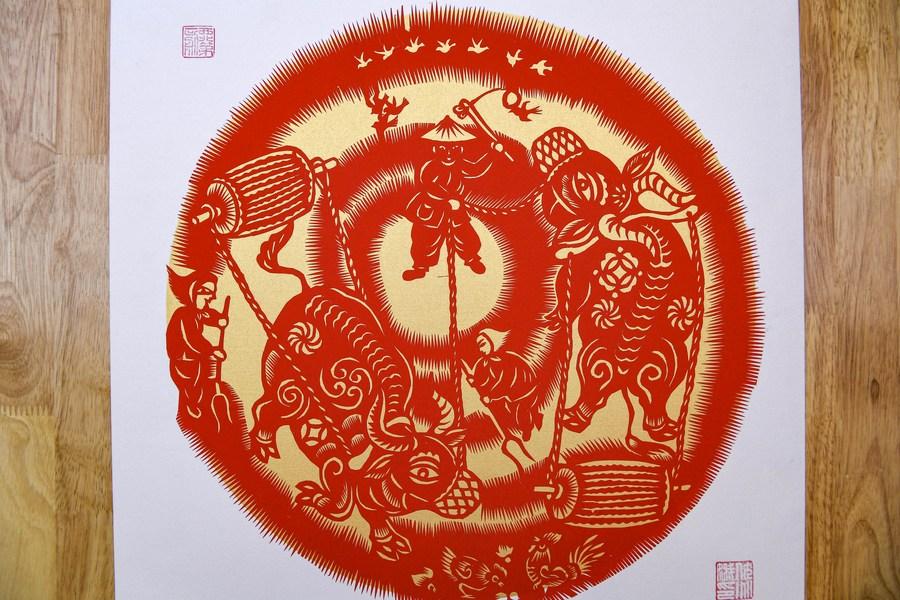 Photo taken on Feb. 6, 2021 shows an ox-themed paper-cutting work created by national intangible cultural heritage inheritor Fu Zhao'e for the Chinese Lunar New Year in Yinchuan, northwest China's Ningxia Hui Autonomous Region.(Xinhua/Wang Peng)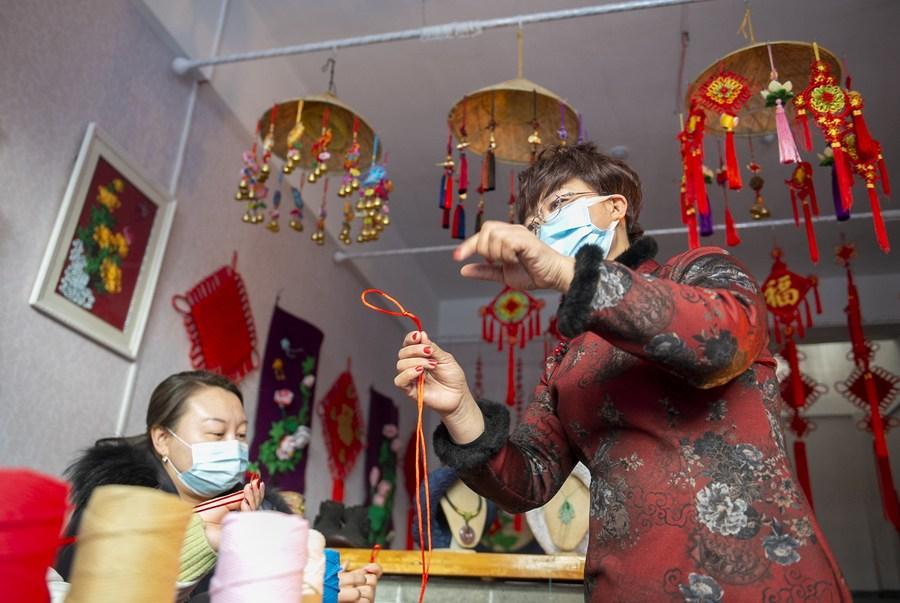 Wei Minghui (R), an intangible cultural heritage inheritor, teaches her students to make a Chinese knot in Yinchuan, northwest China's Ningxia Hui Autonomous Region, Jan. 28, 2021.(Xinhua/Tang Rufeng)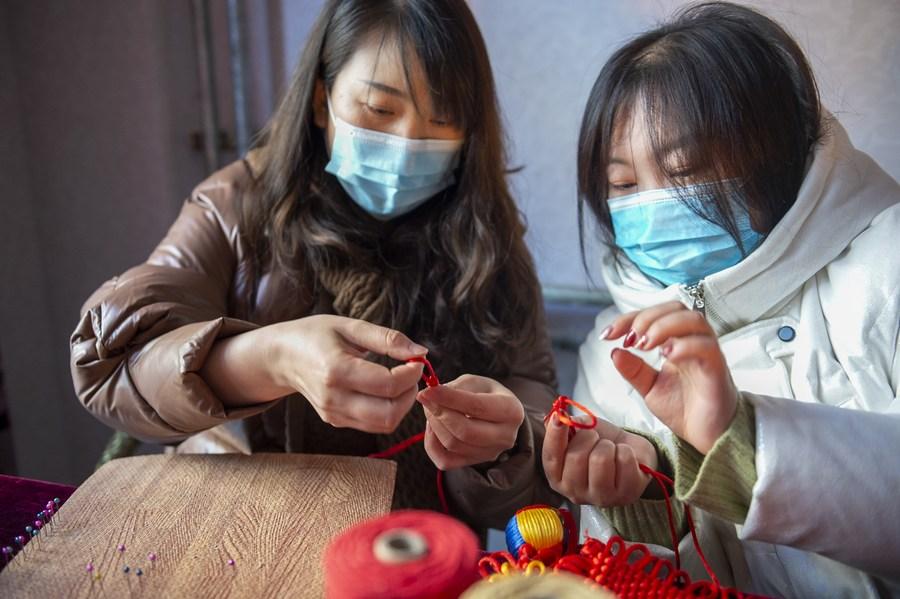 Students of Wei Minghui, an intangible cultural heritage inheritor, discuss the knotting technique in Yinchuan, northwest China's Ningxia Hui Autonomous Region, Jan. 28, 2021. (Xinhua/Tang Rufeng)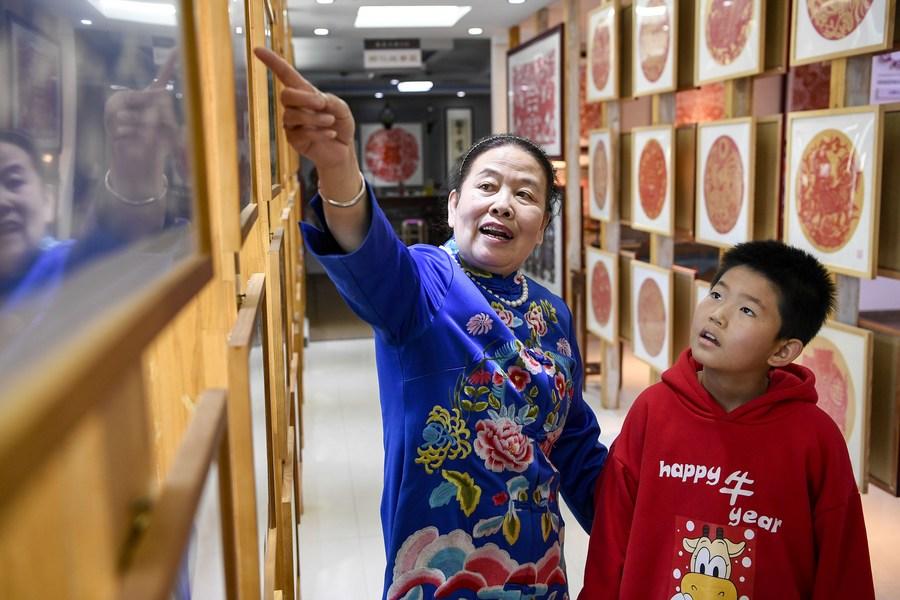 Fu Zhao'e, a national intangible cultural heritage inheritor, tells stories behind papercuts to her grandson in Yinchuan, northwest China's Ningxia Hui Autonomous Region, Feb. 6, 2021.(Xinhua/Feng Kaihua)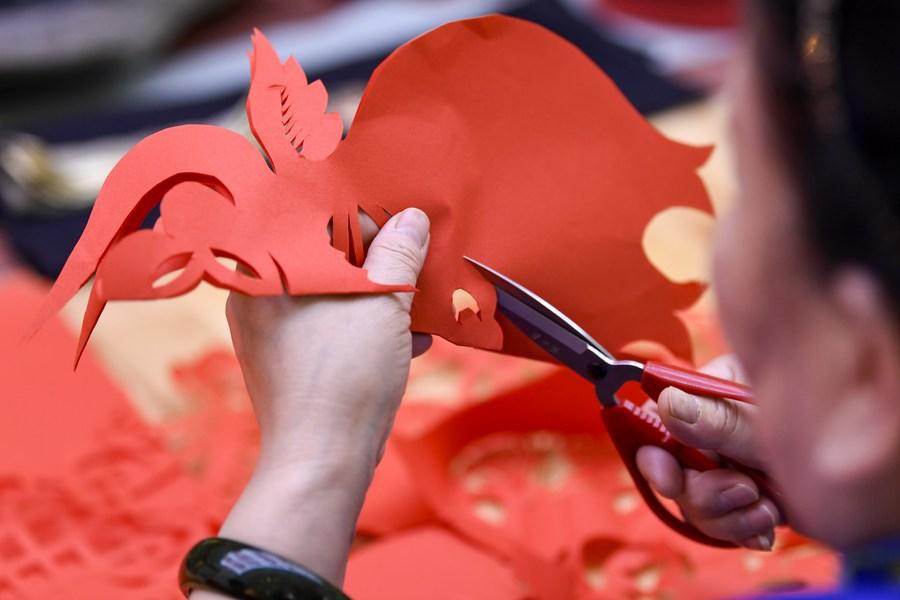 Fu Zhao'e, a national intangible cultural heritage inheritor, makes an ox-themed paper-cutting work for the Chinese Lunar New Year in Yinchuan, northwest China's Ningxia Hui Autonomous Region, Feb. 6, 2021.(Xinhua/Feng Kaihua)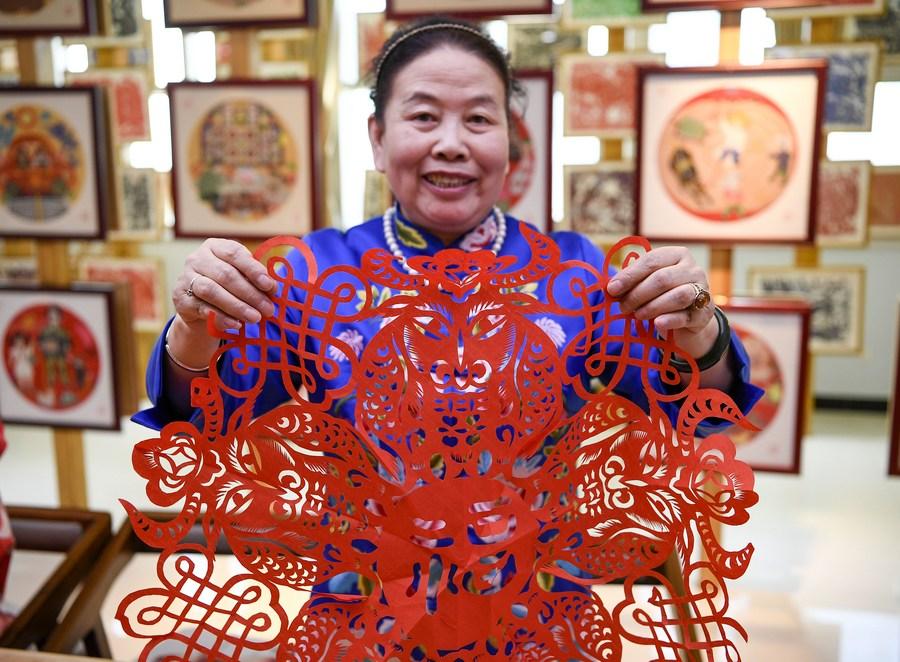 Fu Zhao'e, a national intangible cultural heritage inheritor, shows an ox-themed paper-cutting work for the Chinese Lunar New Year in Yinchuan, northwest China's Ningxia Hui Autonomous Region, Feb. 6, 2021.(Xinhua/Feng Kaihua)■
Original Title:(VistaNingxia) Intangible cultural heritage artworks in red heighten the atmosphere of the Spring Festival in NW China's Ningxia