Intangible cultural heritages from east China to adorn lunar new year celebration in Sydney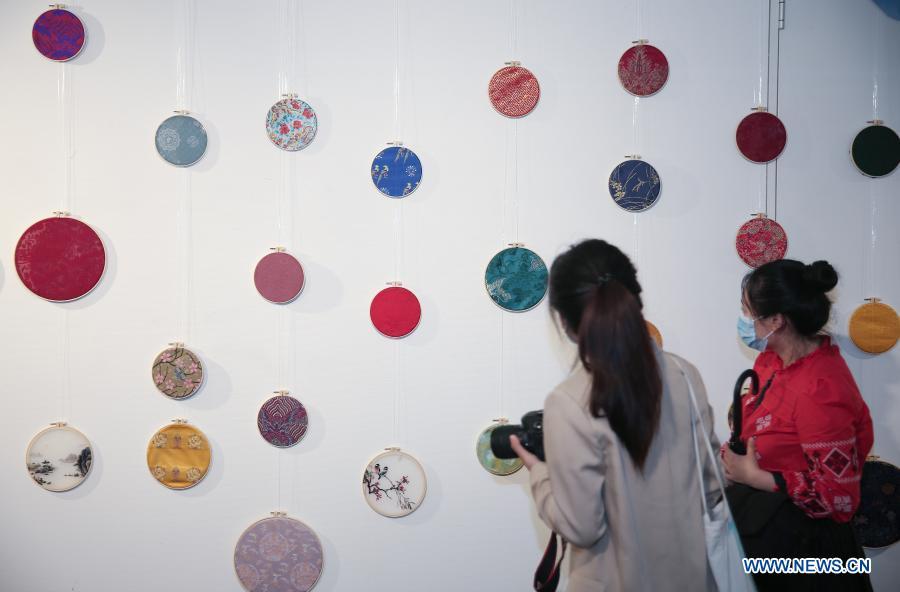 People visit the exhibition of intangible cultural heritages from east China's Jiangsu Province at the China Cultural Centre in Sydney, Australia, Jan. 27, 2021. An exhibition of intangible cultural heritages from east China's Jiangsu Province will bring Sydneysiders a cultural feast for the upcoming Chinese Lunar New Year. The exhibition, inaugurated on Wednesday, featured seven highly representative intangible cultural heritage techniques of Jiangsu Province, including Taohuawu woodblock new year prints, Nanjing Yun brocade, Su embroidery and Jinling paper-cutting, which are all elite display of the province's traditional and beautiful handicrafts. Besides exhibits displayed in the China Cultural Centre located in downtown Sydney, a synchronised exhibition using virtual reality technology was also put online to facilitate Chinese culture lovers in other places of Australia. (Xinhua/Bai Xuefei)
  SYDNEY, Jan. 27 (Xinhua) -- An exhibition of intangible cultural heritages from east China's Jiangsu Province will bring Sydneysiders a cultural feast for the upcoming Chinese Lunar New Year.
  The exhibition, inaugurated on Wednesday, featured seven highly representative intangible cultural heritage techniques of Jiangsu Province, including Taohuawu woodblock new year prints, Nanjing Yun brocade, Su embroidery and Jinling paper-cutting, which are all elite display of the province's traditional and beautiful handicrafts.
  Besides exhibits displayed in the China Cultural Centre located in downtown Sydney, a synchronised exhibition using virtual reality technology was also put online to facilitate Chinese culture lovers in other places of Australia.
  "Jiangsu Province locates in the prosperous Yangtze River delta, a beautiful and fertile land abound in fish and rice. The long historical tradition and intersection of different local cultures create the special cultural charm of the province," said Xiao Xiayong, director of the China Cultural Centre in Sydney.
  Jiangsu Province is the main theme and cooperative partner of the cultural centre for the whole year. Besides the intangible cultural heritages, some other events featuring the province's culture and tourism will also be staged in the centre through the year.
  Unveiling the exhibition two weeks ahead of the traditional Chinese Lunar New Year, the centre also hopes it could enrich the cultural events in Sydney and convey the best wishes to local residents.
  "Lunar New Year is the most important festival of the Chinese people. The past year is very difficult due to the pandemic. We hope visitors to the exhibition could feel the happiness, peace and best wishes of the Lunar New Year from the exquisite handicrafts," Xiao said.
  The exhibition, co-sponsored by the cultural centre and the Jiangsu Province Department of Culture and Tourism, will last till late February. Enditem
Original Title:Intangible cultural heritages from east China to adorn lunar new year celebration in Sydney