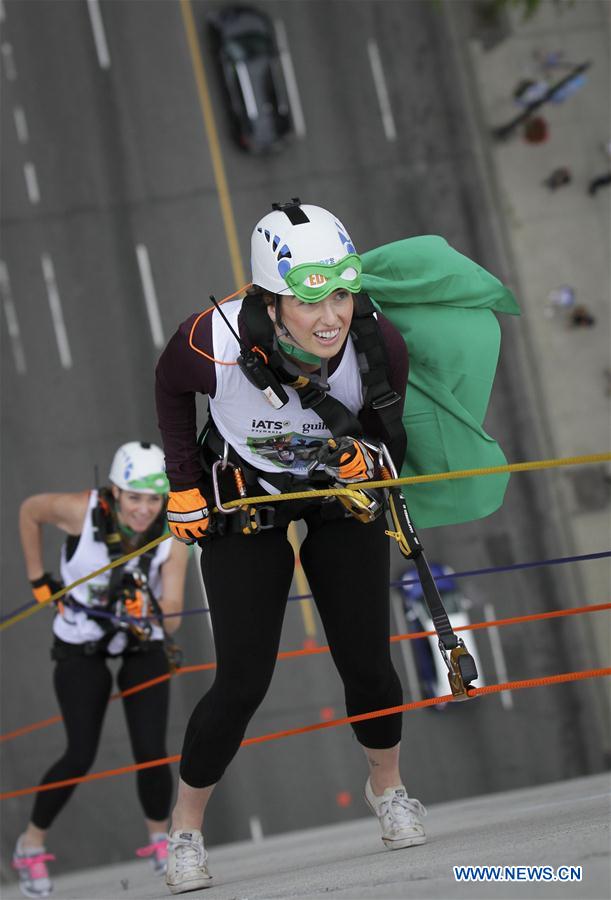 Participants rappel down the wall of the Hyatt Regency Hotel during the "Rope for Hope" event in Vancouver, Canada, Aug. 2, 2018. People took challenges by rappelling down from a 36-storey building during the annual "Rope for Hope" event in downtown Vancouver to help raising funds and awareness for sick kids. (Xinhua/Liang Sen)
  by Evan Duggan
  VANCOUVER, Aug. 2 (Xinhua) -- Sid Mathews hung in a harness high above the streets of a downtown Vancouver skyscraper on Thursday, rappelling down the building to help raise money for critically-ill children.
  From his vantage point, suspended by ropes, and gently easing himself down the Hyatt Regency Hotel, Mathews could see people still sleeping in their hotel room beds, as people cheered him on from 36 storeys down.
  Mathews was one of 40 fundraisers who helped to raise together more than 100,000 Canadian dollars for the Make-A-Wish Foundation. It's a charity in 50 countries that raises money to grant a special wish for a critically-ill child.
  "We have ten chapters across Canada," said Ross Hetherington, the CEO of Make-A-Wish for the British Columbia and Yukon chapter. "We grant about 130 wishes a year in B.C. and Yukon, which is the most of any chapter in Canada."
  Make-A-Wish International is the largest wish-granting organization in the world and has granted the wishes of more than 450,000 kids since 1980.
  Called Rope for Hope, Thursday's event gave helpful fundraisers the chance to rappel down the side of the hotel after raising at least 1,500 dollars for the charity.
  Hetherington said Make-A-Wish grants a special child the chance to travel to a place they've always wanted to go; meet a person they've always wanted to meet; receive something they've always wanted to have; or do something they've always wanted to do.
  Trips to Disneyland or meeting a favorite sports star are some of the most popular wishes, he said. "We say to them... If you could wish for anything, what would you wish for?"
  "Once they let us know what their wish is, we get to work on it," Hetherington said.
  Mathews said he decided to drive up from Seattle today to show support for a colleague who has a sick child.
  "He's had three open heart surgeries and he's just turned five," Mathews said after coming off the wall at the bottom of the building.
  "I'm lucky enough to have really healthy kids and I know that not everyone has that luxury, so it's great that this charity makes kids feel better, makes kids feel good and takes the focus off what they're going through," he said.
  He said he got about three minutes of instruction and then over the edge he went, lowering himself with a harness and ropes.
  "My heart was pumping trying to get over the edge," he said. "It's fantastic. Great view."
  It felt good coming down, he said and added with a laugh: "There's a lot of people still sleeping in their hotel rooms."
  Childhood shouldn't be a time when youngsters face life-threatening medical conditions, Hetherington said. "We come into their life and shine a ray of hope to stay strong and then when the wish happens, it's a time of joy."
  He said parents often tell him that Make-A-Wish helped them get through their darkest time in their lives.
  Today's event would raise enough money to grant ten more wishes. "That's fantastic," Hetherington said.