Video PlayerClose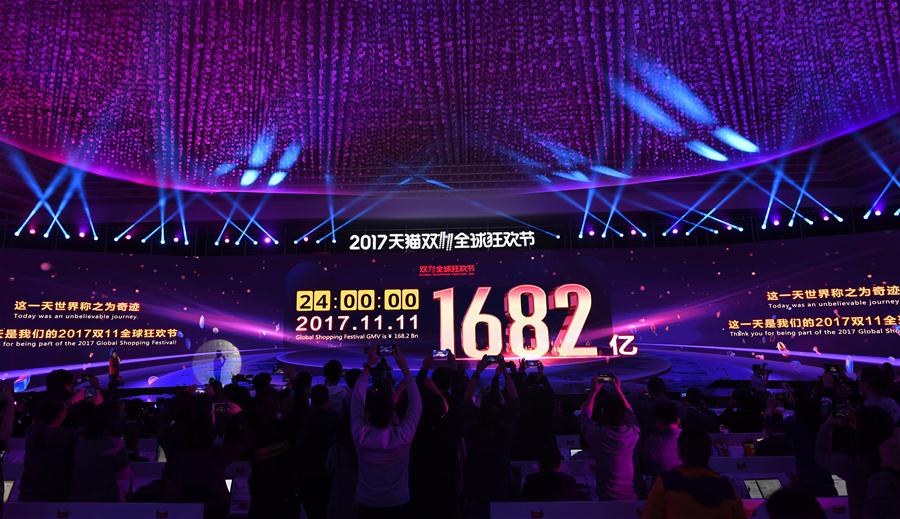 A screen shows the value of goods transacted at Alibaba Group's 11.11 Singles' Day global shopping festival, in Shanghai, east China, Nov. 12, 2017. Alibaba Group Holding Limited announced on Sunday that 168.2 billion RMB yuan (25.3 billion U.S. dollars) of gross merchandise volume was settled through Alipay on Nov. 11, 2017, 39 percent more than in 2016. (Xinhua/Huang Zongzhi)
  SHANGHAI, Nov 12 (Xinhua) -- Trade at Alibaba, China's leading e-commerce platform, reached 168.3 billion yuan (25.4 billion U.S. dollars) on Saturday's shopping promotion.
  Alipay, Alibaba's mobile payment platform, handled 1.48 billion payments from around the world, 41 percent more than last year.
  A total of 812 million orders were generated in the 24 hours, 23 percent up.
  More than 140,000 overseas brands participated, with 206 countries and regions involved in. Constomers came from 225 countries.
  Ten million orders were made in the first four hours. ARussian buyer became the first overseas customer to receive her order, a coffee machine, through AliExpress, 14 days earlier than last year.
  November 11 was first promoted by Alibaba in 2009 and has developed into an annual e-commerce frenzy.