Video PlayerClose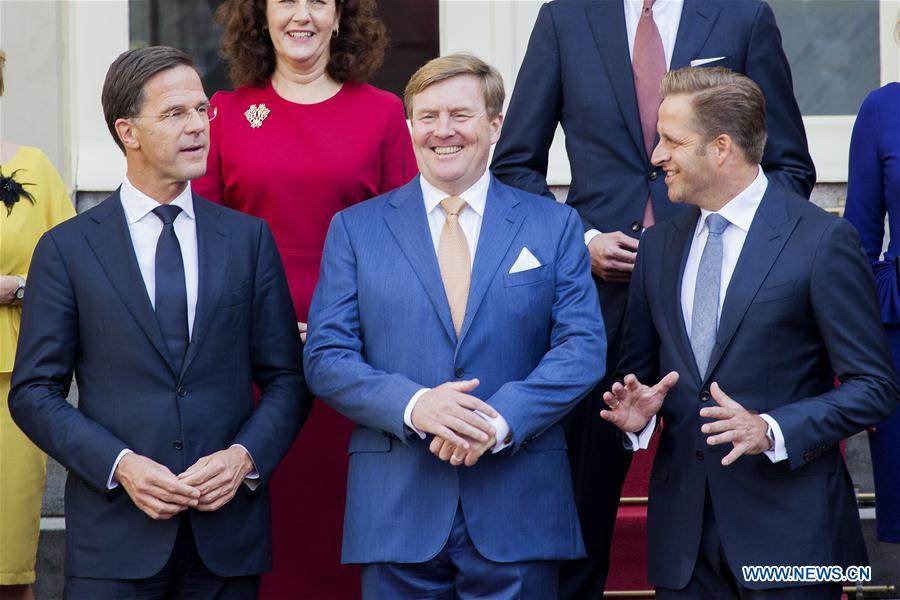 Dutch Prime Minister Mark Rutte (1st L Front) and Dutch King Willem-Alexander (Front C) attend the sworn-in ceremony of the new Dutch government in the Hague, the Netherlands, Oct.26, 2017. The new Dutch government made up of rightist liberal party VVD, leftist democrats D66, the Christian democrats CDA and the minor Christian party ChristenUnie was officially sworn in by King Willem-Alexander at Noordeinde Palace here on Thursday. (Xinhua/Rick Nederstigt)
  THE HAGUE, Oct. 26 (Xinhua) -- The new Dutch government made up of rightist liberal party VVD, leftist democrats D66, the Christian democrats CDA and the minor Christian party ChristenUnie was officially sworn in by King Willem-Alexander at Noordeinde Palace here on Thursday.
  The swearing in comes 225 days after elections were held, which means this government formation took the longest to establish since World War II. The previous record was the formation of a government in 208 days in 1977.
  The inauguration normally takes place at the Huis ten Bosch Palace, also in The Hague, but the swearing in location was changed due to renovations.
  The new ministers took an oath or promised their allegiance to the Dutch constitution, according to tradition, and promised to discharge their duties faithfully. Except for Prime Minister Mark Rutte, who already made the pledge during the previous inauguration five years ago.
  Accompanied by King Willem-Alexander, the members of Rutte's third cabinet met with media after the inauguration.
  The new cabinet consists of 24 people -- 16 ministers and eight state secretaries. Nine of them are from the biggest party VVD (six ministers, three state secretaries), six are from both the CDA and D66 (both four ministers and two state secretaries) and three of them are from ChristenUnie (two ministers, one state secretary). Ten of the 24 ministers and state secretaries are women.
  Rutte became prime minister for the third time after having already served in the role from 2010 to 2012, and from 2012 to 2017.
  Hugo de Jonge (CDA), Kajsa Ollongren (D66) and Carola Schouten (ChristenUnie) were appointed as joint deputy prime ministers.
  On March 15 this year, Rutte's party VVD won the Dutch elections and on Oct. 9 VVD, CDA, D66 and ChristenUnie reached a government deal.
  Also on Thursday, the new ministers will be handed the files by their predecessors. On Friday, they will gather for their first ministers' council meeting and on Nov. 1 and 2 the new cabinet will have their first debate in parliament.