Summer movies set sizzling pace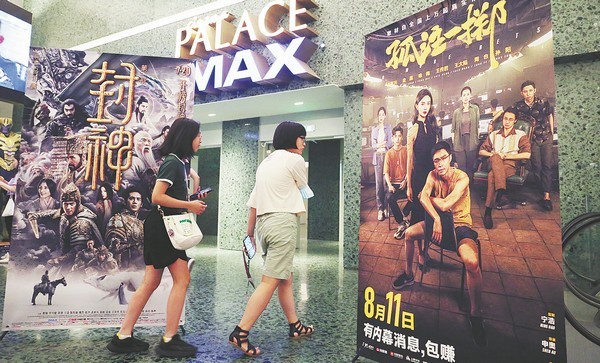 Fantasy film Creation of the Gods I: Kingdom of the Storms, action movie No More Bets, the comedy Papaand the drama One and Only, along with Dust to Dust, a thriller, are among the summer season box-office hits. CHINA DAILY
Box-office earnings impress as filmgoers return in numbers.
Despite arriving at a cinema in downtown Beijing close to 10 pm one weekday, Guo Huijia, a 34-year-old office worker, was surprised to find that almost 80 percent of the seats in the auditorium were occupied.
She decided to watch the crime thriller Lost in the Stars, the second-highest grossing film in China's thriving summer movie season, after seeing a promotional video showcasing heartthrob actor Zhu Yilong, who plays the piano as part of his lead role.
"When I walked out of the cinema at midnight, I couldn't help feeling a chill running down my spine. The movie tells a thought-provoking story that makes us reconsider the darkness within human nature, and serves as a warning to women in love," Guo said.
Due to her busy work schedule, Guo, a movie enthusiast, said she often goes to watch films late at night, mainly on weekdays. However, she noticed that in the past two months, the cinema she visited to watch Lost in the Stars had been consistently crowded.
As of Aug 31, box-office takings for the summer season, which started on June 1, had set a record by reaching 20.6 billion yuan ($2.75 billion).
The China Film Distribution and Screening Association and the live movie information tracker Beacon said more than 500 million cinema tickets were sold nationwide this summer at an average price of 40.80 yuan per person for the 35 million-plus screenings of the 138 films that were released.
Most industry insiders feel that the flourishing summer market shows that the domestic movie industry is recovering fast from the effects of the COVID-19 pandemic.
Yin Hong, deputy chairman of the China Film Association, said the summer frenzy, driven by a string of highly acclaimed and commercially successful blockbusters, rekindled Chinese audiences' desire to return to theaters, significantly boosting morale among domestic filmmakers.
This summer was the first time in months that students, who comprise a significant proportion of audiences during this season, had been able to visit cinemas without having to worry about pandemic prevention measures.
Moreover, a diverse choice of appealing movies was available, including some originally scheduled for release last summer or earlier, but which were delayed due to the pandemic. Yin said such a wide variety of genres and themes contributed to the thriving summer box office.
Rao Shuguang, president of the China Film Critics Association, said the movie lineup this summer included not only big-budget productions, but also some excellent films with moderate to low budgets, contributing to a more balanced and healthy development of the entire market.
"If the nation's annual box-office takings surpass 60 billion yuan by the end of this year, it will enhance confidence in the industry and encourage talent to produce more quality movies," Rao added.
Original Title:Summer movies set sizzling pace