Sebastian Pinera triumphs in Chile elections, returns to presidency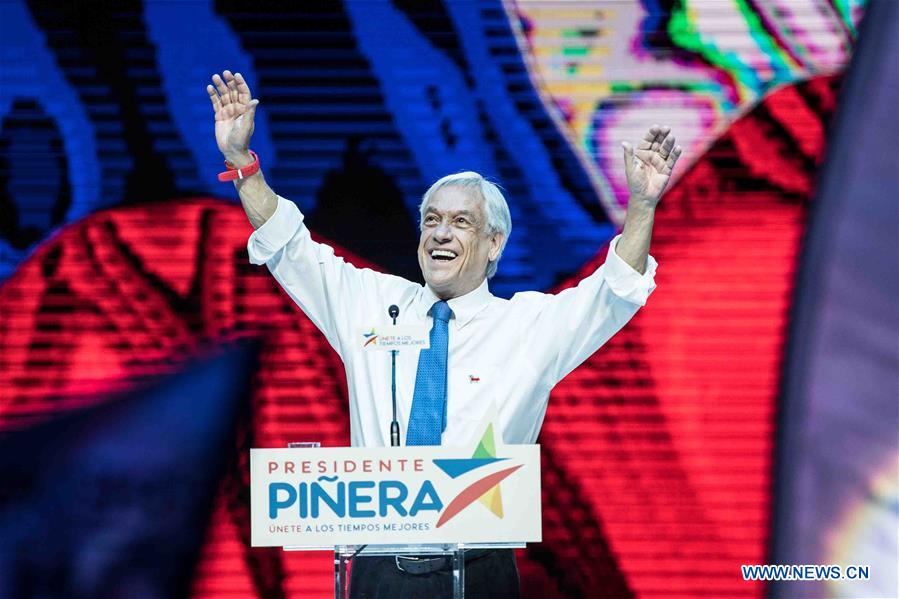 Chilean presidential candidate Sebastian Pinera speaks during a campaign rally in Santiago, Chile, on Dec. 14, 2017. Right-wing candidate and former president, Sebastian Pinera, was elected president of Chile for the second time on Sunday. (Xinhua/Jorge Villegas)
  SANTIAGO, Dec. 17 (Xinhua) -- Right-wing candidate and former president, Sebastian Pinera, was elected president of Chile for the second time on Sunday.
  With 96.31 percent of votes counted, according to Chile's electoral service (Servel), Pinera held 54.57 percent of the vote, against the center-left candidate Alejandro Guillier, with 45.43 percent.
  As Pinera's victory was reported in the press, Guillier recognized his defeat and in a concession speech, said that he congratulated Pinera.
  "On this day, we can all feel proud, for our democracy, our republic and our electoral system," he said. "I also want, tonight, to congratulate my contender, Sebastian Pinera, the new president of the republic. I have already called him to congratulate him on his impeccable and solid triumph."
  The large margin of victory will come as a relief for Pinera as the first round on Nov. 19 had been much closer than polls had predicted.
  The election day took place relatively calm, despite a slight scuffle between Pinera's supporters and opponents when he went to vote, and some voters trying to throw eggs at Guillier in the morning.
  Despite a high level of abstention being feared, long waits were seen at major polling stations in Santiago, including the national stadium, where voters had to wait over 45 minutes to cast their ballot.