Russian military denies killing civilians in E. Syria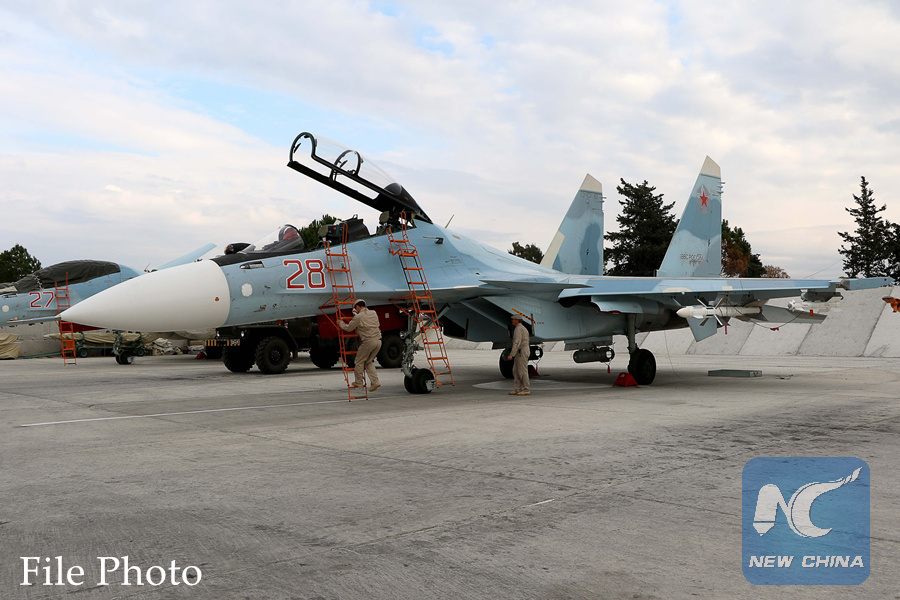 Russian servicemen prepare a Russian Sukhoi Su-30SM fighter jet before a departure for a mission at the Russian Hmeimin military base in Latakia province, in the northwest ofSyria, on December 16, 2015. (Xinhua/AFP)
  MOSCOW, Nov. 27 (Xinhua) -- Russian Defense Ministry on Monday denied a report that Russian air strikes had killed dozens of civilians in airstrikes against terrorist targets in the village of Al-Shafah in Syria's eastern Deir al-Zour province.
  "The aircraft of the Russian air force were not used against the village of Al-Shafah," the ministry said in a statement, adding that the strikes "are applied outside settlements and exclusively against targets of international terrorist groups."
  Data on such targets are checked and confirmed in real time via several channels: from the ground and unmanned means of objective control ahead of a strike, the ministry said.
  France's AFP news agency said earlier Monday that at least 53 civilians, including 21 children, died early Sunday morning when Russian air strikes hit residential buildings in a village held by the Islamic State (IS) group in eastern Syria.
  It quoted the Britain-based Syrian Observatory for Human Rights as saying the strikes hit the village of Al-Shafah in Deir al-Zour province, on the eastern bank of the Euphrates River.
  On Sunday, Russian Defense Ministry said its six long-range TU-22M3 bombers had launched airstrikes on IS targets in the province of Deir al-Zour hitting "terrorists' strongholds and areas with high concentration of militants in the Euphrates valley."
  It said Russian warplanes made around 530 sorties in Syria, destroying over 1,320 terrorist facilities in the last seven days.
  So far, 98 percent of the Syrian territory have been liberated from IS militants, the ministry said in a separate statement.