Thai Supreme Court issues arrest warrant against former PM Yingluck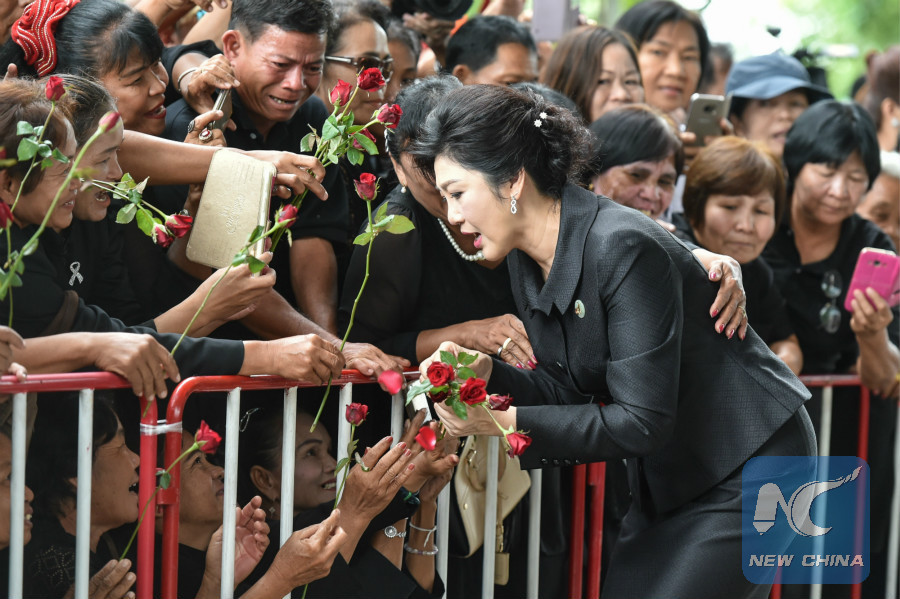 Supporters present flowers to Former Thai prime minister Yingluck Shinawatra upon her arrival at the Thai Supreme Court in Bangkok, Thailand, July 21, 2017. (Xinhua/Li Mangmang)
  BANGKOK, Aug. 25 (Xinhua) -- An arrest warrant was issued on Friday for former Thai Prime Minister Yingluck Shinawatra who failed to appear in court on the judgment day of a rice lawsuit filed against her.
  The Supreme Court postponed the reading of the verdict for the criminal case against Yingluck until Sept. 27 after her lawyer said the former leader was suffering from Meniere's disease and feeling dizzy and thus was unable to attend.
  Nevertheless, the Supreme Court judges ruled that they do not believe Yingluck's illness as it was certified by any doctor, according to a public prosecutor attached to the Office of Attorney General.
  Yingluck's failure to appear in court prompted the Supreme Court to hand out the arrest warrant for the former premier currently faced with duty-negligence charges pertaining to the rice subsidy program implemented nationwide years ago.
  Some Thai media earlier reported that a car believed to carry Yingluck was seen at the court as her followers were chanting her name to the vehicle and thus assumed she was there, but she did not show up as expected.
  Meanwhile, police have not yet confirmed or denied rumors that Yingluck might have secretly fled the country on Wednesday while the arrest warrant is currently obliging police to locate and detain the former premier so that she can be brought to justice on Sept. 27.
  The former premier's house in Yothin Pattana area remained quiet with the gate firmly shut since early Friday with a flock of reporters and photographers waiting outside.
  Yingluck, who had earlier maintained that she would never escape and would fight the legal battle till the end, posted on facebook on Thursday, calling on her supporters not to travel to the court in Chaeng Wattana area to cheer her up.
  If found guilty, Yingluck might probably be sentenced to a certain period in jail for her alleged failure to do her duty by calling off the rice program which finally was charged of causing state losses.
  Prime Minister Prayut Chan-o-cha said that the news of his predecessor's failing to appear in court surprised him and he had instructed police and other authorities to find her and bring her to justice.
  Deputy Prime Minister Prawit Wongsuwan said some government officials may have helped Yingluck if she decided to flee the country and have Friday's court verdict put off until late next month.
  In her final statement made in her defense in court, Yingluck maintained that she had never neglected her duty involving the rice subsidy program carried out by her government.