China sweeps all 13 diving golds at FINA World Championships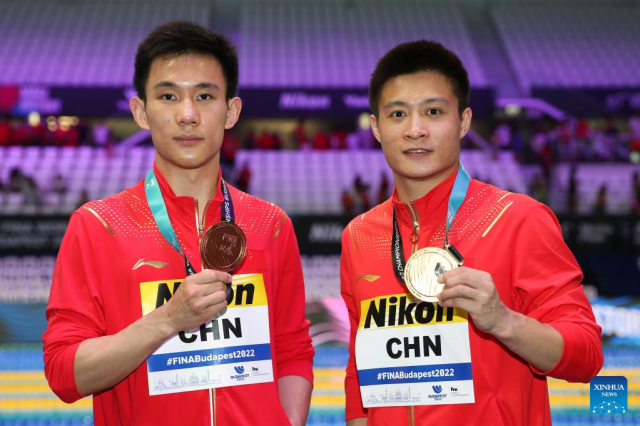 Gold medalist Yang Jian (R) and silver medalist Yang Hao of China pose after the men's 10m platform final of diving at the 19th FINA World Championships in Budapest, Hungary, July 3, 2022. [Photo/Xinhua]
BUDAPEST - China completed a clean sweep of 13 diving gold medals at the FINA World Championships after Yang Jian defended the men's 10m platform title in a roller-coaster final here on Sunday.
The 28-year-old came back from two poor dives in the second and third rounds, after which he ranked seventh, to deliver three excellent dives to hit a title-winning 515.55 points.
Fellow Chinese Yang Hao finished with a bronze with 485.45 points, while Japanese diver Rikuto Tamai took the silver with a 2.55-point advantage over Hao.
"It has been almost one year since we last competed in international competitions, " said Yang Jian. "I could not find the rhythm at the beginning. But I made adjustments in the last couple of dives."
"The Japanese diver performed very well, for most time of the final, I was the one trying to catch up with them," added Jian, who won a silver in the event at Tokyo Olympic Games last year, only 1.96 points behind his teammate Cao Yuan.
Yang Jian chose a dive with 4.1 difficult degrees in his last round, which earned him a game-high 102.50 points to wrap up the victory.
Hundreds of Chinese supporters, wearing red jerseys and waving the national flags, gathered at the Duna Arena, making it a home atmosphere for the Chinese divers.
Original Title:China sweeps all 13 diving golds at FINA World Championships