UN envoy warns of escalation in and beyond Syria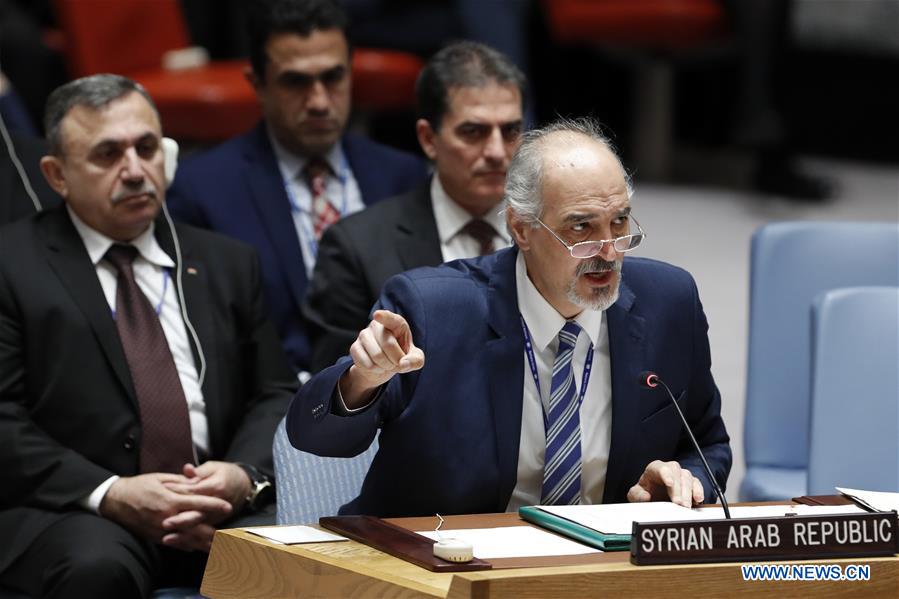 Syrian Ambassador to the United Nations Bashar Ja'afari (front) addresses the UN Security Council meeting on the situation in Syria at the UN headquarters in New York, April 9, 2018. The Security Council held an emergency session on the situation in Syria, particularly after reports of the use of chemical weapons over the weekend in rebel-held Douma near the capital city of Damascus. (Xinhua/Li Muzi)
  UNITED NATIONS, April 9 (Xinhua) -- Staffan de Mistura, the UN special envoy for Syria, on Monday warned of the danger of the current situation in Syria running out of control.
  Recent developments in Syria carry more than ever before the danger of such a scenario, de Mistura told the Security Council.
  "The council cannot allow a situation of uncontrollable escalation to develop in Syria, on any front," he said.
  At a point of his briefing, de Mistura said he had to slow down his speech because he was talking about a matter of major issue of international security, not just regional or Syrian security.
  The events in the past days in Syria had come amid increased international tensions, drawing national, regional, international actors into dangerous situations of potential or actual confrontation, he said. "There is an urgent need for this council to find a way to address the situation with unity and purpose."
  The Security Council was holding an emergency meeting on the situation in Syria, particularly after reports of the use of chemical weapons over the weekend in rebel-held Douma in Eastern Ghouta near the capital city of Damascus.
  De Mistura, however, said the danger of escalation comes from beyond Eastern Ghouta.
  There were missile attacks on the T-4 airbase in Syria's Homs province on Monday. The United States and France have denied involvement while Syria, Russia and Iran claim that Israel could have carried out the attacks, said the UN envoy.
  The Islamic State terrorist group launched new operations inside Syria -- in rural Damascus and in remote areas on the Iraqi border, he said.
  In Afrin, where Turkey is pursuing a military campaign against Kurds, the conflict may also spread to other areas, he warned.
  "What we are seeing is an escalation before an (even bigger) escalation."
  The first priority must be the protection of civilians -- from the conflict, chemical weapons and hunger, he said, calling for humanitarian access throughout Syria so that people in need can be reached.
  Continued allegations of the use of chemical agents are of extremely grave concern and must be independently and urgently investigated, he told the Security Council. "I urge the Security Council ... to, or God's sake, ensure a mechanism is found to investigate those allegations and attribute responsibility."
  Any confirmed use of chemical weapons is abhorrent and requires a thorough investigation, he said.
  While several states had alluded that the Syrian government was responsible for the chemical attack in Douma, others -- including the Syrian government itself -- had called those claims a fabrication, he said. "That was yet one more reason for a thorough investigation."
  Another UN official also called for the establishment of an investigative mechanism for chemical weapons use in Syria.
  "The use of chemical weapons is unjustifiable. Those responsible must be held to account," Thomas Markram, deputy to UN Undersecretary-General for Disarmament Affairs Izumi Nakamitsu, told the Security Council in a briefing.
  At least 49 people were killed and hundreds more were injured in a chemical weapons attack in Douma on Saturday, said Markram. More than 500 people showed symptoms consistent with a chemical attack, he said.
  Markram, who briefed the council last week on chemical weapons in Syria, again called for unity of the council on a dedicated mechanism for accountability for chemical weapons use in the country.
  He said the Organization for the Prohibition of Chemical Weapons (OPCW), through its Fact-Finding Mission (FFM), is gathering information about the attack from all available sources. The FFM will report its findings upon completion of its investigation, he said.