May's gov't reshuffle described as boring, "rearranging deckchairs"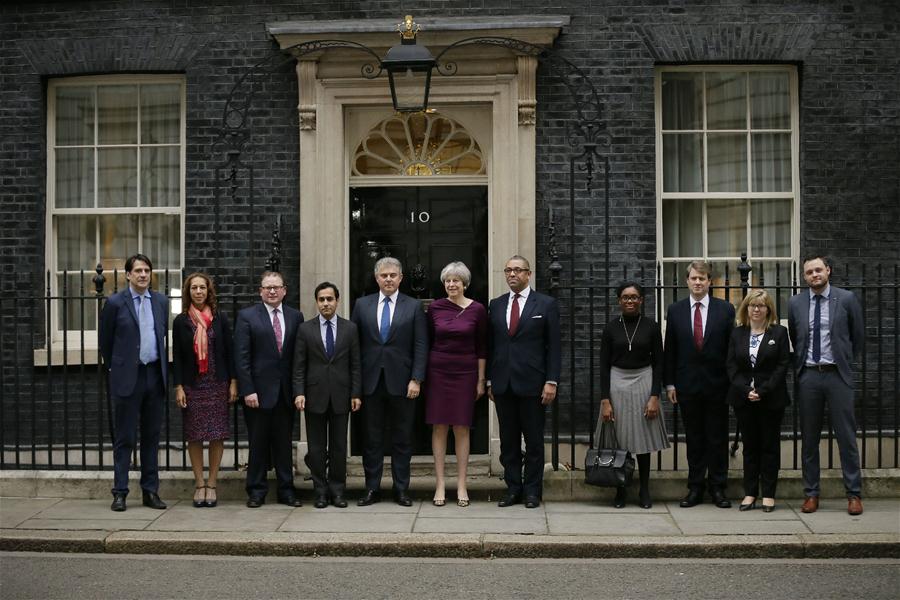 British Prime Minister Theresa May (C) poses for a picture outside 10 Downing street with Conservative Party Chairman Brandon Lewis (5th L) and Conservative Party Deputy Chairman James Cleverly (5th R), with Conservative vice chair members as she announces new ministerial appointments to her front bench in a Cabinet reshuffle beginning today, in London, Britain on Jan. 8, 2018. (Xinhua/Tim Ireland)
  LONDON, Jan. 8 (Xinhua) -- British Prime Minister Theresa May continued into Monday night reshaping her government team, keeping virtually all of her big-name ministers in place.
  Throughout the day, a continuous procession of politicians strode along Downing Street to enter through the black-glossy door of Number 10 to hear their fates.
  Former government minister Rob Wilson described the day's events as the "most low-key, boring reshuffles for some years."
  Writing in the Daily Telegraph, Wilson added: "That's not necessarily a bad thing if you are a prime minister with little room for manoeuvre and a clear need not to put more malcontent ex-Ministers on the backbenches."
  The main opposition Labour Party described the re-shuffle as "re-arranging the deckchairs".
  The biggest change of the day came eight hours after May started her re-shuffle when it was announced that Education Secretary Justine Greening was resigning. It was reported that Greening decided to go after refusing May's offer as Works and Pensions Secretary.
  Political commentators at the weekend speculated she would be one of the biggest casualties of May's shake-up.
  Tom Newton Dunn, respected political editor at the Sun newspaper said Greening's departure could be bad news for the government's Brexit majority.
  Dunn described her as an impassioned Remainer in a marginal seat that voted heavily to remain. A new mutineer, the seasoned political commentator speculated.
  There were no changes in the so-called big Offices of State which meant Chancellor of the Exchequer Philip Hammond, Foreign Secretary Boris Johnson and Home Secretary Amber Rudd, all kept their jobs.
  David Davis is staying on as Brexit Secretary, while Liam Fox remains as International Trade Secretary.
  Also remaining at the top table is Michael Gove (Environment Secretary), Penny Mordaunt (International Development Secretary), Chris Grayling (Transport Secretary), Jeremy Hunt (Health Secretary) who has been given added responsibility for social care.
  Gavin Williamson, who recently replaced Michael Fallon as Defense Secretary has kept his job. Greg Clark, meanwhile, remains as Business Secretary. The communities secretary Sajid Javid also keeps his job in a re-named Ministry of Housing, Communities and Local Government.
  In what was the first big change MP Matt Hancock was promoted to become the new culture secretary, replacing Karen Bradley. Bradley has been made Northern Ireland Secretary succeeding James Brokenshire who announced earlier Monday he was resigning on health grounds.
  David Lidington has switched from his role as Justice Secretary to become Damian Green's replacement as Minister for the Cabinet Office, replacing close May ally Green who resigned last month.
  David Gauke, the former secretary of state for work and pensions, takes over as justice secretary. Brandon Lewis was promoted, becoming the chairman of the Conservative Party, replacing veteran politician Patrick McLoughlin who resigned from the government.