A golf course in Haikou, capital of Hainan province. The government is worried about the construction of these courses, which consume a large amount of land and water. [Photo/China Daily]
  One day last month, chauffeured limousines, including a Mercedes-Benz, Audi S6, Lexus and Buick, brought a group of golfers to Firestone Golf Club in the booming coastal city of Shenzhen.
  Stepping out into the sunshine, smiling and unpacking their golf equipment, they showed no signs of suspecting that one of their favorite recreation spots would soon be taken over by the Shenzhen government. Unknown to them, local officials had determined that villas at the course had been built without official permission and the land there had been put to an illegal use.
  The central government has been keeping a watchful eye on golf courses since they started to become prevalent as the economy took off. They undergo inspection every two years.
  The government decided in 2004 to ban the construction of new courses out of concern that large amounts of land and water were being consumed. That policy, though, has been to little avail.
  Data from Beijing Forestry University's golf education and research center show that China was home to 570 golf courses by 2009. This represented a massive increase from five years earlier when 170 were in existence.
  And of those new courses, only 10 were built with official approval.
  The blatant disregard of the construction ban has led the government in recent years to place existing courses under stricter scrutiny.
  Lin Han, a land-use planner in Shenzhen's urban planning, land and resources commission, land indemnification and farmland protection division, said a document arrived on his desk a few months ago, warning that the Firestone grounds were beginning to raise the eyebrows of inspectors.
  "That was followed by a visit to Shenzhen by a national golf course inspection team on June 13 and an investigation by the Guangdong provincial department of land and resources from Aug 6 to 7," he said.
  Lin said the scrutiny this year has been the strictest he can remember. "All of the owners of golf courses in China or other people in the business are holding their breath," he said. "For them, this is a matter of life and death."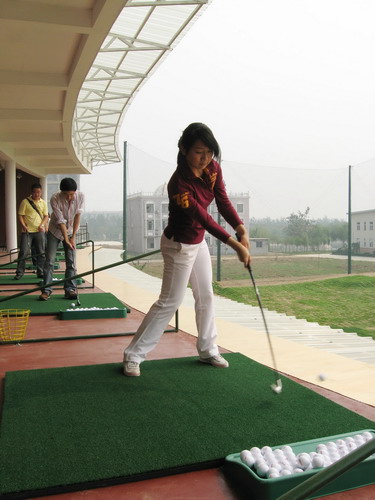 A woman plays golf in 2010 at the first golf club opened in Binzhou, Shandong province. Playing golf has become a popular pastime for many wealthy people in the country. [Photo/China Daily]